Business Growth Hub lauded at Guardian sustainability awards
THE Business Growth Hub's Green Growth team has been named runner up in the prestigious Guardian Sustainable Business Awards.

The team was shortlisted from hundreds of entries from all over the UK in the Carbon and Energy Management category and was ultimately named runner up at the 2016 awards ceremony in London.

Among the judges were prominent academics and industry leaders, deputy chair of the Environment Agency, Emma Howard, and representatives from leading NGOs, including directors from Greenpeace, WWF and Friends of the Earth.

The team, which builds upon the internationally recognised ENWORKS environmental business service, was recognised for its success in championing the role SME's can play in reducing carbon emissions.

By providing unique, on site support delivered by specialists in resource efficiency and carbon reduction, the team successfully enables SME's to identify, measure and implement a diverse array of opportunities at every stage of the value chain, including product design, production, facilities, logistics and distribution.

In the last 12 months alone, the team's advisors have helped 133 SME's in Greater Manchester to identify 681 separate opportunities that could deliver over 20,000 tonnes of annual CO2e (carbon dioxide equivalent) savings; that's enough to fill more than 11,000 hot air balloons.

Over 5,800 tonnes of these CO2e savings have already been achieved, delivering £2.2 million in annual cost savings in the process.

The benefits to businesses go even further; as well as cost savings that go straight to the business's bottom line, taking action also helps to safeguard and create jobs, improve resilience and win new contracts.

Sam Nicholson, Head of Manufacturing and Low Carbon at the Business Growth Hub, part of MGC, said:- "We're delighted to be recognised at the awards alongside household names such as IKEA and Innocent Drinks as one the UK's most innovative contributors sustainable business. SME's represent 99.9% of UK businesses; and over the years we've proved time and again that when given the right support, they can lead on this agenda and play a central role in the transition to a low carbon, sustainable economy whilst growing at the same time."

Richard Jeffery, Director of Business Growth Hub, said:- "The support we are able to offer to businesses through our Green Growth team is tailored specifically to help them grow by improving sustainability and it's great to be recognised on a national scale by the Guardian for the vital work we do on this agenda. We'd also like to congratulate all the businesses we have worked with to achieve this impact; it's great to see that so many companies in Greater Manchester see the benefits of taking action."

Laura Paddison, Editor of Guardian Sustainable Business, said:- "The Guardian Sustainable Business Awards put the spotlight on organisations that have shown business can bring change for the better, and set an example for others to follow. And it's not just about big business; it's also about start-ups and small businesses, as well as the not for profits that push business to do better and the academic institutions that educate and engage with business."

Thunder and Lightning On Show at Bowdon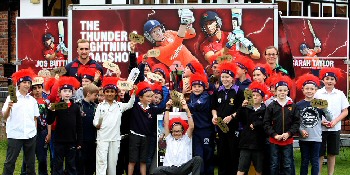 LANCASHIRE Thunder's Laura MacLeod and Lancashire Lightning all rounder Liam Livingstone visited Bowdon Cricket Club, on Thursday, 19 May 2016, to launch the Thunder and Lightning Roadshow.

The Thunder and Lightning Roadshow will visit over 50 local schools and junior cricket clubs in the region to encourage children and their families to visit Emirates Old Trafford for a summer of live cricket, live music and fun entertainment for all the family.

The Roadshow features the AO.com inflatable bowling game which allows participants to test their bowling technique, accuracy and speed against family and friends, the NatWest T20 Blast Trophy so families can have their pictures taken with it, plus appearances from Lancashire Lightning and Lancashire Thunder players at certain events and not to forget the country's Number One cricket mascot Lanky Giraffe.

MacLeod and Livingstone were both on hand to take part in some coaching sessions with Bowdon's young cricketers. The rain cleared up in time for some fun cricket activity on the outfield with the youngsters each showing some promising skills.

The duo also took part in an interesting questions and answers session, hosted by former Lancashire and England wicketkeeper Warren Hegg, which gave a fascinating insight into playing cricket at the highest level.

Lancashire Thunder is 1 of 6 new teams competing in the inaugural Kia Super League this season. One of the principal objectives for the Kia Super League is to ensure a "best v best" experience is established in the women's game in England and Wales and also to bridge the gap between county and international cricket.

Laura MacLeod said:- "The Thunder and Lightning Roadshow is a great way to get closer to our fans and local communities in the North West. It's an excellent opportunity for Lancashire Thunder to spread the word about the new women's team in the Kia Super League and what is on offer at Emirates Old Trafford. It was great to be quizzed by and be bowled at by some keen, young cricketers from Bowden Cricket Club. Our core message was to enjoy their cricket through lots of practice and play with confidence. I hope that through the Roadshow, the Kia Super League competition and the various Thunder community activities we will engage and encourage more women and girls to get involved in cricket."

Tickets for the Lancashire Thunder and Lancashire Lightning fixtures at Emirates Old Trafford are currently on sale and can be purchased at:- LCCC.Co.UK/Cricket/Tickets.