Phil Redmond to chair Cultural Partnership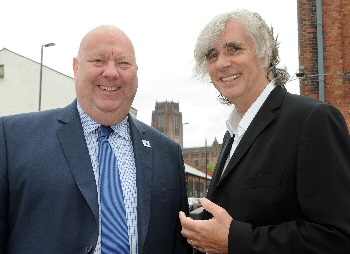 PROFESSOR Phil Redmond CBE has been appointed to drive forward a new partnership aimed at making Liverpool City Region the cultural and creative powerhouse of the North. The Cultural Partnership, which the UK City of Culture head and Mersey TV founder will Chair, will bring together different organisations and their resources to support a common cultural strategy to stimulate creativity in all of its forms. The aim is to maximise the promotion of existing activity, events and initiatives so they reach as wide an audience as possible and, for example, encourage exhibitions to tour the city region rather than being based in one location.

The Cultural Partnership will:-

► Advance the success that the city has enjoyed during the last decade and make sure the city region has distinctive culture in the future

► Enable everyone to engage with and prosper from culture in its widest form, focusing on the need to stimulate creativity whether it is in science, the arts, the stage or entrepreneurialism

► Link learning, skills development and knowledge retention to make sure young people and the future workforce are prepared for future changes in technology

Its work over the next 2 years will be focused around:

► Creating a vision of a sustainable and vibrant cultural economy, and connecting partners to make it happen

► Co-operating with existing and new funders and investors to make the most of the money available and direct funding at shared objectives

► Working with partners on initiatives in health, education, policing, regeneration and business to maximise positive outcomes for residents

► Creating a world-class calendar of cultural events and activities

Its membership will be determined through discussions across both the city and region to discover who best can represent various cultural sectors and/or partners.

Mayor of Liverpool and Chair of the Liverpool City Region Combined Authority, Joe Anderson, said:- "I am delighted that Phil Redmond has accepted my invitation to Chair the Cultural Partnership. This body is absolutely fundamental to building on the success we have seen over the last decade and is also integral to the success of the city region's devolution deal with the Government. Culture is a way of life around here embedded in so many things in everyday life. And it is critical to our future development, which is why I have already announced an ambitious programme of events, 18 for 18, to mark 10 years since we were European of Capital of Culture. I am clear that the whole region needs to work better and smarter together to make the most of cultural and creative funding, and use it to make the biggest impact it possibly can. We were the only city region in the UK to negotiate culture as part of our devolution agreement and the Cultural Partnership will be vital in delivering that element of the deal."

The Cultural Partnership has evolved from the work of the 2015 Creative Commission, also Chaired by Professor Redmond. It recommended Liverpool needed a long term and sustainable cultural strategy, an agreed cultural calendar and an organisation to act as a cultural champion and co-ordinator for everything happening across the City Region and Merseyside.

Professor Phil Redmond said:- "We know what happened in 2008 and what has followed since then and it is easy to forget that only a few years before all of that Liverpool was in turmoil, with some in London suggesting it should be allowed to fail. In the 1980's, only 30 years ago, the Maritime Museum was the first symbol of hope in the Albert Dock when it became the first stage of the waterfront's regeneration. The Museum of Liverpool is the latest, and in 2018 Tate will be celebrating 30 years in Liverpool. All of this seems like no time at all and just as it seems like the time is right to celebrate the 10th anniversary of Liverpool's time as UK Host to the European Capital of Culture programme, it also feels the right time to start the cultural debate about what sort of city region we can forge with that same sort of collaborative effort."

For 2018, plans are in motion to work with some of the world's best artists, musicians and cultural organisations with early discussions in place that could potentially see the return of some of the most iconic Royal de Luxe's Giants and the Tall Ships fleet which made a splash in 2008.
The 18 new commissions will be integrated into the City's already celebrated cultural offer, and will aim to attract audiences of around 5 million people, creating upwards of £50million economic impact and push Liverpool to the top of the 'must visit' Cities in 2018. The Cultural Partnership will use the year as the launch pad to stimulate debate, discussion, research and collaboration around what sort of world any child born in 2018 will inherit when they reach the age of 30 in 2048.

Supporter Steve getting on his bike for charity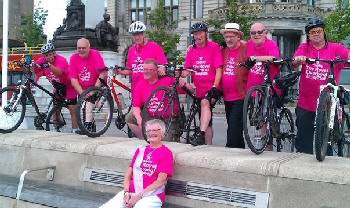 DEDICATED fundraiser Steve Walls and a team of friends have already got on their bikes twice to raise funds for the Royal with long distance bike rides; and now they are planning a ⅓ long distance cycle to make the new Royal even better. When his wife Barbara was diagnosed with breast cancer in 2013 and treated at the Linda McCartney Centre at the Royal, Steve was determined to help. So he rallied some fellow Liverpool Freemasons and in June 2014 they cycled the 133 miles from Leeds to Liverpool to raise funds, with Steve's son Chris as a member of the all important 3 man support team. "When we reached the Pier Head, Barbara was all smiles and delighted with our achievement. I finished on my 62nd birthday, and it was a wonderful homecoming. That's when we decided we had to do it again, and then make it a hat trick of rides." says Steve, 63, a father of 2 from Garston.

The epic cycle ride raised £5,830, with £3,160 going to the Linda McCartney Centre and the remainder to other charities. The July 2015 team cycled 163 miles coast to coast, from the Humber Bridge to the Pier Head, raising a further £3,800 for the Centre; almost £7,000 in all. "Sadly Barbara passed away in March 2015 aged just 69... But we were determined to go ahead with our fundraising to help other patients and families." says Steve,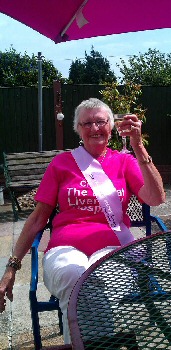 In all the team have raised over £11,500 through the two rides, with two other charities benefiting by over £4,600. The team pay their own expenses, and all donations go to charity. Since the team were determined to complete three challenges, this year's feat starting on 8 June 2016 is a 'Street to Street' cycle. "Street to Street doesn't sound much, but we're cycling from outside the Royal on Prescot Street in Liverpool, to Great Queen Street, Covent Garden in London. We are committed to fundraising to recognize the support the Royal has given so many families, and to help R Charity provide even better facilities to help patients and families in the future. We're not superheroes; we just get on with it. We have already raised £3,500 towards this year's target of £5,000 and hopefully we will achieve that before the end of the ride."

The funds raised over the 3 events have been ring fenced by R Charity, and will be used to part fund equipping one of the state of the art inpatient cancer treatment rooms at the new Royal and are part of R Charity's £10million fundraising Appeal to make the new Royal even better for patients. The charity now aims to erect a plaque in Barbara's memory, and to thank Steve and the team of riders and support team for their achievements. Aimee Clare, senior community fundraising manager for R Charity, said:- "Steve and his team have done so well. It's so exciting to hear that they have set themselves another challenge for 2016! I'll look forward to meeting them before they set off."

To support the 2016 ride or make a donation in support of the ride, they can contact Steve and the R Charity fundraising team, at the Royal, via:- email or by calling:- 0151 706 3150 to find out how.
Local theatres pull together to host Spotlight Open House Festival
LIVERPOOL'S best actors will gather on Monday, 13 June 2016 and Tuesday, 14 June 2016, for a 2 day festival of learning, development and networking with industry leading professionals to cultivate the local performing arts industry. Spotlight Open House is an opportunity for everyone involved in the Liverpool performing arts industry to share ideas, learn and network with people and organisations who are striving to increase the amount and quality of local theatre, TV and film produced in the North West. The event is aimed at actors who want to develop their career within Liverpool; there will also be networking opportunities that are available for anyone involved in the local industry. Sessions will be run by Hollyoaks casting director Gill Charnock from Lime Pictures, accent coach Laura Carroll and writer/directors Andrew Sherlock and Bob Eaton of Liverpool's Royal Court Theatre. There will also be a series of professional development workshops from industry experts from outside the North West. A performance of well received Page to Stage's Welcome to Paradise Road will also be featured. The Open House festival is run by Spotlight, the leading casting platform in Europe, and supported by Pearson Casting, in association with Liverpool Empire Creative Learning Department and The Royal Court Liverpool Trust. Ben Seale, Spotlight CEO, says:- "As a performing arts industry, it's important that we help to generate work locally and provide opportunities for actors to be cast in productions all over the Country." James Pearson, casting director, says:- "Liverpool is a hub of acting talent. The inaugural Spotlight Open House festival will help everyone who is involved in the local industry to develop more opportunities for home grown actors and tell more of Liverpool's stories."

Tickets are free for Spotlight members or on application online.