New Centre for street drinkers
A new Centre to help support street drinkers and reduce anti-social behaviour is to operate throughout the summer. The REST (rehabilitation, education, support and treatment) centre will open at the site of a former cinema in Fraser Street. It aims to support individuals and work with them helping them reduce their alcohol intake. It will also help them access other services such as housing and homeless support. Street drinkers will be allowed to consume alcohol on the premises, but at all times will be supervised and helped to change their lifestyles. It will be open from 12 noon to 8pm, Monday to Sunday, until 30 September 2016. Staff from the Whitechapel Centre will manage the facility. The derelict site has been tarmacked, portacabins erected and fencing placed around it. Funding for the scheme has been provided by the Clinical Commissioning Group (£99,950), Citysafe ((£50,00) and Public Health (£50,000). The opening of a new centre follows an evaluation by the Centre for Public Health at John Moores University of a pilot centre at a temporary site in Bolton Street last summer.

Among its findings are:-

► The REST Centre successfully engaged with 386 individuals over the course of the 4 months it was open.

► 4,667 interventions were delivered during the period of the pilot including basic care and practical support, activities and classes, harm reduction advice, support with applying for benefits and healthcare interventions.

► 8 individuals were referred to detoxification programmes, with 6 attending

► There was a reduction in anti social behaviour in the vicinity of the centre, leading it to be taken off the police's risk list

► Users of the Centre reported a number of improvements including access to support, increased health and wellbeing and a reduction in alcohol use.

► 2 Centre users got job interviews and one secured a volunteering post

Councillor Emily Spurrell, Mayoral Lead for Community Safety, said:- "It is clear from the evaluation that the REST centre showed that it helped many street drinkers and was a very valuable in providing support to them. It also helped reduce anti social behaviour and reduced the pressures on the health services. We realise, however, that we need a more permanent site in the City Centre and we believe the new REST centre will provide a much improved base to operate from and that greater support can be given to individuals over a longer period."

Dr Fiona Ogden-Forde, a GP member of NHS Liverpool CCG's Governing Body and executive sponsor for alcohol said:- "We know that alcohol misuse is a problem across Liverpool, affecting people from a range of backgrounds. Persistent alcohol misuse can increase the risk of developing serious health conditions, including hypertension, heart disease, stroke, liver disease and both liver and bowel cancer. The REST centre is the result of collaborative working to provide a safe environment for street drinkers, enabling them to deal with their drinking and seek help when they feel ready to."

Merseyside Police Chief Superintendent Mark Wiggins said:- "This is a partnership approach which aims to help some of the vulnerable people in our city who need our support. We have seen the benefits of the REST centre from last year which helped to reduce antisocial behaviour in the City, whilst providing much needed support for people in terms of improving their health and accommodation status in order to improve their lives. We are all committed to continuing with helping these individuals in partnership to improve their lives in the long run and to ensure that the city continues to be a safe and vibrant place for people to live in, work in and visit."

NHS cricket match raises over £1000 for local Children's Hospice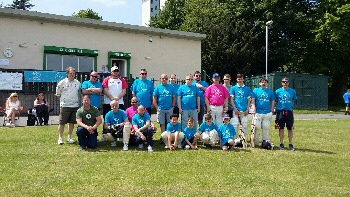 A charity cricket match organised by staff and patients from local NHS trust CWP has raised an amazing £1,100 for Wirral based Children's Hospice Claire House. The match, watched by an audience of over 100 over the bank holiday weekend, took place at Victoria Park in Tranmere, and saw a side from Cheshire and Wirral Partnership NHS Foundation Trust (CWP) take on local team Victoria Park Cricket Club. CWP's team was made up of both staff and service users from Springview mental health inpatient unit on Clatterbridge health Park.
Organiser Nigel Hughes, CWP clinical support worker at Springview, said:- "Claire House is a charity close to many people's hearts in the area, so I'm delighted that we have been able to raise so much. Everyone had a good time on the day and we're really proud of what we have achieved together. A big thank you to everyone who donated such generous items for our raffle."

The event was given a big boost by a number of items donated by high profile organisations such as Everton FC, Tranmere FC and Lancashire County Cricket Club, with raffle prizes including signed shirts, free match day tickets and a signed Coronation Street script.
Claire House fundraiser Jess Campbell said:- "We'd like to say a huge thank you to everyone at CWP Springview for their dedication raising vital funds to support the families of seriously and terminally ill children at Claire House Children's Hospice. The event was brilliant, and it was great to meet such friendly and generous people who have given their support to make a real difference to their community."

Suzanne Edwards, CWP Wirral Service Director, said:- "This was a fantastic occasion not just for the amazing amount raised for Claire House, but also for all of our service users that got involved with the event. We know just how much it means to be active in the community, and this event gave them an experience that will really benefit their recovery."

CWP provides NHS mental health and learning disability services to the Wirral population and wider region.
Claire House Children's Hospice, based in Wirral, offers care, support and choice to families whose children are terminally ill. For more information about CWP.NHS.UK
Letters to the editor:- "SPOILT or TACTIC?"
"As the European Referendum fast approaches, I can garner little enthusiasm to vote either way. The IN campaign offers little more than patronising scare tactics whilst the OUT campaign disappointingly fails to promise a return to pound, inch and gallon Imperial measures or pound, shilling and penny £SD currency. I feel that my ballot paper may well end up being spoiled." John Eoin Douglas, Edinburgh.