Fish tank donation to spinal room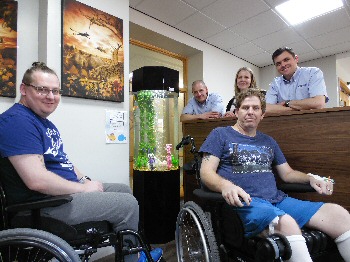 A Hospital's Spinal Unit has welcomed new visitors.. The North West Regional Spinal Injuries Centre, at Southport and Ormskirk Hospital NHS Trust, took delivery of 2 fish tanks. 1 has been donated by design business Ryu Creative, which is run by a patient at the Spinal Centre, Ryan Forshaw. The other has been donated by Aqualease; a Blackburn based company which supplies fully serviced aquariums to education and health care sectors. The 2 fish tanks now have pride of place in a Day Room used by patients. The day room was officially opened last month. Emily Hoban, who runs the Spinal Centre, said:- "The day room has been total refurbished and now provides a fantastic environment for our patients. We are really grateful to Ryan and the team at Aqualease for donating the fish tanks."

Ryan, 37 from Leigh near Wigan, was paralysed from the shoulders down after being involved in a serious accident in 1996. He said:- "Aquariums are abundant in health care benefits. The donation aims to help fellow patients during their rehabilitation periods."

Ryan works with Aqualease on its design and marketing and this is how the donation came about. Dan Green from Aqualease added:- "We are delighted to make this donation to the hospital and hope that the patients enjoy watching the fish. Fish tanks can help improve physical and mental wellbeing. We think they will add to the calming atmosphere of the room."

The North West Regional Spinal Injuries Centre cares for people with spinal cord injuries from Merseyside, Greater Manchester, Lancashire and Cumbria, Cheshire, parts of North Wales and the Isle of Man. It is an internationally recognised centre of excellence for the treatment of people with high cervical spinal cord injury.
Social care employers urged to enter Accolades awards
NOMINATIONS are open for Skills for Care's national Accolades awards and local adult social care organisations who deliver high quality care are being urged to enter. The Accolades recognise excellence and innovation offered by adult social care providers in 10 different categories reflecting the diversity of a growing sector worth £43 billion to the national economy. Previous Accolades finalists say making it to the awards ceremony gives them a chance to have the outstanding work they do recognised by an expert panel of judges and show how their high quality care provision changes people's lives. Skills for Care CEO Sharon Allen said:- "Our job is to support the learning and development needs of 1.5 million adult social care workers so they can meet the needs of the people they work with, and this is a chance for employers to have a national platform for the outstanding work they do in their communities. Adult social care is not always great at saying how good local services are so please get your entry in as this is a chance for organisations to have their much deserved turn in the spotlight. I've seen for myself how it much it means for all our Accolades finalists to have national recognition for their teams."

The 16/17 awards categories are:-

► Best employer of under 50 staff.
► Best employer of between 51 and 249 staff.
► Best employer of over 250 staff.
► Best individual who employs their own care and support staff.
► Best employer support for registered managers.
► Best employer support for Apprenticeships.
► Best recruitment initiative.
► Most effective approach to leadership and management.
► Most effective approach to integration and new models of care.
► Best endorsed provider of learning and development.

The Accolades are open to organisations of all sizes and individual employers. Entry forms are now available online. The closing date is:-1 Friday, 23 September 2016 and the winners will be announced at an awards ceremony in Liverpool, on Thursday, 9 March 2017.

From falconry to cycling to delicious eats; Wirral's Day Centres open their doors for:- 'Community Open Day'
WIRRAL'S Day Services will be throwing open their doors to the public on Friday, 17 June 2016, as part of a Wirral wide 'Open Day'. Wirral Evolutions have 9 locations across Wirral, designed specifically for the needs of the people they support. Next month, they will be welcoming the public to events and activities designed to create lasting links between people who use services and their local communities. Cllr Christine Jones, Wirral's Cabinet Member for Adult Social Care, said:- "Now run as an independent company by Wirral Evolutions, our day services and daytime opportunities have an enthusiastic and committed band of service users at their core, not forgetting volunteers, carers, families, staff and friends, who go above and beyond to make sure that lives are enriched and people are given opportunities. The event on 17 June 2016 is all about showing people what excellent day services are really about and how they can be at the Centre of local communities, developing relationships across the generations."

There will be events at all 9 locations from:- 10am to 2pm. Parents, carers, families, friends, and the public are invited. Admission free!

Locations are at:-

The Grange, Grove Road, Wallasey (headquarters)

► Launch of new Bluebelles Café, (run by Best Bites, the training and employment initiative for people with disabilities)

Takio Drummers

► Bee Keeping Displays
► BBQ; With Build A Burger and Fruit Kebabs
► Falconry Display

Other locations include:-
Cambridge Road, New Brighton

► Sports Activities and Demos
► Gateway Awards Info
► Healthy Lifestyle programme and demos

Eastham Centre, Eastham Rake, Eastham

► Big Bike It Display
► Sing A Long for all
► Incredible Edible Display
► Woodwork Display
► Art and Photography Display

Heswall Centre, Telegraph Road, Heswall

► Furniture Restoration Demo
► Outdoor Games
► Sewing and Crafts
► Cooking Demo
► Paper and Relaxation
► Drama session
► Keep Fit Session
► Music and Singing
► Gardening Demo
► Mosaic Art

Highcroft Centre, Heath Road, Bebington

► Drama Presentation
► Afternoon Tea at Highcroft Garden Café
► Garden and Veg Display
► Jigsaw Dance Display
► Art and Photography Display

Oakenholt Centre, Oakenholt Road, Moreton

► Mowers and Growers gardening group Plant Sale
► Art and Photography Display
► Cakes and Refreshment's, at The Pink Pinny Café
► Gateway Project Showcase

Pensbywood, Somerset Road, Pensby

► Cookery Demos
► Pamper and Reiki Sessions
► Interactive Football
► Chill Out Zone
► Ukulele Sing A Long Group
► Chill Out Zone
► Sensory Room
► Touch and Feel Paint Session