Carers' Week brings patients, families and Carers 'closer together'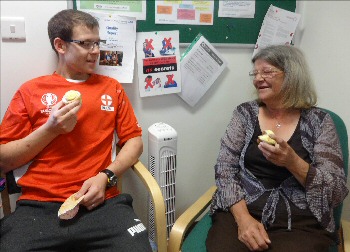 LOCAL Mental Health Services celebrated Carers' Week with a series of events to bring patients, families and Carers closer together. Cheshire and Wirral Partnership (CWP) NHS Foundation Trust hosted events in Macclesfield, Trafford, Chester and Wirral to raise awareness of the important role hundreds of Carers play across the Region. The Trust staffed a Carers' 'Info and Advice' stand at Trafford Carers' Centre, Carers in Chester were treated to 'Mindfulness' sessions and The Wirral Eating Disorder Service launched new training with a 'Carers' Workshop' for all attendees. Inpatient units also held 'Afternoon Tea', where patients thanked Carers by welcoming them to the ward and showcasing their creative skills. Darren James Hughes, 25, from Chester has been a patient at Greenways Assessment and Treatment Unit in Macclesfield for the last 6 months. Darren said:- "Carers' Week has been great as I've been able to take my family around the ward and show them the fantastic work that we do with the team here. I like it here. The staff are so caring. But it's even better to have your loved ones with you on the ward."

Siobain Peters, Occupational Therapist at CWP, said:- "Friends, family and Carers are very important to our service users, as well as our volunteer visits. I'm pleased that we've used Carers' Week to bring everyone closer together. Our wards and departments provide a range of activities for patients, from sports and music to arts and crafts. Events this week have allowed service users to share their work and interests with the people that matter most to them."

Carers' Week is an annual campaign to raise awareness of caring, highlight the challenges that Carers face and recognise the contribution Carers make to families and communities throughout the UK. To find out more about Caring and other ways to get involved at Cheshire and Wirral Partnership NHS Foundation Trust search 'Get Involved' at:- CWP.NHS.UK.
Jail for Merseyside man who exposed himself to teen on train
A 50 year old man who exposed himself to a teenager, on a Merseyside Train, has been jailed for 26 weeks, following a British Transport Police investigation. Alfred Thomas, from Mount Pleasant, Waterloo, has been sentenced at Liverpool Magistrates' Court, after pleading guilty to indecent exposure. He must also pay a victim surcharge of £115. The Court heard how, on Friday, 13 May 2016, Thomas' 18 year old victim had boarded the 6.20am train, from Waterloo Station. Thomas, who also boarded at Waterloo, sat opposite her and struck up a conversation. When she stood to leave the train at Moorfields Station she glanced back and saw Thomas exposing himself to her. She quickly moved carriages and left the train in a distressed state, immediately alerting staff. Thomas was identified after he was recognised from a British Transport Police appeal online. Officers arrested him at his home. In Police interview he admitted the offence, but could give no reason for his actions. Investigating officer PC Shaun Lee said:- "This was an incredibly frightening experience for the young girl, who was shaken and upset by Thomas' actions. His disgusting behaviour that day continues to affect his victim who was left feeling vulnerable and intimidated by what he did. She is to be commended for coming forward and reporting the incident. We will not tolerate inappropriate sexual behaviour of any kind on the rail network and will do all we can to bring offenders to justice. We ask all rail passengers to report incidents to us so we can fully investigate."

Remembering every man who fell on the 1st day of the Battle of the Somme
MORE than 230 soldiers from The King's Liverpool Regiment are to be individually remembered in an unique and historic centenary art project to commemorate the fallen of the Battle of the Somme. The 19240 Shrouds of the Somme aims to commemorate all 19,240 allied soldiers who fell on the first day of the battle which began on 1 July 1916.

Exactly 100 years to the day later, at the same time as the whistle was blown to:- "go over the top", 19,240 hand stitched shrouded figures representing every soldier will be revealed laid out in Exeter's Northernhay Gardens. The names of the fallen have been marked by the artist Rob Heard who has 7 volumes of the War Graves Commission's lists of those who died. As each shroud is completed he reads the soldier's name out loud and symbolically crosses them off the list. The King's Liverpool Regiment lost 235 men on the 1st day of the Battle of the Somme.

The team behind the project are now appealing for volunteers to help on the day. Group Captain Robin Chambers, representing the Armed Forces charity SSAFA who will benefit from the project, said:- "SSAFA was there in 1916 to support the families of those who fell at the Somme and, since 1885 has supported all service personnel and their families. The 19240 Shrouds of the Somme Exhibition is another way in which we can show that we are here to help. The exhibition captures the brutality and emotional impact of service life and, as an all volunteer charity we are honoured to be asked to supervise the exhibition and assist the public. As the exhibition will be very popular, we are recruiting volunteers for 1 July to 7 July, to assist us in interacting with the public, reading the names of the fallen and selling the shrouds."

Anyone who would like to volunteer to help can apply online.

The team behind the project also see this as an opportunity to create a lasting legacy commemorating those who fell and are asking for the public to upload photos, stories, memories and any further information on individuals to build up a picture of them to commemorate them.
10,000 jobs to be created at former school site
A flagship development scheme that could create up to 10,000 jobs at the former Archbishop Blanch School site has been unveiled by Liverpool's Mayor, Joe Anderson, at the launch of the International Festival for Business. The proposed 1.8 million sq ft development at Minshull Street on the outskirts of Liverpool City Centre will create a scheme of national and international importance, specialising in cutting edge life and medical sciences. The site will include Grade A office space along with units focused on the life sciences sector. The scheme will form a key plank of the Knowledge Quarter Mayoral Development Zone, with Phase 1 likely to begin on site in 2017. The extension of the Knowledge Quarter will bring essential additions to what is fast becoming 1 of Europe's leading innovation districts and one of the UKs largest academic and clinical campuses. Also, in order to meet the needs of local people, commuters, academics, students, patients and Hospital visitors, the plans will also include a new Rail Station, with access to the existing underground network and the national high speed rail network via Lime Street Station. It is envisaged that the scheme will become a major contribution to the Northern Powerhouse initiative, raising productivity, improving skills and providing the infrastructure to develop the life sciences sector in the City Region.

Announcing the plans, Mayor of Liverpool, Joe Anderson said:- "The extension of our Knowledge Quarter is a game changer in terms of the high quality jobs we will be able to bring into the City in hi-tech, 21st century industries. This will help us to develop our Knowledge Quarter as we work with all our partners, including the University of Liverpool and the proposed health campus at the Royal Hospital to make the City a beacon for investment in this and similar sectors. We want to build on the success we are already achieving to make Liverpool a leader in this field. We know there is a real North / South gap in investment around life sciences that sees an overwhelming concentration of jobs and investment head south. However this landmark scheme provides the basis for Liverpool to now become a national and international destination for investment in life and medical sciences, bringing with it thousands of new, high skill, high wage jobs."