Merseyside Police Officer awarded Queens Police Medal in Queen's 90th Birthday Honours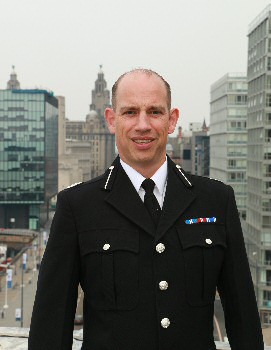 MERSEYSIDE Police Chief Constable Sir Jon Murphy QPM has congratulated Assistant Chief Constable Ian Critchley and former Detective Superintendent Tim Keelan who have been recognised in the Queen's 90th Birthday Honours. Sir Jon Murphy QPM, said:- "I am absolutely delighted to be able to congratulate both Tim and Ian, who have been recognised for their service in policing with the Queens Police Medal. Tim recently retired from the force after 30 years serving the public of Merseyside. Time and time again Tim showed his dedication to his job and his professionalism, empathy and compassionate nature shone through throughout his career. Tim was instrumental in work undertaken with Mersey Care to set up a Triage car to provide a high quality response and support for people with mental health problems, who come in to contact with the Police; this work was recognised nationally and has been rolled out by other Forces. After retiring Tim agreed to come back to force working in the Academy at Mather Avenue, where he is able to draw on his experience and learnings, where he is responsible for providing training to officers around protecting vulnerable people. Tim has always been highly regarded by his peers and colleagues and this is a fitting tribute to the dedication he has shown throughout his career. I'm also delighted to be able to congratulate Assistant Chief Constable Ian Critchley, who we welcomed in to the ranks of Merseyside Police just 2 weeks ago. Ian has joined us from Lancashire Police, where he had served for 24 years. Ian became a detective Sergeant in Lancashire in 1999 and has worked his way through the investigation ranks. As a Detective Superintendent he was Head of Crime with responsibility for public protection, serious organised crime, homicide, counter terrorism, intelligence and forensics. He took the lead for Lancashire Constabulary for Child Sexual Exploitation, and represented the force both at a local and national level. Ian has brought a wealth of knowledge with him to his new role here at Merseyside and the award today is testimony to the dedication and commitment he has given policing throughout the last 24 years. It is wonderful to see such professional and passionate people recognised nationally for their services to the community in such a prestigious way. They both have the upmost respect of their peers and colleagues and their integrity and professionalism is evident and demonstrated on a daily basis. All of Merseyside should be proud of their achievement, which reflects so well on us all."

"On receiving the honour, Tim Keelan, said:- "I am absolutely thrilled to have received this recognition. However, the award also reflects the hard work and dedication of all those people who have assisted me and worked with me over many years. I should also pay tribute to my family, who (like many Police families) have been very understanding of the extended hours I've had to work on many occasions, in order to see investigations through to their conclusion. I would like to add that although I have worked on some high profile investigations over the years, it's not necessarily the big investigations that I'm really proud of. It's nice to know that as a Police Officer you can make a massive difference to individual people. You can do things which massively change their lives in a positive way and that's what I've really enjoyed. I'm really proud to have served within Merseyside Police and having worked with officers from many different police forces around the country I know that the community here on Merseyside are well served by one of the best, if not the best police forces across the UK."

After receiving his honour, ACC Ian Critchley, said:- "I am very humbled by this award and want to share it with all the fantastic staff and partners who work every day to help protect the public particularly the most vulnerable. I am also very lucky to have a fantastic family who will equally be sharing in this award. Our service continues to strive to protect vulnerable people from abuse and the lifetime of hurt this causes and I want people to feel confident that when abuse does occur that they can come forward confident in the service they will get from the Police and our partners. I am most influenced in my role by the hurt I see in victims of abuse and their families that never ever truly goes away; by working together we can make a difference. I am very proud and privileged to have worked in Lancashire Constabulary with some amazing colleagues who have taught me a great deal and I am hugely committed to my new role as Assistant Chief Constable and serving the communities of Merseyside. This award reminds me of the privileged position I am in and the importance of ensuring that I do all I can to support our staff and partners to work together to make our communities safe places to live, where children can thrive and fulfil their ambitions rather than be harmed by those who they should most trust."
Appeal for information following racially aggravated assault
MERSEYSIDE Police Detectives, in Sefton, are appealing for information following a race hate incident that took place on Saturday, 11 June 2016, in Bootle. Emergency services were called just before 11pm, when a 24 year old man was walking with friends through South Park. He was racially verbally abused and assaulted by a large number of youths on the pathway near to Hawthorne Road. The man managed to leave the park before contacting the ambulance service. He was then taken to Hospital, by Ambulance, to be treated for facial injuries and what is thought to be a stab wound to the buttocks. His condition is not thought to be life threatening. Detectives from Sefton's specialist SIGMA hate crime team will be investigating this incident as a hate crime. Detective Inspector Paul Nilsen said:- "The investigation is at an early stage, but this would appear to be a completely unprovoked attack on a man just going about his business. We are carrying out extensive enquiries in the area; a number of scenes have been established for forensic examination, CCTV is being sought and enquiries carried out with witnesses. While this incident took place late at night we are particularly keen to speak with anyone who was in the park, maybe even earlier that evening, who saw a large group of youths, to get in contact. This incident is being investigated by specialist detectives from our SIGMA hate crime team and I'm sure the local community would agree that violence and racism have no place in our communities and those responsible for this attack need to be brought to justice." Anyone with any information about this incident is asked to contact Sefton CID on:- 0151 777 3835, Crimestoppers anonymously on:- 0800 555 111 or the Stop Hate UK charity on:- 0800 138 1625 where they can also receive advice and support.

11th BTR Mersey Tunnel 10K on course to sell out!
Photographs with thanks to BTR Liverpool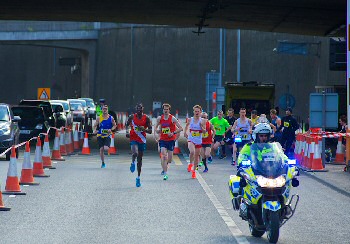 VERY soon than 3,000 runners take on the annual challenge of running through the Mersey Tunnel. The 11th BTR Mersey Tunnel 10K race takes place in a few days time, on Sunday, 19 June 2016, starting, at 9.30am. Runners set off from Blackstock Street, in Liverpool City Centre, before making their way into the Kingsway Wallasey Tunnel, to run underneath the River Mersey, the most challenging and unique part of the race. This is the only time runners can actually run underneath the River Mersey. After emerging from the tunnel, the runners then make their way along the picturesque Wirral waterfront from Seacombe, past Fort Perch Rock and the Marine Lake, before arriving at the grandstand finish area on Ian Fraser Walk in New Brighton. Last year, the event sold out for the 1st time with 3,200 runners; the largest field since the race was brought back in 2006, at the request of the Mersey Tunnels. Limited entries are still available for people wanting to register to take part, online entries are available or enter in person at the BTR Office. The race has also proved popular with runners from overseas, with people travelling from Finland, Germany and Switzerland to take part. The race will prove particularly memorable for one runner from Wirral; who gets married on the same day.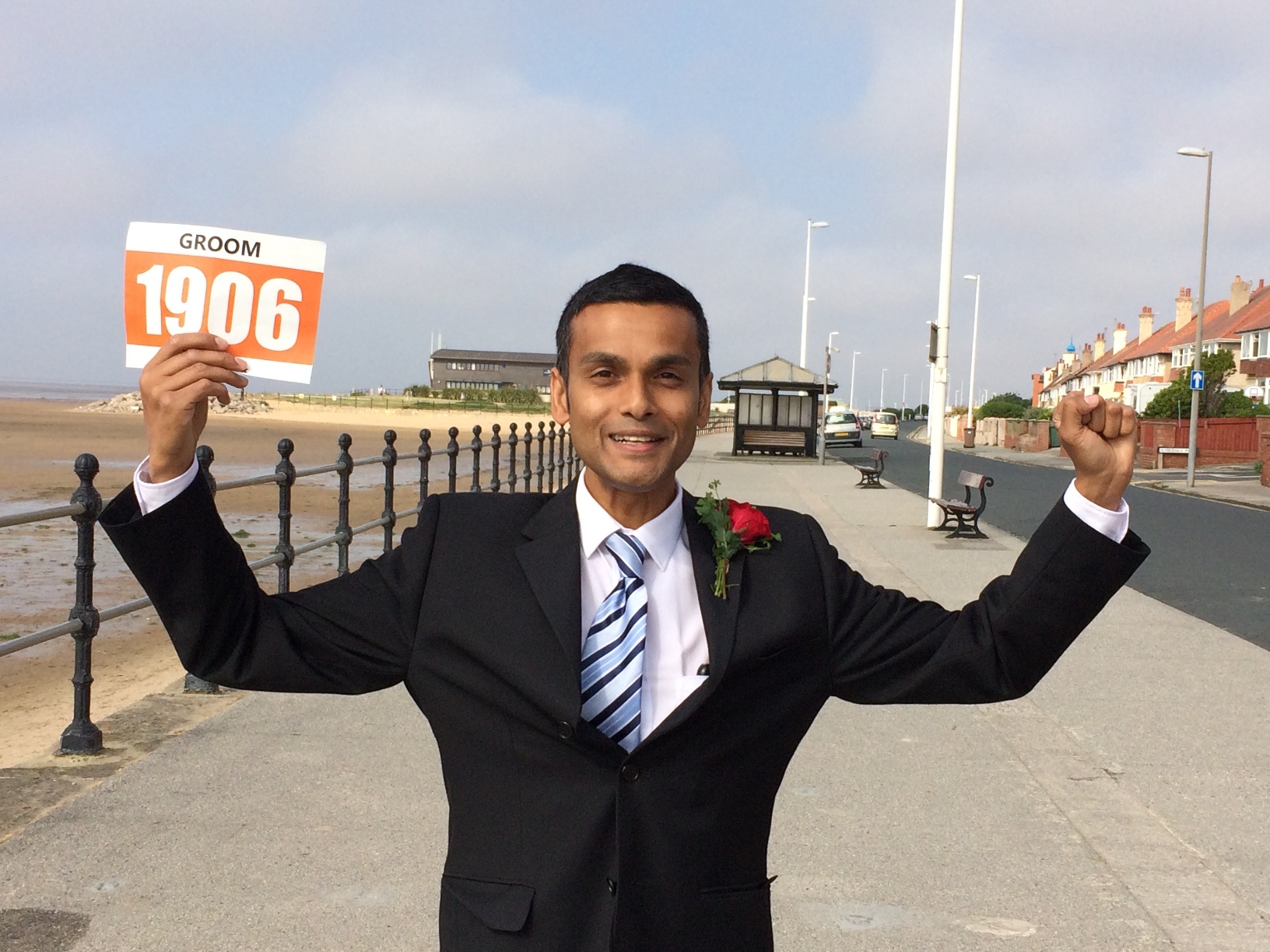 Scientist 41 year old Abir Ali, who lives in Moreton, will take part in the race just hours before he marries fiancée Hayley Blanc. Abir proposed on Hayley's birthday last year after 3 years together. He will run dressed as a groom wearing a shirt, tie, suit jacket and buttonhole flower; as well as a special personalised 'Groom' race number carrying the special date '1906'. Abir commented:- "It's going to be a very busy, exciting day. Taking part in the Tunnel 10K and meeting up with my running friends will definitely help to settle the nerves! I have to say a huge thank you to Hayley for being so understanding, especially on our big day, she knows how much I enjoy running. I started running eight years ago and my 1st race was the BTR Wirral 10K, and I've been hooked ever since. I've ran the BTR Mersey Tunnel 10K every year since 2013 and it just gets better. It's a real challenge and so unique compared to other races; plus we don't have to pay the toll fee to get through! It's fitting that I'm running my fourth BTR Mersey Tunnel 10K on my wedding day, and this will also be my 85th running event; so a big thank you to BTR for the work they do for the running community of Merseyside and beyond."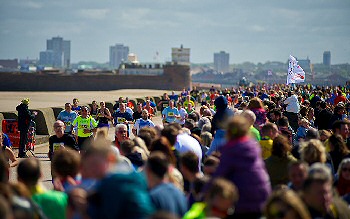 The BTR Mersey Tunnel 10K always proves popular with club runners, and this year large contingents from the following clubs will be out in force to take part:-

► Ellesmere Port RC
► Kirkby Milers
► Knowsley Harriers
► Liverpool Running Club
► Penny Lane Striders
► Wallasey AC
► Warrington RC

The most senior runners taking part are four runners aged between 74 and 88, they are:-

► Dorothy Fairhurst, aged 74 from St Helens (St Helens Sutton AC)

► Peter Povey, aged 80 from Chester

► Gordon Brown, aged 82 from Liverpool (Liverpool Harriers AC)

► Eddie Naisby, aged 88 from Ruthin, Wales (Prestatyn RC)

BTR Liverpool is the leading independent organisation for creating, managing and delivering headline race events in Liverpool City Region. Its growing portfolio includes:- the Vitality Liverpool ½ Marathon, BTR Liverpool Santa Dash, Wirral ½ Marathon/10K, and 52 mile BTR Tour Of Merseyside (6 races, over 7 days).

The BTR Mersey Tunnel 10K race is the latest event in a year long joint fundraising partnership between BTR Liverpool and its three official charities.

The BTR Footsteps Fundraisers initiative brings the charities together through BTR's key race events by encouraging participants to fundraise and support them.
Funds raised will be split equally between the 3 charities:- Radio City's Cash For Kids, Everton in the Community and Zoe's Place.

Finishers receive a bespoke medal, T-shirt and goody bag. Enter online or by visiting the BTR Liverpool's Offices, at:- 82 Market Street, Hoylake, Wirral, CH47 3BD.