Wirral's Cabinet to discuss plans for improved communications with residents and businesses
WIRRAL residents and businesses could soon find it easier to learn about local services, events and community information in the borough, through a new Council communications approach. The move comes after extensive market research carried out last year by leading market research agency, Ipsos Mori showed that 6 out of 10 Wirral residents do not feel well informed about local services and community information, with the figure even greater in the borough's more economically deprived areas.

Wirral Council's cabinet will later this month consider a proposal which will see part of their current advertising costs redirected into producing a printed publication to keep residents better informed about what is available and going on in their community.

The publication will be supported by a new website and through social media, as the Council moves to ensure it improves how it communicates with every resident in the Borough. The publication, which will include content supplied by community organisations, residents groups and charities, will be at no extra cost to Council Tax payers.

Kevin MacCallum, senior manager for communications and marketing, said:- "Our Residents' Survey last year told us very clearly that people in Wirral wanted more information. These findings were a rude awakening for us: they told us the tools we currently use to communicate with residents aren't powerful enough and aren't getting the job done. Keeping residents well informed is incredibly important and that's why we are making communicating with residents a top priority. It's clear that people want access to information and services in different ways. The Council website alone gets in the region of 3 million hits every year and we work with thousands of residents through social media channels like Twitter and Facebook. The proposed monthly publication and new website will enable us to communicate more effectively with every resident in Wirral while reducing the amount we currently spend."

If approved, the publication will include public service and community information, and some advertising. It will be produced using existing resources, requiring no new investment, and delivered once a month to homes and businesses, with additional copies available at locations such as supermarkets, hospitals and transport hubs. The first edition would be delivered in autumn 2016.
But some feel that this might affect new media groups online and offline, just when the local media industry is facing ever increasing strain.
Do you think this is a good or bad idea? You views please.. So please send us your thoughts on this to:- news24@southportreporter.com...
In our out of the EU - no matter what, we might have a dim outlook for UK household
A new EU law to be passed in 2018 is set to wreak havoc on household lighting costs, that if true might not be good news for Britons, should the vote favour Remain in the upcoming EU referendum. The law will ban the sale of halogen light bulbs, with all homes to be fitted with energy saving LED bulbs instead; at up to 25 times the price. If these if this is true...

According to the Association for the Conservation of Energy (ACE), there is an average of 11 spotlight bulbs in each of our homes, meaning the cost to replace them all could tally up to as much as £275. What was originally considered a minor expense is now sure to make a dent in the household budgets of the majority. But ACE aims to reduce overall energy demand. So in the long run, this move might save house holds far more, so better for the house holds.

Interestingly, a Peeblesshire lighting firm Scotlight Direct has conducted a survey that has revealed that of the 1000 people asked, only 25% were in a financial position to afford such an unprecedented expense, while at 75%, the majority would be severely out of pocket. If that is true... But financially, what would it mean in the long run?

As LED bulbs last up to 40 times longer than their halogen counterparts, the proposed law clearly does have its advantages and will also mean an eventual saving. It is estimated that after forking out the initial sum, it will take around 9 months to make the money back. In the meantime, it may be best not to postpone the inevitable. "LED bulbs don't come cheap, but do provide an impressive saving in the long run. Whether Britain remains in the EU or not, we should all gradually start replacing our halogen bulbs now, so as not to incur a large cost all at once. Prices for LED bulbs range from £12 to £25, but there is no reason to spend more than £16 per bulb, as there is no discernible difference in the quality." advises Andrew Fraser, Managing Director of Scotlight Direct.
Please send us your thoughts on this topic and enlighten us as to what you really think:- news24@southportreporter.com...

Brother and sister duo raise over £9,000 for the Stroke Association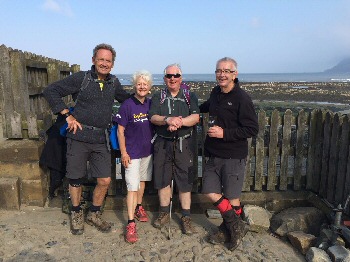 BARBARA Cheetham, 63, and her brother David, 67 from Crosby, have raised £9,074 for the Stroke Association after completing a Coast to Coast challenge in aid of the charity. The brother and sister duo were inspired to raise funds for the Stroke Association after their father, Dr Chestnutt, had a stroke in August 1996 at the age of 58. Barbara and David completed the 190 mile Wainwrights walk from St Bee's Head in Cumbria to Hood's Bay in Yorkshire in April 2016.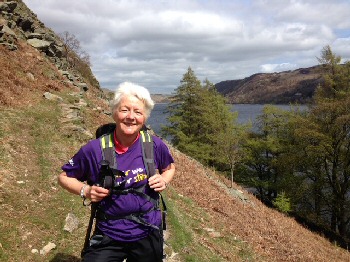 Barbara said:- "After seeing 1st hand the devastating impacts of stroke I was keen to do as much as I can to help others facing similar situations. The Stroke Association is an incredible charity and provides invaluable support to stroke survivors and their families. My brother and I are absolutely delighted to have raised such a substantial amount of money for a fantastic cause. I've been fundraising for the Stroke Association for over 15 years and I am an active member of the Southport Fundraising Group. We can't thank our friends and family enough for their generosity and support."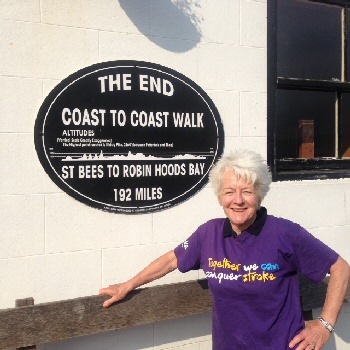 Louise Lawless, Community and Events Fundraising Manager at the Stroke Association, said:- "Without the efforts of fundraisers like Barbara and David, we wouldn't be able to support the 42,000 people in the North West who are currently living with the devastating effects of stroke, as well as their families and carers."

It's not too late to support Barbara and David, and you can show your support via visiting his Just Giving Page.