Scouser Tommy thanks Royal by becoming Hospital Hero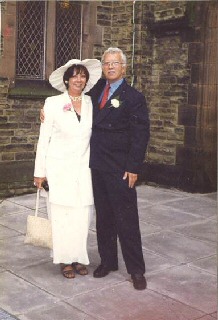 A patient at the Royal Liverpool University Hospital wants to pay tribute to staff for saving his sight and for the care his wife Jacqueline received in her final hours, following a sudden stroke. 76 year old Tommy Adams, a retired construction worker from Garston, will walk 4 miles along the Liverpool waterfront in R Charity's Hospital Hero Walk, on Sunday, 26 June 2016.

In 2014, after a check up with his optician, Tommy was told he would require 2 routine operations to remove cataracts from both eyes. Tommy made the decision to use private healthcare through his wife's healthcare plan and was happy with the initial results in the days after the operation.

However, following his first procedure and after a follow up appointment, Tommy started to lose sight in one eye. "Everything seemed fine. I went for an appointment with my wife and the doctor administered some eye drops, but on my way home, I realised something was not right. I started to notice my sight going and started to panic. My wife phoned the doctor again and after a wait we went back to see the doctor, who told us to go to the Royal immediately."

Tommy was rushed to St. Paul's Eye Unit in a bid to save his vision in the one damaged eye. "There was a team waiting for me when I arrived to treat me and I was rushed to surgery straight away. I was terrified, but the team at the Royal saved my sight and for that I am eternally grateful."

Since his operation, Tommy received regular check ups at the Royal and underwent treatment to successfully remove the cataract from his other eye. "I'm 76, but feel like a 21 year old. You do not appreciate your sight until you have a problem with it. I can drive a car without glasses. I can hit a golf ball and even better, I can find the same ball after I've lost it! I've taken chocolates into the hospital, but I can't thank them enough. That's just 1 of the reasons why I want to take part in the walk."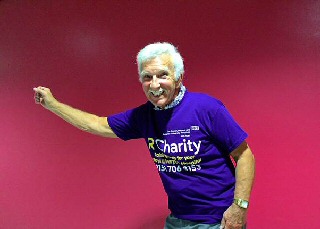 Since Tommy's sight was saved, he has had to deal with the tragic loss of his wife Jacqueline. In August 2015 at the age of 70, was rushed to the Royal following a sudden stroke.

Jacqueline sadly died hours after arriving at the Royal, but Tommy was grateful for the care she received. "Jacqueline was the most beautiful person. It was very sudden, but the she received exceptional care and attention from staff. She was very comfortable at the end and surrounded by loved ones. I think there was a smile on her face when she passed. I want to raise money to thank staff and to make sure my relatives and other people from Merseyside can benefit from this hospital in the future. I hope I won't have to use the new hospital, but it makes you feel extremely lucky to have a service like this on your doorstep."

Tommy will walk R Charity's Hospital Hero Walk with his daughter Toni. The walk costs just £5 and under 10s go free. Heroes taking part in the walk, no matter how big or small, will receive their very own superhero cape to wear and take home with them. To register for R Charity's Hospital Hero Walk, contact the R Charity fundraising team email, or you can call:- 0151 706 3150, plus you can also go online.

Liverpool and Wirral to pilot Social Stock Exchange
A 'Liverpool and Wirral Social Stock Exchange' is to be set up to encourage investors to put their money into local, responsible firms to help them grow and expand so they do not have to rely on high street banks or financial contributions from family members.

It will initially run as a 12 month pilot as a regional offshoot of the national 'Social Stock Exchange', with a view to creating a permanent presence in the area.

The national 'Social Stock Exchange' launched in the summer of 2013 and has built a membership of 35 firms with a collective market capitalisation of £2bn, with companies in sectors ranging from energy to social inclusion and fair trade benefiting so far.

The organisation has been working closely with Liverpool and Wirral Councils over the last few months to research the demand for a local exchange and a great deal of work has already been done securing interest from investors and business community.

A total of 92% of businesses who responded thought the initiative would be a good idea, while half would be interested in accessing it in the future and 12% felt it would be right for them now.

Larger charities also expressed an interest in investing in the scheme, as well as using it to raise funds,

Mayor of Liverpool, Joe Anderson, said:- "This is a really simple concept that could be a game changer for responsible businesses. We know that some businesses sometimes struggle to secure funding, particularly when they don't have any assets such as buildings that they can borrow against. This initiative represents the very best of finance, bringing together investors with a conscience with firms that are out to make a difference and improve lives. I am particularly pleased that we have been working in partnership with our colleagues in Wirral, because we both recognise the mutual benefits of having businesses in 2 large areas of Liverpool City Region eligible for membership."

It is thought it could generate support for up to 108 businesses who aim to make a social, environmental or ethical impact, and raise up to £75 million in capital.

Cllr Phil Davies, Leader of Wirral Council said:- "Our region has a proud history of successfully marrying investment with social improvements, not least the Lever Brothers' Port Sunlight village, built to house their workers. The Liverpool and Wirral Social Stock Exchange will pair up investors with social enterprises in mutually beneficial relationships that will pay dividends for the people of the region as a whole. I am keen to welcome new investment into the borough, and the opportunity to build a strong, sustainable Wirral. We are keen to maximise cooperation between the boroughs, and within the wider city region, and it will be a pleasure to share a platform at the International Festival for Business to set out our plans."

Social Stock Exchange Chief executive Tomás Carruthers said:- "We have already seen how a social stock exchange can work at a national level, but the research we have conducted shows that there's clear demand; both from companies wanting finance and from investors; to roll this out at a local level. Investors are not only helping support local businesses, but they also have the added benefit of knowing they are improving the local area itself, including the delivery of new services and facilities, as well as job creation."

It would not be the 1st time the region had its own stock exchange, as Liverpool had its own dedicated trading floor from 1836 until 1965. It then merged with other Northern exchanges, but the trading floor, which was latterly at Silkhouse Court on Tithebarn Street in the city centre, was in operation until 1985.

Businesses wanting to apply initially complete a simple two page application to the Exchange, and providing they meet the criteria they submit an impact report to the independent admissions panel. Around half of the companies that approach the exchange are granted membership, and an impact report has to be resubmitted on an annual basis.

The move is set to be ratified at Cabinet meetings of Liverpool and Wirral Councils later this month and will be formally launched at IFB 2016, on Wednesday, 29 June 2016.
Public welcome at the next Trust board meeting
THE Southport and Ormskirk Hospital NHS Trust will hold its next board meeting, on Wednesday, 6 July 2016, at 9.30am. The meeting will be held in the Clinical Education Centre at Southport and Formby District General Hospital. Members of the public are welcome to attend and observe the meeting. Anyone with a special requirement should contact the Trust in advance on:- 01704 704783. The agenda will be available on the Trust website in advance of the meeting. Supporting papers will be made available on the day.