Man from Liverpool appeals for people to register as potential blood stem cell donors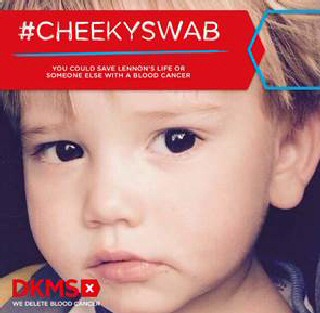 A man from Liverpool is appealing for people to register as potential blood stem cell donors with the charity DKMS to help save his son.
The appeal is being made by Richard Williamson for his 3 year old son Lennon, who needs to find a matching donor to save his life.
Lennon has a rare condition and the closest diagnosis is JMML, juvenile myelomonocytic leukaemia, which is a myelodysplastic syndrome. His parents have been told that he urgently needs a blood stem donation from someone with a matching tissue type.

For many with a blood cancer or blood disorder, a blood stem cell donation from another person is their only chance of survival and they will die if a matching donor isn't found for them. While around 30% of those seeking a match will find a donor within their own family, which is usually their sibling, the rest rely on the altruism of an unrelated donor.
As Lennon is an only child, his best chance of finding a matching donor is among those who are registered as potential blood stem cell donors.

Lennon loves playing the drums and putting on his Spiderman suit, and is still happy and fun loving in spite of his illness. Lennon's friends and family have set up an international campaign on Facebook and Twitter called #CheekySwab to raise awareness, organize donor recruitment events, and encourage more research into these rare disorders that could hold the key to our understanding of how our blood and immune systems work, and why they sometimes don't.

Urging people to register, Richard Williamson, his father, says:- "This isn't just for Lennon. We need to improve the chances for all these children who can't do anything about it. As a parent, it really sucks, and we don't want it to suck for anyone else. The good thing is, it's really easy to do and it literally throws a lifeline to someone."
Lennon himself says, "No job too big, no puppy too small! C'mon ye Cheeky Swabs! Let's roll!"

Emphasising how important it is for people to register, Aga Chrosciel, donor recruitment manager at DKMS, said:- "Registering as a potential blood stem cell donor only takes a few minutes but it could lead to you giving decades to someone else. It could lead to you saving Lennon's life or the life of someone else in need of a blood stem cell donation for his or her survival. Please take the time to do it as it could be one of the most important things you ever do."

You can register in 5 minutes online and request a cheek swab kit that will enable you to do your own tissue test to go on the database to maybe 1 day become a blood stem cell donor through the DKMS website.

Give Southport project its chance to be in the spotlight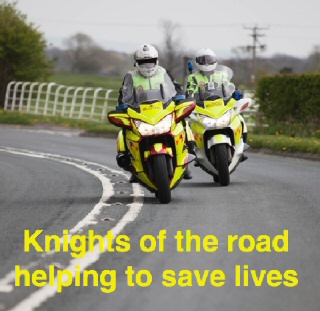 NORTH West Blood Bikes Lancs and Lakes, which works with Southport and Formby Hospital, is appealing for local votes as it strives for nationwide acclaim on BBC One in this year's National Lottery Awards. The project beat off stiff competition from over 600 organisations to reach the public voting stage in this year's National Lottery Awards; the annual search for the UK's favourite Lottery funded projects. North West Blood Bikes Lancs and Lakes is competing against 6 other projects to be crowned the winner of the Health category. Winners of the seven National Lottery Awards categories will each get a £3,000 cash prize to spend on their project, an iconic National Lottery Awards trophy and attend a star studded glittering Awards ceremony in London, broadcast on BBC One in September 2016. The North West Blood Bikes Lancs and Lakes is a voluntary, out of hours transport service, working with NHS hospitals and labs in Lancashire and the Lakes. This group of motorcyclists volunteers their 'down' time; evenings, weekends, bank holidays, 7 days a week, 365 days a year - to ensure hospitals don't have to pay for private couriers or taxis out of hours. The Lottery grant funded one of the group's 14 liveried bikes, though volunteers also use their own. Paul Brooks, Founder, Chairman and Trustee of NWBB Lancs and Lakes, says winning the prestigious National Lottery Award and having their work showcased on national television would be an honour:- "We're delighted to have reached the finals of The National Lottery Awards. Lottery money has really helped us in buying much needed motorcycles and specialist equipment. It's easy to vote, so we're hoping people support us, as it would be a fantastic reward for everyone involved in the project to receive national recognition for their hard work."

TV star and actor John Barrowman will be presenting the National Lottery Awards for the 6th time this year. He says:- "The National Lottery Awards are a great way to shine a spotlight on outstanding Lottery-funded projects. Now in their 13th year, the Awards celebrate the talent and dedication of the amazing staff and volunteers that run incredible life changing Lottery funded projects for the benefit of their communities and the people who live in them. Your local project has worked very hard to become a finalist and they now need your support because the project with the most votes in each category will be crowned the winner. Projects receive funding thanks to National Lottery players who raise £36 million every single week for Good Causes across the UK such as North West Blood Bikes Lancs and Lakes."

To vote for North West Blood Bikes Lancs and Lakes, please go to:- LotteryGoodCauses.Org.UK/Awards or telephone:- 0844 836 9701 and follow the campaign on twitter: hashtag #NLAwards. Voting runs for four weeks from 9am, on Wednesday, 22 June 2016, until midnight, on Wednesday, 20 July. 2016. There are 7 projects competing for votes across seven categories, reflecting the main areas of National Lottery funding:- arts, sport, heritage, health, environment, education and voluntary / charity.