National Express seeking senior ambassadors from Southport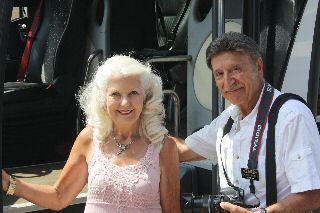 NATIONAL Express is launching a search for travel loving senior citizens from Southport to review its coach services in return for free travel. The UK's largest coach operator is looking to appoint a number of senior 'travel ambassadors', to help review and feed back on services in return for free coach trips around the UK.

Ambassadors will be able to take a complimentary coach journey of their choice every month, following which they are invited to feed back their experiences using a simple form. Ambassadors will then be asked to comment on different aspects of their journey and National Express will use the information to refine its customer experience.

The search has begun with the aim of having ambassadors from Southport travelling during the summer, so they can give their perspective on some of the top holiday destinations on National Express' UK wide coach network.

Previously appointed National Express ambassadors Art and Anne Zarb from Oadby in Leicester, originally appointed in 2013, have once again been selected, having explored the length and breath of the UK by coach.

Art, 75, a former wedding photographer, and his wife Anne, 70, a retired dressmaker dislike long car journeys but enjoy the stress free nature of coach travel, as it enables them to sit and relax while someone else does the driving. Art said:- "We are delighted to be appointed as ambassadors again this year; it is such a fantastic thing to be able to travel around the country for free on very comfortable coaches and see all sorts of places. As ambassadors we've been sightseeing, we've gone to the beach, we've walked in the country – I'd thoroughly recommend it to anyone."

National Express UK Coach Managing Director Tom Stables said:- "Customer engagement is absolutely key to continually improving our services and we're really excited to once again launch a search for senior ambassadors. Our senior travellers are highly-valued and discerning customers making them the perfect group to sample our services and give us their feedback. We're really looking forward to hearing from older customers from Southport who would like to get involved."

National Express offers a senior citizens coach card. Available to customers aged 60 and over, it gives users a third off all standard coach fares, including to airports, includes a dedicated seniors phone number and access to discounted 3rd party offers such as; restaurants, hotels; and theatre trips. To apply to become a senior ambassador please write to National Express, stating in no more than 150 words why you would make a great travel ambassador. Entrants must be aged sixty and over and be willing to share their experiences. Interested parties should apply to:-
David Wrottesley
Ambassador Competition
National Express House
Mill Lane
Birmingham
B6 5DD
UK

For more information or to book visit the website or call the National Express Customer Contact Centre on:- 08717 818181.

Credit Union's a Growing Concern
CENTRAL Liverpool Credit Union has moved to new premises – a former pub on Park Road. And as well as providing affordable loans and encouraging savings it is now aiming to grow food for its members.

Alongside its new building in the old Toxteth Pub, volunteers from the Credit Union are working to create a new community garden, which will be used to grow food for both members and volunteers.

The new premises provide the Credit Union with a high street presence on Park Road only 100 yards from where it was originally launched as Park Road Credit Union some 30 years ago.

Mayor Joe Anderson recently visited the new premises he commented:- "I'm passionately committed to our local credit unions which is why we've invested over a million pounds among the credit unions across Liverpool. And as we heard on my visit, for every pound invested in a credit union tens of pounds are generated for the local economy. At a recent cabinet meeting we launched the Liverpool and Wirral Social Stock Exchange Pilot. Credit Unions are perfectly placed to help local social enterprises benefit from this initiative. Our Shops for a £1 initiative on Smithdown Road has attracted enormous interest. Following my visit I'll be seeking ways to roll out the initiative in other parts of the City and inviting the Credit Union, through an independent trading arm, to act as a key partner in the initiative."

Eileen Halligan, CEO of Central Liverpool Credit Union, said:- "The Grass Roots project run by our charitable arm will finally be producing food to give to our members and volunteers. It is fitting that Grass Roots is sighted next to our memorial garden that honours deceased volunteers. We are delighted to be working with our local Councillors and the Mayor's Office to explore Social Stock Exchange through the shops and homes for £1 project. This could be the catalyst to regenerate neglected communities in keeping with the ideals of the founders of Park Road Community Credit Union."

Work on the Credit Union's Park Road Community Garden has been supported by L8 Living Sustainably, Liverpool City Council and IN Environmental Services.
£1.3m safety boost from Liverpool City Region
SCHEMES to improve the safety and efficiency of many key routes in Wirral will be made possible thanks to a funding boost from Liverpool City Region. In a paper going to the next meeting on 18 July, Cabinet will be asked to accept funding of £1,375,000 from Liverpool City Region Combined Authority's Integrated Transport Block. This money will support delivery of schemes to improve capaCity and safety on our road network and improve cycling and walking routes all of which contribute to the economic development of the borough and our commitments in our transport strategy Connecting Wirral. Each of the 4 constituency areas; Birkenhead, Wallasey, Wirral West and Wirral South; will each be allocated £32,500 out of the funding for their own local schemes which contribute to these objectives.

Cllr Stuart Whittingham, Cabinet member for Transport and Infrastructure, said:- "As a Council, we are doing all we can to develop Wirral's economy and encourage investment and jobs to the area, with all the benefits that will bring to the community. Having a safe, efficient road network is a key component to that and we are delighted to receive this financial boost to help us make a raft of improvements on many of our key routes over 2016. In addition to assisting economic growth, the schemes we are putting forward will also reduce casualties on the roads and contribute to reductions in carbon emissions by encouraging more walking and cycling."

The projects proposed for progression as a result of this funding include work on the A41 New Ferry by-pass to encourage drivers to adhere to the speed limit, improvements to roundabouts at Clatterbridge Road / Thornton Common Road and Column Road/Caldy Road, Caldy and the conversion of obsolete 'pelican' crossings to Toucan or Puffin crossings at various locations across the borough. Proposals for improved cycling provision are earmarked for the A41 at Eastham and near Pool Lane, Bromborough and alongside the River Birket between Pasture Road to Reeds Lane in Leasowe.