Council set to provide more than 3,500 new homes by 2020
MORE than 3,500 new homes will be built in Wirral by 2020; that's the central pillar of a new housing strategy unveiled by the Council. Good quality housing which meets the needs of residents was one of the key pledges made by Wirral Council in its:- 'Wirral Plan 2020'. The Council recognises that having a safe and secure home is the most important thing to local people and provides the foundation upon which successful and happy lives are based. In the new housing strategy; which will be considered by Cabinet on 18 July 2016; the Council sets out its plan to provide the additional, quality housing that is needed right across the borough. This includes building more affordable homes, improving existing accommodation and providing more specialist accommodation, such as supported living and extra care homes.
Cllr George Davies, Wirral's Cabinet member for Housing and Community Safety, said:- "As a Council we are committed to growing the local economy; attracting new businesses and investment to the borough to create new jobs and helping existing employers in the borough to grow and expand. At the heart of this plan is a commitment to ensuring we have the right housing and accommodation for people who live and work here, not just now, but in the future too. We have set ourselves an ambitious target of building 3,500 brand new homes in Wirral by 2020. I don't think there is a bigger priority for the Council over the next few years and we aim to achieve our target by continuing to work alongside partners and by encouraging and enabling developers to work with us. The knock-on effect will be incredible; more people will live in Wirral, more businesses will move and thrive here, homes will be safer, people will be healthier and the borough will be more attractive."

Another element of the housing strategy is a commitment and a pledge to improve existing housing standards, including bringing more than 1,000 currently empty houses back into use. Currently around 1 in 4 private properties don't meet the nationally defined decent homes standard, with an even greater number of private rented homes failing to come up to scratch. While responsibility for standards in private sector housing lies very much with homeowners and landlords, the local authority and partners have a role to play in ensuring properties are maintained in a satisfactory manner, particularly where vulnerable residents are concerned. Improvements are already being made with initiatives such as the selective licensing scheme proving successful in areas where there is a high proportion of private rented accommodation and the strategy sets out how these can be developed further over the next 5 years to make further progress. Cllr Davies said:- "By 2020, we aim to have improved 2,250 private sector homes and brought 1,250 empty properties back into use. We'll achieve this by building on the good relationships we have with landlords, residents and agencies, but by also continuing to get tough on those who won't make the required improvements."

The strategy also sets out how the Council will better support and protect the most vulnerable members of the community. This includes providing 300 new extra care homes by 2020 and working with thousands of vulnerable people to provide accommodation that both supports their needs while helping them maintain their independence. It also sets out how the Council will work with others to reduce the level of homelessness and support those who do find themselves in need.
Become a governor and have your say
MAKE a difference and put your name forward to be a governor of Cheshire and Wirral Partnership NHS Foundation Trust. The Trust provides specialist child and adolescent, adult and older people's mental health, learning disability and substance misuse services to a population of approximately one million people. CWP also provide specialist services within Liverpool, Sefton, Bolton, Warrington, Halton and Trafford in addition to community physical health services to patients who have a GP in Western Cheshire. CWP is a special place because of the extraordinary people that work, treat and are treated every day. Whether you are currently accessing our services, carer or member of the local community with an interest in healthcare, we need your support in standing to become a Governor. Governors play a vital role in making sure that the views of our patients and the wider community are taken into account and shaping the future plans of the Trust. There are no specific qualifications required to be a Governor; enthusiasm and a desire to make a difference are the most important things! CWP lead governor, Anna Usherwood, says:- "The Council of Governors is responsible for representing members' interests and provides a link between members and the Trust's Board of Directors. All members are entitled to have a say in how the Trust is run and those who want to shape the future of the NHS can stand for election as a governor." The trust is looking for nominations for a range of seats, 6 service user and carer seats for those with experience of CWP including 1 public seat to represent out of area members services and 3 staff seats. For more information about these opportunities and the Council of Governors via sending an email or visiting:- CWP.NHS.UK/Get-Involved. You can also call the Corporate Affairs Team on:- 01244 397381. Nomination forms can be requested in the following ways:- online, via calling:- 0208 889 9203, sending an email or send a the following Text:- 'Text 2FT CW' with your full name and full address to:- 88802.

Wirral's foster carers are 'best of Wirral' says our vulnerable kids' champion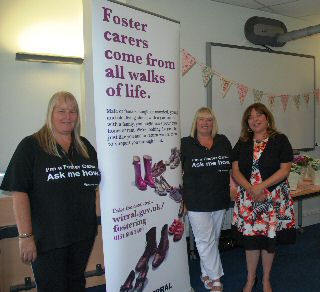 WITTAL'S "Walks Of Life" campaign has resulted in more than 200 queries from potential foster carers looking to care for vulnerable children and young people in the borough.
With a new foster carer needed every 20 minutes across the UK, Wirral's Pledge Champion for Vulnerable Children has reiterated the need to carry on raising awareness.

Speaking at a special event in Birkenhead Park to mark one year since the foster carer recruitment campaign was launched, Cllr Treena Johnson, Pledge Champion for Vulnerable Children, said:- "Our foster carers are the best of Wirral; opening up your homes, your lives and your hearts to give support, encouragement and love to a young person in need is truly exceptional. People like you make me so proud to call this borough home."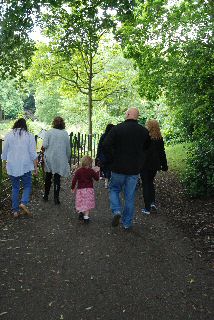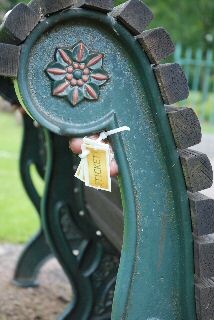 Launched at the Light Cinema, New Brighton, a year ago, the:- 'Walks Of Life' campaign used film, advertising and social media to dispel myths about foster caring including misconceptions around who can foster.

The latest phase of the campaign:- "Time to Foster, Time to Care" was launched during Foster Care Fortnight in May 2016, and while the need to recruit foster carers continues across the board; this phase is looking at the need to recruit carers for over 10's, teenagers, and sibling groups.

Fostering roadshows have been delivered by fostering ambassadors, and foster carers, children and young people have been sharing their most significant moment of this past year via social media (#FCF2016).

The event in Birkenhead Park included a treasure hunt and activities organised by the park rangers and fostering team.
Formby Festival is due to hit the right note!
A small reminder that it will soon be the Formby Festival as this fantastic event runs from Friday, 15 July 2016 to Sunday, 17 July 2016. This year's event will see Anna Corcoran performing at Formby Festival; she's an acoustic singer/songwriter from the area. She was even nominated as 'Liverpool Female Artist of the Year'! She'll be taking the main stage at 2:45pm, on Saturday. Rock, Pop, Funk, Rock n Roll, The Dockers do it all! They're a 3 piece band from Liverpool. Influences on them include The Beatles, Queen, Level 42, Rolling Stones and more. We can't wait to have them back at the Formby Festival! They'll be taking the main stage, at 12:45pm, on Sunday. Plus lots more, including a firework display on the Saturday night! More information can be found online at:- FormbyFestival.Co.UK - Also to locate the event on the day via Sat-Nav please use: - Formby, Merseyside, L37 4AN,,, to find it!