Bell Tower Challenge Has Nice Ring To It
CHURCHES and cathedrals across Merseyside are being challenged to show people the ropes by bringing to life the 400 year old tradition of English style bell ringing as part of Heritage Open Days this September. The call to the ringing world to open up 500 sites will provide a unique opportunity for ringing bands across England to share the heritage hidden inside their bell towers as well as their passion with millions of visitors who every year venture out to discover the treasures on their doorstep.

Bell ringers across the country are already signing up to take part in Challenge 500 including enthusiasts at some of Merseyside's most interesting locations, such as Holy Cross Parish Church, Woodchurch and St. Andrew's Church, Maghull.
The tradition of change ringing is a unique form of music which has its roots in England. Instead of 'tunes' the bells ring in orderly sequences that the ringers learn as patterns and then ring from memory. Ringers control the bell with a rope, while the bell turns full circle, mounted on a wheel. Famous people who are reported to have rung bells include comedians Victoria Wood, Jo Brand and Timmy Mallett, gardener Alan Titchmarsh and entertainer and writer Frank Muir.
In addition to the Challenge 500 ringers are invited to come together to create a collective bell ringing moment as part of the festival on Thursday, 8 September between:- 18:00 to 19:00 hours.

Loyd Grossman, Patron of Heritage Open Days, said:- "Heritage Open Days provides the perfect opportunity to join together to bring to life the four-hundred year old tradition of English-style bell ringing for a huge audience. We are keen to recruit churches and cathedrals to become involved in the festival by registering an event for visitors to discover their bell towers and to take part in hands on demonstrations."

Chris Mew, President of the Central Council of Church Bell Ringers, said:- "We are excited that bell ringers will join this annual celebration of our cultural treasures. There are 5,000 bell towers for change ringing and our challenge is to unlock the doors to 500 of them. What's more, some visitors may be able to see the bells, often locked away over our heads, discover our ringing forebears' achievements recorded on peal boards, learn about bell ringing and maybe have a go themselves."

Clara Govier, Head of Charities at People's Postcode Lottery, said:- "Ringing out the bells over Heritage Open Days is a great way to bring people's attention to the cultural and historical significance of bell ringing and its preservation. We are excited that millions of visitors will be able to discover the hidden history of bell towers in churches and cathedrals which will be free to access over four days."

To take part in the challenge and to be counted, bell towers need to register with Heritage Open Days, by 1 August 2016. By registering, all participants will be able to access a free marketing support pack and their event will be listed at online from mid July.

2 examples of the 500+ registered events...

► Holy Cross Parish Church, Woodchurch. Enjoy the opportunity to try your hand at ringing the tower bells alongside experienced bell ringers. Climb the 100+ steps up the tower for views of Woodchurch and beyond. Enjoy our Church Trail, activities and a colouring competition for children. Old photographs of Woodchurch and our Church together with memorabilia will be on display, and visitors can speak to us about family history enquiries.

► St. Andrew's Church, Maghull. Listen to the wonderful art of bell ringing by St. Andrew's hand bell ringing team and explore the gorgeous sights at St Andrew's Church.

Husband and wife peace campaigners accept Honorary Doctorates from Edge Hill University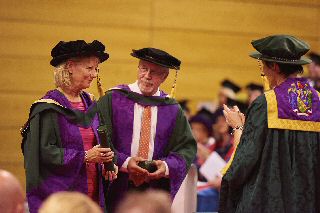 COLIN and Wendy Parry have been awarded with Honorary Doctors of Education by Edge Hill University for their efforts in promoting peace and community education in the wake of a family tragedy.

On 20 March 1993, Colin and Wendy's 12 year old son, Tim was involved in an IRA bombing attack in Warrington, and died 4 days later. Keen to ensure that their son did not die in vain, Colin and Wendy established the Foundation for Peace charity in 1995.

It was in the "very, very dark days" immediately following the bombing when the couple tried to find answers about why the IRA would choose Warrington, that they agreed to make a programme with the BBC.
"It was a very tough programme to make... But we did find one bright spot in that month of making the programme. We witnessed a group of young Northern Irish people, politically divided but united around the concept that you cannot resolve disputes through violence. So while they may have had different political ambitions they all united around the concept of peace building. The foundation is predicated on the principle that you talk to your enemy. I can't see how any progress can be made in any conflict of any kind without dialogue" said Colin.

The Foundation for Peace works with people from all backgrounds to prevent conflict by helping them to develop the skills and understanding to be able to resolve conflict through non-violent means. The Foundation also provides training and guidance to leaders and mangers, including those at government level, on how to deal with past, present and future conflicts.

In March 2000 Colin and Wendy opened the Tim Parry Johnathan Ball Peace Centre in Warrington; a safe place where people can learn about non-violent resolution of conflict. Colin and Wendy are passionate about encouraging those involved in or affected by conflict to build meaningful friendships and find the means of working together to eliminate the prejudice and distrust.

Speaking to today's graduands, Colin added:- "What matters most to us is that we make a meaningful and long term difference in the world. I would look to you to be the generation that can break the mould, who will step across the road to speak to someone from the other side, whatever that other side is, who do take the trouble to learn more about why people have differences and to make your own contribution. Everyone can make those bigger gaps smaller in a very simple way by conversation. That's our simple mantra."

Edge Hill University will award ten Honorary Degrees during its 2016 summer graduation ceremonies. Each of the recipients - leaders in a range of areas spanning film, law, politics, music, education, and philanthropy - will be recognised by Edge Hill for their contributions to society that resonate with the University's values, teaching and research.