Charity's cream teas enjoy sweet taste of success in Southport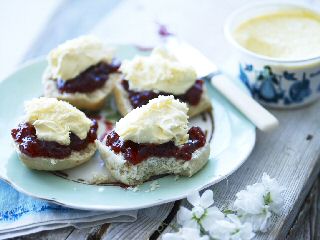 CHILDREN'S charity Action Medical Research has raised almost £55,000 to help save and change children's lives after it sent out some 9,800 cream teas in a box in its nationwide delivery. Thousands of delicious cream teas were sent to homes, workplaces and schools throughout the UK, on Friday, 1 July 2016, earning £54,848 for Action Medical Research. David Graham, Head of Events Fundraising, says:- "This is the 3rd year we've run our cream teas delivery and it's just gone from strength to strength. We're delighted that so many people were keen to put on the kettle and make time for tea for tiny lives. Medical research for children is underfunded in the UK. For every project Action funds there's another one we have to turn away; simply because of a lack of funds which is why this fundraising means so much to us. It's not easy to get almost 9,800 boxes ready for delivery in 1 day, so we're very grateful to our army of volunteers who packed our cream teas as well as to everyone who enjoyed them! We're hoping for an even bigger total in 2017 so we'd love to hear from anyone who'd like to help us offer an even more delicious delivery next year."

The delivery included 19,558 scones, 9,779 Yorkshire teabags, 391kg of Rodda's Cornish Clotted Cream and almost 509kg of Tiptree strawberry jam to give supporters everything they needed for the perfect afternoon pick me up. Action Medical Research has also released the results of its tasty survey into the nation's cream tea habits which found that almost 70% said they liked their cream teas the Cornish way, with jam first then clotted cream on top.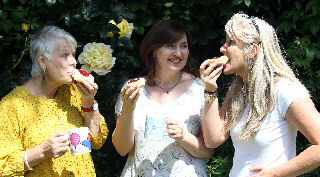 Unsurprisingly, almost 66% of those surveyed enjoyed their tasty treat with a refreshing cup of tea but it looks like coffee culture is poised to take over: 10% said they preferred a coffee to the traditional cuppa. Asked whether they like to share their cream teas, most people said that sharing a cream tea was all part of the experience but 40% of people answered hands off - it's all mine! And there were some surprising spots where respondents had enjoyed their cream teas: on a punt on the River Cam; in Mauritius; in a tent; and even on top of a lighthouse! For more than 60 years Action Medical Research has helped pioneer treatments and ways to prevent disease that have benefited millions of people in the UK and across the world. Research they've funded has helped to beat polio in the UK, develop ultrasound in pregnancy, fight meningitis and prevent stillbirths. Action Medical Research is currently funding research into meningitis, Down syndrome, epilepsy and premature birth, as well as some rare and distressing conditions that severely affect children.

"Hidden jewel" to be converted into a park
A new park is to be created in North Liverpool at a site described as the City's hidden jewel. The 8 acre piece of land, bordering Kirkdale Rail station consists of woodland and grassed areas with wildflowers and wildlife. Now it is to be made into a maintained park with the provisional name of Melrose Meadows.
Mayor of Liverpool Joe Anderson said:- "I was aware that there was a piece of land next to the railway but like most people I just drove past it without really knowing what was there, as you cannot see it properly from the road. Simon O'Brien brought it to my attention in his green spaces review and I went there with him and was absolutely stunned at how beautiful it is. It really is a hidden jewel, a breath taking piece of green space in North Liverpool with a lot of potential and we want to ensure that this significant site is maintained to be used by the local community. We are putting some funding into it and will be working with the community and other partners to protect and develop the site. I would like to thank Simon for highlighting this space; his interim review talked about creating green corridors in the City and this is a great example of how we can take that idea forward."

£50,000 has been allocated to start the work on the park. It is envisaged that the new park will have improved footpaths, entrance and signage.

Kirkdale Councillor Joe Hanson said:- "It's great news that we are getting a new park. We will be consulting with the local community on how we can best animate and make the most of it. I know some people will have concerns about anti social behaviour so we will be ensuring that there are proper security arrangements in place."
Mayor Anderson added:- "This will be the second significant park we have created in the North of the City, after Alt Meadows... We have also created numerous smaller spaces throughout Liverpool making it a greener City."
Society calls on Southport to help stock animal rescue centre
YORKSHIRE Building Society colleagues are asking generous customers in Southport to back their drive to help stock an animal rescue centre with provisions.

Donations of dog and cat food, blankets, toys and pet accessories are being collected by the branch in Southport after they became an official collection point for Freshfields Animal Rescue.

Karen Cannon, manager of the Southport branch of Yorkshire Building Society, said:- "We hope that our customers and members of the public in Southport can help us in our support of Freshfields Animal Rescue in providing them with vital items needed to carry on their important work."

Freshfields Animal Rescue is a community focussed non-profit making charitable organisation caring for abandoned, abused and unwanted domestic and small farm animals along with sick and injured wildlife.

They provide temporary refuge and sanctuary for animals in need of help with each animal receiving the food, medication, socialisation and emotional healing required before re-homing or release.

The Yorkshire Building Society branch, on London Street, is open for donations between 9am and 5pm Mondays to Fridays, 9.30pm to 5pm on Wednesdays and 9am until noon on Saturdays.

For more information about Freshfields Animal Rescue please visit:- Freshfields.Org.UK.