Work to start on refurbishing the Welsh Streets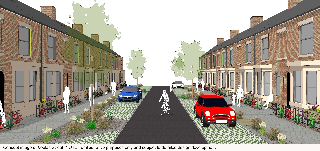 WORK will get underway early next month on the refurbishment of homes in the Welsh Streets in Liverpool. A pilot scheme to transform 35 properties into 25 energy efficient homes will start in August 2016, on High Park Street and Veolas Street, in Princes Park. Place First, which signed an exclusivity deal with the City Council in January 2016, is the developer delivering the project. The firm is a specialist development company with a proven track record in converting 19th century housing into high quality homes that meet modern standards whilst retaining their original character.

Mayor of Liverpool Joe Anderson said:- "When we partnered with Place First in January, I pledged that we would start work as soon as detailed surveys had been completed. Place First have a great track record in regenerating old houses and I know they are genuinely excited about what they can do in the Welsh Streets. We've already demonstrated with the regeneration of Anfield and our Homes for a Pound scheme that we are leading the way in finding imaginative ways of retaining properties where it is viable to do so."

The pilot scheme is designed to show the local community how the homes can look when they are fully refurbished to modern standards, and will set the standard for refurbishment across the wider Welsh Streets area. The new homes will provide spacious, modern accommodation to suit households and families of all sizes through innovative remodelling that will deliver a mix of:- 1, 2, 3 and 4 bedroom homes with gardens.

Councillor Frank Hont, Cabinet member for housing, said:- "Place First have been working really hard over the last few months to look at what we can achieve quickly. It is really important to us that the residents can see progress in bringing the area back to life, because for far too long they have seen their hopes and dreams thwarted through no fault of their own. I genuinely feel that we are at the start of something really special for the Welsh Streets, which will create a new community for the area and give it a long term future, delivering the best of the old and the new. This is just the start of the process though and I hope to be announcing details of further pilot schemes in the near future. I would like to thank residents for their patience, resilience and support over the last few years and sticking with the area when some of them are in poor health as a result of the conditions they are living in."

David Smith Milne, Managing Director and founder of PlaceFirst said:- "We are delighted to start work on this pilot scheme so soon. Delivering an 'early win' and showing the local community that we are committed to this project was a mutual priority for Place First and the Council from the outset. The remodelling and refurbishment of these properties will be a difficult and complex task, but we are confident that we can deliver inspirational, distinctive homes that preserve and compliment the heritage of this historic neighbourhood. Place First are committed to improving the renting experience for the growing number of families who now rely on this sector for their housing needs. The homes proposed for the Welsh Streets will set new standards in renting and will appeal to families looking for rental accommodation they can put roots down in and genuinely call a home. The new homes will be distinctive and inspirational, designed around the needs of modern families, unlike the 'identikit' approach taken by the majority of volume householders. We would like to thank the council and the local community for their enthusiastic support on this project. Coming into an historic urban regeneration project like this can often be difficult, but we have had tremendous support from both the council and the local community right from the outset and hope that together we can achieve something really special in the Welsh Streets."

A further phase of refurbishment work to transform homes in an area of the Welsh Streets that is still occupied will be announced in the next few months. So what are your views on this issue? Please email us to:- News24@SouthportReporter.com and let us know.

Northern Councils to play a leading role in Brexit Negotiations
FOLLOWING the decision that Britain will leave the European Union, Leaders across the Liverpool City Region are working together to identify what impact this will have for the City Region and have also broadened this partnership by working across the North of the country.
The needs of the Liverpool City Region and Northern region as a whole must be taken into account when negotiating Brexit, and this can be done best by having people from the City Region directly involved.
Mayor Joe Anderson, alongside the Chairs of the Combined Authorities for Greater Manchester, North East, Sheffield City Region and West Yorkshire, recently wrote to the Prime Minister to point out that the 5 Northern Combined Authorities have a stronger economy than Scotland and a population greater than London, which shoes exactly why the North of England needs to be involved in the Brexit negotiations.
Councillor Phil Davies, Portfolio Lead for Economic Development for the Liverpool City Region Combined Authority, said:- "I was interested to hear Greg Clark's speech at the recent Local Government Association conference, in which he confirmed that local government would be involved in the Brexit negotiations. The question is how? As a City Region, we have joined forces with the other Combined Authority leaders in the North of England to call for a seat at the Brexit negotiating table."

There is a lot at stake for the City Region, which was due to benefit from a commitment of over £200m of European Union funding over the next few years. In addition, many organisations would have been bidding for other European programmes such as those for connectivity and innovation. When combined with other sources, the impact is that over £400m of investment is potentially at risk; along with job opportunities (estimated to be 2,100 jobs) and economic growth in the area which the funding would have helped to create 2,100 new business start ups and assisted over 6,700 businesses. Cllr Davies added:- "It's quite clear that these negotiations will now be about returning powers from the European Union to this country. There's no reason at all why those powers should simply return to national Government; we believe that they should be returned directly to local decision makers and the Combined Authority is now placed ideally to take those powers on. This will be a priority for us as part of the negotiations."
More LED street lights planned
THOUSANDS more LED street lights are to be installed throughout Liverpool producing significant savings. The City Council agreed to a phased replacement of thousands of the City's street lights with LED lighting in 2014 at a total cost of £7m.

In the first phase 12,000 LED lights have been installed in over 1800 streets with 120 concrete column replaced. This has produced energy savings of £585,000 to date and carbon savings of about 1500 tonnes,

Now the cabinet is being asked to approve a 2nd Phase of the programme which will see 9,380 street lights replaced with LED lighting at a cost of £4m.

This will reduce the energy consumption for these lights by 82%, cutting the Council's energy bill by about £260,000 a year. There will also be a reduction in carbon of about 1300 tonnes, bringing a saving of £21,000 and there will be maintenance savings of approximately £47,000 a year.

At its meeting on 22 July 2016 the cabinet will be asked to approve a procurement exercise to appoint a contractor for this phase of the programme.

Councillor Malcolm Kennedy, cabinet member for regeneration and transport said;- "This programme has been a great success. We are replacing out of date environmentally unfriendly street lights with modern, efficient and energy saving ones. It is part of our invest to save strategy; the investment we are making in new street lighting will be more than offset by the subsequent savings in our energy bills and maintenance costs. And, of course, there are significant environmental benefits; these lights mean we will be a greener City with a lower carbon footprint.."