New relatives' room at Southport A&E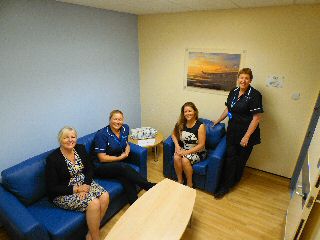 A new relatives' room has opened at Southport Hospital to allow nurses to talk to families in confidence. The Hospital has a busy A&E department which lacked an area for private discussions. Community Link Foundation has funded the new room which offers a tranquil space away from the wards. Colette Henshaw, A&E sister, said:- "We are really grateful for Community Link Foundation for supporting this new room. There are times when medics will sometimes need to tell tragic news to families. This room provides a calming and private area for those extremely important discussions."

The relatives' room has a phone line and tea making facilities. Mugs were kindly donated by Southport Sainsbury's. Cheryl Gradwell, Community Link Foundation trustee and board member, said:- "The foundation was unanimous in its support for this new room. It's important to have a space where families can gather their thoughts when they are told they have lost a loved 1."

Cheryl lost her husband Christopher four years ago. She was told the tragic news at A&E. She said:- "It's something you would never want to go through. I think I may have been able to gather my thoughts a little better had I been told about my husband in a room like this. I'm very pleased to see this room now open where Hospital staff can give support to families when they need it most."

The mission of Community Link Foundation is to support and enhance the lives of those living in the local community and surrounding areas. More details online.
Liverpool amongst most generous Cities in the UK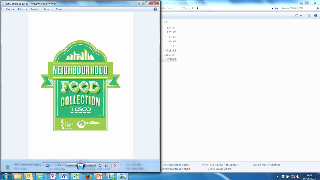 SHOPPERS in Liverpool demonstrated their generosity earlier this month, by donating an estimated 27,783 meals to foodbank charity The Trussell Trust and food redistribution charity FareShare, putting them firmly in the top ten most generous towns during Tesco's Summer Neighbourhood Food Collection. The bi-annual food collection runs in all Tesco stores across the country, to collect vital store cupboard essential foods, such as rice, tea, tinned meat and fish and UHT milk, for people in need. The food collected in this store helped contribute towards the estimated total of 2.8 million meals collected for the charities by all Tesco stores nationwide this month. Caroline Silke, head of community at Tesco, said:- "We're over the moon with the huge number of food donations we've had, resulting in such an amazing number of meals to give to those in need. It really demonstrates the generosity of the people of Liverpool. Thank you for once again supporting us, and making this collection so successful!" Now in its 5th year, the Neighbourhood Food Collection is run in partnership with Tesco, FareShare and The Trussell Trust. It is held twice a year in all Tesco stores, once in summer and once in the winter. Tesco will financially top up donations made to the collection by 20%. For more information about the Neighbourhood Food Collection, please go online.


Children invited to join Big Summer Library Reading Challenge!
WIRRAL Council is calling for children to sign up to read 6 books this summer as part of 'The Big Friendly Read, Summer Reading Challenge 2016.' The Summer Reading Challenge asks 4 to 11 year olds to borrow and read any six library books over the summer. It has a new theme each year and in 2016 the Challenge is delivered in collaboration with The Roald Dahl Literary Estate to celebrate 100 years of the world's favourite storyteller. This year's challenge (2016) will feature some of Roald Dahl's best loved characters and the artwork of his principal illustrator, Sir Quentin Blake. It will encourage reading on a giant scale. To take part in the Challenge, all children need to do is sign up at their nearest library. They'll receive a special collector's folder and as they borrow and read books and make at least 6 visits to libraries over the summer, they can collect 6 special cards to complete it. The cards all feature original Quentin Blake illustrations and explore some of most popular themes in Roald Dahl's books such as invention, mischief and friendship. At the end of the challenge all participants will receive a certificate and completers will also get a medal. 'The Big Friendly Read Summer Reading Challenge' runs in libraries across Wirral until 3 September 2016.

Also this summer at the Bebington Library, Civic Way, Wirral, CH63 7PN, they will be hosting visits by 2 well known children's authors:-

► Alan Gibbons has written 60 books including:- 'Shadow of the Minotaur,' and won 17 literary awards. He will be conducting three separate workshops for children of differing ages on Tuesday, 16 August 2016.

► Cathy Cassidy, author of the popular 'Daizy Star' andwill be conducting 2 workshops and a talk on 'Chocolate Box Girls' Wednesday, 17 August 2016.

Booking for both is essential, call them on:- 0151 606 2665 for further details and to register. The event has been organised by the Friends of Bebington Library with money awarded by Your Wirral. The aim is to promote reading and a love of books for young people from 8 to 13 year old.

Cllr Ann McLachlan, Wirral's Cabinet Member for Libraries, said:- "We want to give each child the best start in life and reading is a great way of building literary skills and imaginations. The summer reading challenge is always well received in the holidays in our libraries, and I'm sure that Roald Dahl's fantastic characters will inspire many more children to take part and make use of their local library throughout the summer and beyond."
Liverpool City Region programme shortlisted for national award
THE Liverpool City Region's Youth Employment Gateway (YEG) programme is through to the finals of the Employment Related Services Association (ERSA) awards which take place later this week. More than 130 nominations were received across ten categories, with YEG entered as a finalist in the innovation category. Youth Employment Gateway supports unemployed Halton, Knowsley, Liverpool, St Helens, Sefton and Wirral's 18 to 24 year olds into work. Over the last 21 months, the programme has supported over 3,500 unemployed young people, with over 1,300 finding employment.

Participants on the programme are placed with a dedicated advisor who can provide ongoing support tailored to their specific needs. They are also given a personalised budget which they can use to buy goods or services upto the value of £500, which they believe will help improve their employment prospects. Participants also have access to a range of online tools via YEG's website, which can help them search and apply for jobs and apprenticeship and manage their personalised budget. The ERSA awards recognise and celebrate those involved in helping to move people towards, enter and progress in work. The winners will be announced on 21 July 2016.

Cllr Ian Maher, the Liverpool City Region Combined Authority's lead for Employment and Skills, said:- "To be nominated for such a prestigious award is an achievement itself but I wish the programme every success on Thursday at the ERSA Awards evening. We have received some fantastic feedback from participants on the programme so we know that is really delivering what both residents who are looking for work and employers who are looking for staff want and need in the Liverpool City Region. Good luck!"

To find out more about the Liverpool City Region's Youth Employment Gateway, visit the group's website.