Homecoming abseil for charity boss with a fear of heights

A charity boss is preparing for a Merseyside homecoming with a difference as she prepares to conquer a fear of heights. Kate Wynne, 41, is to abseil down Liverpool Cathedral to help raise vital funds for vulnerable children supported by her employer The Children's Society; and is calling for more Liverpudlians to join the charity's team.
She had a wobble having realised only after she had signed up, that the fundraiser, which takes place on Saturday, 30 July 2016, is a freefall abseil. But Kate, who grew up in West Derby before moving away for work aged 22, has now resolved to step up to the challenge.

She will be supported by family and friends from Liverpool, including her dad Paul, who still lives in West Derby, and other relatives including her 3 year old niece Jasmine and sister in law Stephanie.

The money Kate raises through sponsorship will help support The Children's Society's work with vulnerable children and young people, including those at risk of going missing and child sexual exploitation, those in care and those with mental health issues.

The Anglican Cathedral's annual freefall abseil sees more than 600 people including individuals and members of charity and business teams raise funds for good causes. Kate, a former pupil at St Paul's Catholic Junior School and Broughton Hall Catholic High School, said:- "I've never done anything like this before. I looked at the different fundraising events including the marathon and 5k run options and thought this one would be easy - plus it's a chance to see my family and a City I love. I almost forgot that I'm really not great with heights and didn't realise until after I'd entered that it was a freefall abseil."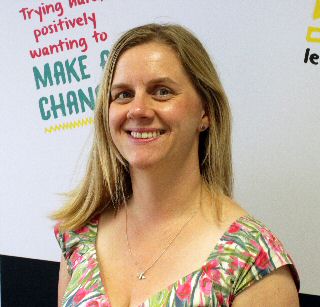 Kate, who is The Children's Society's director of business development, said she was now thinking:- "what have I done?" Kate, who is mum to 2 year old Beatrix went on to add:- "I went to the top of Muswell Hill near where I live in London, as part of my training and looked down; and that was bad enough. But I just wanted to do my bit to add some money to The Children's Society's frontline services because I'm proud of what we do to support some of the most vulnerable children and young people in society who have been through some terrible experiences. The more money we raise the more children we can help so I would urge people up for an exciting challenge while raising money for a great cause to sign up. You can't beat the generosity of Liverpudlians; around ½ of my donations so far have come from the City of Liverpool!"

► To sponsor Kate visit:- JustGiving.com/FundRaising/KLWynne.

► To join Kate on The Children's Society's team visit the groups website.
Entrants pay a £50 registration fee which covers the costs of entering a team, helping to keep entry to the Cathedral free to visitors and supporting its work in the community. People are then asked to raise a minimum of £200 in sponsorship for The Children's Society.
The charity's dedicated events team provides support for participants including an online training zone with a virtual personal trainer, a fundraising pack and email updates. All entrants receive a branded t-shirt for the challenge.

The challenge is open to anyone over the age of 16 in a good state of medical and fitness health. No prior experience is necessary.

Participants are asked to arrive at the West End doors of the Cathedral by noon in time for a briefing ahead of the descent at 1pm.

Sarah Shelton, Regional Fundraising Manager for The Children's Society, said:- "We're all rooting for Kate as she looks to overcome her fear of heights. Without the fantastic support of people who take part in, organise and sponsor fundraising events and those who raise funds for The Children's Society in other ways, we could not possibly make a positive difference to the lives of so many vulnerable children and young people. I would urge anyone who fancies a challenge with a difference, offering incredible views of Liverpool while enabling participants to raise money for such an important cause, to sign up."

The Children's Society was founded by a Sunday School teacher, Edward Rudolf, in 1881, and maintains close links with the Church of England. Liverpool Cathedral organises an annual Christingle service, which raises vital funds for the charity.

New app for Southport hospital visitors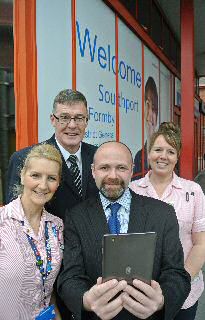 SOUTHPORT Hospital is 1 of the 1st in the country to benefit from a new way finding app. It has been developed by Southport and Ormskirk Hospital NHS Trust in partnership with Liverpool company Innove Solutions. It will enable visitors and patients to get familiar with the layout of the Hospital before they arrive.

The free app, which is available on Apple and Android, displays a series of photographs with clear instructions on getting around. It can even function without internet connection. Rob Gillies, Trust executive medical director, said:- "Hospitals can sometimes be daunting places to get around. This new app will help make visits to the Hospital run more smoothly. We are delighted to work with Innove on this pilot app which is very user friendly. There are clear instructions on getting to all Departments at the Hospital from whichever entrance people arrive at."

Innove photographers spent 3 days at the Hospital carefully plotting routes to get to all wards and departments. John Keogh, director, Innove Solutions said:- "This is the very 1st Hospital app we've developed. It's been exciting to work with the Trust to make getting around the Hospital easier. We are delighted with the results and hope the public who visit Southport Hospital find it really useful. Our work on this pilot app has informed how we develop future apps in the NHS. We are working with three other NHS trusts to develop similar way finding apps."

App features include: -

► Transport advice.

► Step by step directions to wards and facilities across the site.

► Key Hospital phone numbers, car parking information and cashpoint locations.

► Friends and family test.

The Trust hopes to expand the app to Ormskirk Hospital in the future and is exploring other ways of engaging with patients and visitors digitally.
All invited to free family fun day at Seacombe Children's Centre
WIRRAL Council and Seacombe Childrens' Centre's Family Forum are holding a free Family Fun Day on Thursday, 28 July 2016. The Fun Day takes place at Seacombe Children's Centre, St Paul's Road, Seacombe, from Noon to 4pm. All are welcome for food and fun activities including a raffle, music and dancing, face painting, craft stalls, garden activities, storytime, and a 'build a butty' bar. There will also be a chance for children to try some of the activities available at Wirral Children's Centres.

Diddi Dance, a pre-school dance class, and Little Kickers, who run children's football classes around the country, will also be offering activities.

Liz Sharp, a member of Seacombe Children's Centre's Parents Forum, said the event would help raise funds to provide support for families of young children to help give them the best start in life, and would showcase the services on offer in the centre.

Cllr Matthew Patrick, Wirral's Cabinet Member for Community Engagement, said:- 'This sounds like a great way of raising money for a fantastic cause, and giving people a taste of what our children's centres have to offer.'

All welcome - everyone is invited to attend.
Shop's drinks appeal rejected
AN appeal by an Aigburth newsagents which had its license to sell alcohol revoked has been dismissed. PRM News and Wine, of Lark Lane, had its licence cancelled by the City Council's Licensing Sub-committee in February. Merseyside Police asked for the licence to be reviewed after they made a joint visit with immigration officials and an illegal worker was found to be working at the premises. The Alcohol and Tobacco Unit, who also staged a joint visit with Immigration Officers, said that they found 156 bottle of illicit wine at the shop. They also provided evidence that there has been proxy sales during a Bank Holiday weekend and staff had served alcohol to a customer who was drunk. The sub-committee said they had no faith that the premises licence holder understood his responsibilities under the Licensing Act or that he would continue to run the premises without undermining the licensing objectives and felt that it was appropriate and proportionate to revoke the premises license. PRM appealed this decision at Liverpool Magistrates Court, but District Judge Wendy Lloyd dismissed the appeal, meaning the shop will no longer be able to sell alcohol with immediate effect. Councillor Steve Munby, cabinet member for neighbourhoods, said:- "Decisions to revoke licences are not taken lightly but in this case there were clear breaches and the court has ruled that the decision was justified."