Regional fund boost for transport in Wirral
SCHEMES to improve the safety and efficiency of many key routes in Wirral will be made possible thanks to a funding boost from Liverpool City Region. Cabinet this week agreed to accept funding of ฃ1,375,000 from Liverpool City Region Combined Authority's Integrated Transport Block.

This money will support delivery of schemes to improve capacity and safety on our road network and improve cycling and walking routes all of which contribute to the economic development of the borough and commitments made in the Council's Transport Strategy, Connecting Wirral.

Each of the 4 constituency areas:– Birkenhead, Wallasey, Wirral West and Wirral South; will each be allocated ฃ32,500 out of the funding for their own local schemes which contribute to these objectives.

Cllr Stuart Whittingham, Cabinet member for Transport and Infrastructure, said:- "As a council, we are doing all we can to develop Wirral's economy and encourage investment and jobs to the area, with all the benefits that will bring to the community. Having a safe, efficient road network is a key component to that and we are delighted to receive this financial boost to help us make a raft of improvements on many of our key routes over the next year (2016-17). In addition to assisting economic growth, the schemes we are putting forward will also reduce casualties on the roads and contribute to reductions in carbon emissions by encouraging more walking and cycling."

The projects proposed for progression as a result of this funding include work on the A41 New Ferry by-pass to encourage drivers to adhere to the speed limit, improvements to roundabouts at Clatterbridge Road/Thornton Common Road and Column Road/Caldy Road, Caldy and the conversion of obsolete 'pelican' crossings to Toucan or Puffin crossings at various locations across the borough.

Proposals for improved cycling provision are earmarked for the A41 at Eastham and near Pool Lane, Bromborough and alongside the River Birket between Pasture Road to Reeds Lane in Leasowe.
Liverpool Pride 2016
THE Chief Constable of Merseyside, Andy Cooke alongside ACC Ian Critchley, Deputy Police and Crime Commissioner Cllr Sue Murphy and representatives from Merseyside Police will once again be taking part in this year's Liverpool Pride Parade, on Saturday, 30 July 2016. This is the 1st time a Chief Constable of Merseyside has marched in the Parade, and is Chief Constable Cooke's 1st Pride event as Chief. Officers will be in uniform for the march through the City Centre, alongside civilian staff, friends, families, lesbian, gay, bisexual and trans (LGBT) allies, as well as partner agencies and other organisations. This is the 6th year that officers and staff from the force will be taking part.
The Force's LGBT support network is organising Police Officers and Staff taking part and they will march under the banner of "Police with Pride." The march will process through the City Centre before finishing at St George's Hall Plateau where an afternoon of events will be held. The force will have a stall in the marketplace area with information about hate crime, recruitment and the force's insight scheme where people can join the Police for a day to see what happens.

For the 1st time this year, the force will also have a "Police with Pride Car" and those involved in the march will see in situ at (TBC). The Force will also be taking part in the "Come out of the Shadows" event, in the run up to this year's Pride. Force headquarters at Canning Place, will be 1 of a number of iconic buildings across Merseyside to be lit up in rainbow colours in support of the LGBT community.

Supt Jenny Sims, Silver Commander for the event, said:- "Once again Merseyside Police would like to welcome everyone, both residents and visitors, taking part in this year's Liverpool Pride, to the City. "Officers will be visible throughout the event to help make sure everyone has a great time and enjoys it safely, but as with any event there are also some simple steps people can take to help protect themselves and their belongings:-

► Be aware of your surroundings and those around you as Pride will be a really busy event.

► Take care of your property and keep valuables close; don't leave bags and mobile phones unattended at any time.

► Keep wallets, purses and cash safe and out of sight.

► Pride is very much a family event so keep children close by as there will be large crowds.

► If you are going to enjoy the city's renowned pubs, bars and clubs, please do so safely. Drink responsibly, stick with your friends and plan your route home and you should have a great time. Pride promises to be another fantastic day in a summer of big events for Liverpool and I'm confident this year's event will be a success"

Merseyside Police Chief Constable, Andy Cooke said:- "I am delighted that once again our force is taking part in Liverpool Pride 2016 and I am proud as Chief Constable of Merseyside, to be marching alongside LGBT colleagues from Merseyside Police. It is an opportunity to show our commitment to helping the communities we serve become places where people can truly be themselves, free from prejudice and discrimination. Merseyside's support of an event which celebrates diversity and takes a united stand against hate crime is particularly important given the terrible incident in Orlando in June in which so many innocent people lost their lives while simply enjoying a night out. We cannot allow the minority of people in society who are motivated by hate because they resent, disapprove of or are ignorant of diversity to intimidate or hurt other people just because they perceive them to be different. By celebrating diversity through events like Pride we make it clear that Merseyside Police will not tolerate hate crime of any kind and that those who commit hate crimes have no place in our communities. We will continue to stand shoulder to shoulder with our LGBT partners in both Policing and participating in today's event and I hope everyone enjoys what will undoubtedly will be a very safe and successful Liverpool Pride 2016."

Merseyside's Deputy Police Commissioner Cllr Sue Murphy said:- "I am thrilled to be joining in with the Pride celebrations this year. It will be an honour to march with members of the Commissioner's team, the Chief Constable and officers and staff from the Force alongside hundreds of members of the LGBT community and their family and friends. Liverpool Pride is not only an opportunity to celebrate the diversity of our region, it is a chance to raise awareness of homophobia and transphobia and send out a powerful, united message that hate will not be tolerated in our communities. In the wake of the awful incidents in Orland last month this message has never been more important. Pride goes from strength to strength every year and I hope this year's event will be the biggest and best yet, with even more people coming out to show their support and demonstrate that there is no place for hate in Liverpool."

Enjoy The Summer Holidays But Stay Safe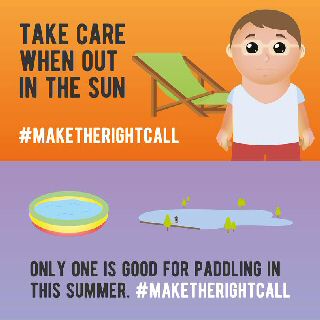 THE summer holidays are finally here and as children and families make exciting plans for the coming weeks, North West Ambulance Service is asking everyone to take extra care to make sure their holidays don't get spoilt by harm or injury. The majority of emergency 999 calls the Trust receives are for seriously ill or life threatening conditions, but over the summer calls significantly increase for incidents that can be easily prevented if everyone took care of themselves and each other. Ged Blezard, Interim Director of Operations explains:- "We all want to enjoy the long summer days, but no 1 wants a visit to A&E interrupting their holidays. This time of year we traditionally see a rise in the number of children and young people involved in accidents which can be easily avoided. Last summer we had 90 call outs to water related incidents during July and August so we are urging parents and care providers to keep an eye on what their children are doing over the holidays. By keeping safe, we can all enjoy the Summer, however brief it may be, and it helps to ensure that those who really need our care can receive a timely response."

Here are some top tips to help stay safe throughout the summer months:-

In the Heat...

► Drink lots of water – It is important to keep hydrated as you lose more fluid than you take in during hotter temperatures, this is also vital if you are doing any physical activity and when you are travelling long distances.

► Keep out of the sun – It is best to try to stay in the shade between the hours of 11am to 3pm, as this is when the sun is at its hottest.

► Wear sunscreen and sunglasses – Apply a sun cream of at least factor 15 that includes UVA protection and make sure your sunglasses have UV protection lenses to protect your eyes.

► Loose clothing – Wear light, loose fitting cotton clothes along with a hat.

► Look out for others – Keep a check on those vulnerable to the effects of heat, especially the elderly, young children and babies and those who have a heart or respiratory condition such as asthma.

► Never leave babies, young children or animals in a parked vehicle – Temperatures can soar in a parked car very quickly, and children under the age of 2 are particularly at risk of getting heatstroke or heat exhaustion.

Water safety...

► Unsupervised water – Don't be tempted to take a dip in reservoirs, canals, lakes and rivers to cool down. There are hidden dangers lurking under the surface such as deep and cold water, debris and underwater currents which can result in drowning.

► Keep an eye out – Children should always be supervised when they are in or around water and make sure they are swimming within designated areas.

► Don't be pushy – Never run, push or jump on others when in a swimming pool or at the beach and if you see someone in difficulty tell a lifeguard or call 999.

► On the water – If out in a boat or canoe always wear a lifejacket.

Out and About

► Pokemon Go – As children and adults alike are getting busy playing the latest mobile app it's important to always be aware of your surroundings to avoid any accidents and not get too absorbed looking at your phone screen.

► Road safety – When out on a bike or scooter always wear a helmet, be aware of busy roads and cross roads safely.

► Dangerous playgrounds – Make sure you know where your children are going to ensure they aren't playing in any hazardous areas such as railway tracks or abandoned buildings and always arrange a time for when they are going to be home.

► Stick together – Don't walk away and leave friends to get home on their own.

Medical help and advice is also available at your Local Urgent Care Centre, by contacting your GP, calling NHS:- 111 or visiting a Pharmacist. By taking these steps it will help to keep our services free for those who are most in need and also ensure everyone has an enjoyable summer.
56 year old assaulted in Bootle
MERSEYSIDE Police Detectives are appealing for information after a man was assaulted in Bootle on Friday, 15 July 2016. The 56 year old was walking along Trinity Road, at the junction with St Albans Square, at approximately 7pm, when he became involved in a confrontation with 2 males in a parked car who he believed had dropped litter. The driver and passenger got out of the car and confronted the man. It is believed the passenger was carrying a sharp implement and the victim suffered a wound to his arm. Both males then got back into the silver car; which had the registration plate MJ55 ZZO and left the scene, turning right onto St Albans Road. Both are described as white, of muscular build, with beards and wearing sports clothing. Detective Inspector Mike Dalton said:- "This incident happened early in the evening and I believe a lot of people may have been in the area and either witnessed what happened or saw the car and its occupants either before or afterwards. I would appeal to anyone who has information to contact us." Anyone who witnessed the incident is asked to contact Merseyside Police on:- 0151 777 3059 or the confidential Crimestoppers line on:- 0800 555 111.