Blogging therapy for Hospice patient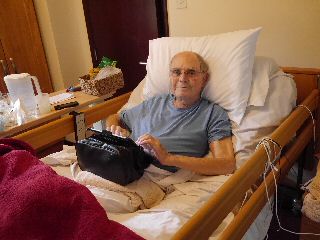 A patient at St. Joseph's Hospice in Thornton has taken to publishing 2 daily blogs in order to keep friends and family informed about his care and condition. Frank Hodges (82), from Thornton, was admitted to the hospice last month following treatment for advanced prostate cancer at Aintree Hospital and took to blogging almost straight away.
Frank said:- "I'm not a big social media user or writer but when I came to St. Joseph's Hospice for palliative care, after my cancer had spread, I felt it would be tough on my wife, Dorothy, to have to keep updating everyone all the time on my health."

Frank decided to gather the email addresses of his friends and family and started sending a daily email about how he was feeling and how treatment was going. This then turned in to a blog on Facebook as Frank felt it was an easier way of keeping more people informed.

Frank added:- "I try to send 2 updates per day but it just depends on how I'm feeling. I find it very therapeutic and it helps me to stay in touch with people from my hospice bed. It has also brought my friends and family together as it helps them to share things too. I now even have a new laptop which is very exciting as I find it hard typing on my tablet. St. Joseph's Hospice is a wonderful place and I am receiving brilliant care. Everyone I have met here has been a true natural at their job and I enjoy telling everyone what it's like here. It is also very close to my home. In fact, I used to walk in these beautiful woodlands regularly and when I had the opportunity to move to the hospice I was delighted as it almost feels like home."

Mike Parr, Chief Executive of St. Joseph's Hospice, said:- "It is fantastic when modern technology is used in such a positive way to bring people together at a difficult time but also to educate people and Frank's blog does just that. It has really helped to show others what life is like in H hospice and what wonderful care and compassion he receives every day from our dedicated team of nurses and healthcare professionals. But, most importantly, it helps people to understand the importance and value of excellent palliative care. I would like to thank Frank for sharing his story, including the highs and lows of his treatment, with others who will hopefully see what a positive environment a Hospice is for patients living with a life limiting condition."

Paymentshield gets green fingered at Southport Botanic Gardens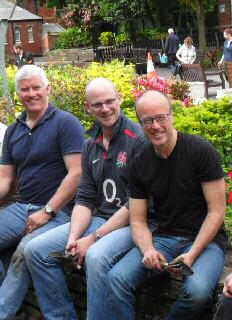 A team from Paymentshield; the Southport based provider of insurance to mortgage intermediaries; has sponsored a bay in the aviary of the Southport Botanic Gardens, as well as a rose garden at its Churchtown site. The £1,000 in sponsorship will allow the Botanic Gardens' volunteers to manage the site, as well as pay for the upkeep of the displays and rose garden.

The team; led by Steve Wood, CEO; spent time planting geraniums and petunias in the main bay, which will be on display until October 2016. The rose garden will be a permanent feature of the Botanic Gardens and Paymentshield has also sponsored a 2nd bay, due to bloom in spring 2017. Paymentshield staff will also be regularly returning the site to weed, water and replant its displays. Steve Wood said:- "It's been a pleasure to lead the team in getting their hands and knees dirty to really make a difference to our local area. As a Southport business, we take pride in supporting the local community. Seeing the senior management team with trowels and seeds in hand was certainly a different experience to our day-to-day business and it was really great to see them all muck in!"

The Southport Botanic Gardens, based in Churchtown, 1st opened in 1875 and has a thriving membership of 70 volunteers, all of whom work on maintaining the site and ensuring it has a fruitful future. It achieved charity status in 2015, following budget cuts by Sefton Council. David Cobham, lead volunteer at Southport Botanic Gardens, said:- "We'd like to offer huge thanks to Paymentshield for agreeing to sponsor the flower beds in the aviary area, and to the staff for helping with the planting; they did a great job. We hope they will all come back to visit with their families later to see the Botanic Gardens in all its splendour thanks to their generosity."

Earlier this year, Paymentshield launched a volunteering programme which allows staff to spend 2 working days giving back to the local community as part of its ongoing corporate social responsibility initiative.
Deceased estates notice - Lilian May Jackam
Pursuant to the Trustee Act 1925, any persons having a claim against or an interest in the Estate of Lilian May Jackam (also known as Lillian May) Jackam (Deceased), late of Birch Abbey Rest Home, 55 Alexandra Road, Southport, Merseyside, PR9 9HD, UK, who died on 04/10/2018, are required to send particulars thereof in writing, to the undersigned Solicitors, on or before 24/05/2019, after which date the Estate will be distributed having regard only to claims and interests of which they have had notice. Churches Solicitors, 12 High Street, Fareham, Hampshire, PO16 7BL, UK. Ref:- 'T553015.'
..Paid Advert..
Contact us:-
(+44) 08443 244 195
Calls will cost 7p per minute, plus your telephone company's access charge.
Calls to this number may be recorded for security, broadcast, training and record keeping.

News24@SouthportReporter.com
4a Post Office Ave, Southport, Merseyside, PR9 0US, UK


Our live Southport Webcam image above.
To see it live, please click on image.

Event Notices

More events that are taking place on Merseyside can be found on our Event Listings Calendar.

Click on here to see our event calendar.
Are you going to this event? If you are please let us know what you thought of it!

These are our other websites within the Southport & Mersey Reporter Network.

Mersey Reporter

Formby Reporter

Liverpool Reporter

Southport TV
| | |
| --- | --- |
| | © - Southport Reporter® is the Registered Trade Mark of Patrick Trollope |
..