Army accolade for Southport and Ormskirk NHS trust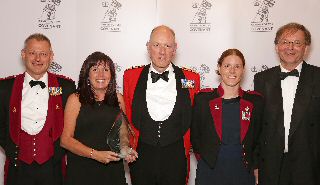 A NHS trust has been recognised for the outstanding support it gives to the British Army during times of conflict. Southport and Ormskirk Hospital NHS Trust was named public sector winner at the North West Armed Forces Business Awards. Judges commended the Trust for its:- "outstanding support given to the Reserve Forces." On top of their regular medical jobs, several Hospital staff give time as reservists and have been deployed across the world from the Balkans to Sierra Leone.

Dr James Hammond is a Consultant Anaesthetist and since 2002 he has been deployed to Bosnia, Kuwait, Iraq (twice) and Afghanistan (three times). He said:- "The Trust has always been very supportive of my role as an army reservist, supporting my training, and colleagues have also been very understanding when I've been away on operations."

Kath Higgins, Head of Nursing for Planned Care, was deployed to Sierra Leone in October last year to help in the fight against ebola. She worked as a nursing officer in Kerrytown Ebola Treatment Centre. Kath said:- "The Trust has been flexible in allowing me to go on deployment sometimes at very short notice. Colleagues at the hospital have also shown a positive interest in my army role."

Helen Mackay is a Consultant in Orthopaedics and Trauma. She has worked as a reservist for 13 years and completed an operational tour of Afghanistan. She said:- "It's fantastic that the Trust supports its staff in their work as army reservists. The experience we get in operational roles around the globe also has a positive impact on our day to day roles at the Hospital."

Major Davey Harvey, 42nd Infantry Brigade, said:- "Having time and energy to support any Armed Forces Reserve needs special mention, and Southport and Ormskirk Hospital NHS Trust have it in spades. Absolutely well done as we really do appreciate the full support you bring and we wouldn't be able to field a Reserve Force if it wasn't for the backing of businesses, local authorities and of course the great British public."
Popular pedalos return to park
PEDALOS are returning to Sefton Park again for the summer. A fleet of pedalos and rowing boats will be available for hire at the park's lake during the summer, starting from Thursday, 4 August 2016. Pedalos were introduced to the park in 2012 and proved to be a very popular addition. "The pedalos and boats are a great attraction for all ages to come along, enjoy their visit to the park and keep the children active and entertained over the summer holidays. It is not everywhere that you can access a lake on pedalos throughout summer, so we are excited to offer them in Sefton Park once again. They've been so popular in previous years, there's no doubt they will be successful again this summer. And, if we are lucky enough to have some hot weather, what better way will there be of cooling off than taking a trip on the lake! We want to make our parks and green spaces full of life and animation. The Urban Beach at Calderstones and the pedalos here in Sefton Park are a great way of doing that." said Councillor Peter Mitchell, Mayoral Lead for Parks and Open Spaces. The pedalos and rowing boats are operated by the charity Local Solutions and they cost £5 per vessel to hire and will be available from Thursday's to Sunday's between 11am and 4pm.
Please help trace next of kin of a Southport Man
THE Liverpool Coroner's Office have issued an appeal for the public's help to trace the family of a man, from Southport, who has recently died. Kenneth Charles Summers, 83 aged, was from Southport and he sadly died at home, on Sunday, 24 July 2016. There are no suspicious circumstances surrounding his death. Anyone with information that could help the coroner trace Mr Summers' next of kin is asked to contact Jeanette Lesbirel at Sefton Coroner's Office on:- 0151 777 3409 or email:- Jeanette.Lesbirel@Merseyside.PNN.Police.UK.

Patron, Loyd Grossman says:- 'Treasure Your Treasures' in Merseyside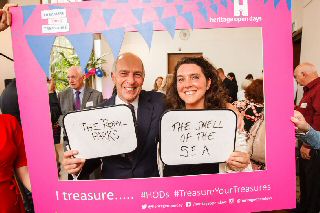 PATRON, Loyd Grossman has launched, what he calls:- "the world's greatest heritage festival", rousing visitors to get out and about and 'treasure your treasures' at 5000 free events taking place across England during Heritage Open Days, between Thursday, 8 September 2016 and Sunday, 11 September 2016.

'Treasure Your Treasures' is the theme for this year's annual 4 day festival, which calls on communities to champion their local heritage and show their support for cultural and historic assets on their doorsteps. Visitors are encouraged to capture themselves on camera with the objects, people or places that they treasure and to share their stories online via social media using the hashtag '#TreasureYourTreasures'. Specially made Heritage Open Days frames will be positioned in each region at some of the free events for people to put themselves in the picture together with or in front of their treasures.

The 'treasures' theme comes following the results of a straw poll by Heritage Open Days, which showed that 95% of Heritage Open Days organisers had fears about the future of places like museums, galleries, archives, theatres, parks and historic sites in their own communities, which may be facing financial uncertainty. 225 local organisers responded to the survey about their treasures and their level of concern about the effects of funding cuts. They felt overwhelmingly that Heritage Open Days had an important role to play in supporting the future of their local treasures.

Loyd Grossman said the 5,000 free events held during the festival provided the ideal platform to stand up and shout about local treasures. He encouraged people to engage with heritage as visitors and volunteers, and to get behind campaigns to retain access to places like museums, archives, libraries, galleries, theatres, parks and historic sites.
In the last 22 years, Heritage Open Days has grown from 701 events to over 4800 in 2015 with some 3.4 million visitors enjoying free to access events and activities over four days in September. Over 40,000 volunteers help to run the festival making it the biggest grassroots celebration of culture and heritage in the UK. It is coordinated centrally by the National Trust with funding from Players of People's Postcode Lottery. The festival provides an opportunity to showcase buildings and hidden histories in communities.

The database for this year's festival is now live.

A selection of highlights in Merseyside:-

► Liverpool Medical Institution, Liverpool is 1 of the oldest medical societies in the world, traces its origins to the founding of the Liverpool Medical Library in 1779. The present Grade II* listed building dates from May 1837. The tour of the old building includes the unique Lecture Theatre, Council Room and Library. The tour lasts approximately 1 hour.
► Mersey Tunnels, Liverpool... George's Dock Building is Grade II listed and was completed in 1934. It was built as the headquarters and ventilation station for the Queensway Tunnel. The building is one of the finest examples of Art Deco architecture in the country and will be open to the public for the weekend. There will be a small display of photographs and artefacts on the ground floor which tell the story of the construction and also King George V opening the tunnel. Guests will also have a chance to visit the original Control Room. Tours to a Fan Chamber and down to the tunnel itself will be held at 11:00, 13:00 and 15:00 each day on a 1st come 1st served basis. Please note that the Tunnel tour will only allow a max 24 per tour and children over 10yrs only.
► The Athenaeum, Liverpool... The Open Day will give members of the public a unique opportunity to view the building and its treasures through a guided tour. The Athenaeum, founded in 1797, is Liverpool's oldest social organisation. Its original purpose was to provide a centre of information in the newsroom where a wide variety of newspapers and periodicals were taken and a reference library which today contains over 60,000 volumes, many of which are rare if not unique. It also has an archive of documents, pictures and artefacts on many aspects to Liverpool's history and heritage. These are normally open only to the 500 Proprietors.