"Move More" wants more participants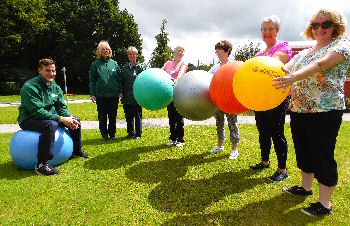 A fitness programme and activity advice service, which helps people living with and beyond cancer become more active, is looking for new members from West Lancashire. "Move More" helps people with a diagnosis of cancer to find effective ways to get and stay active, no matter where they are on their cancer journey, including those who have completed treatment.

Launched in Autumn 2015, it is a joint initiative between Macmillan Cancer Support, Southport and Ormskirk Hospital NHS Trust and NHS West Lancashire Clinical Commissioning Group (CCG). More than 60 people have used the service. The cancer specific classes take place on Mondays and Fridays, from 1.15pm to 2.30pm and 2.30pm to 3.45pm, at Ormskirk Hospital. 1 to 1 sessions also take place throughout the week.

"Move More" is run by Melanie Reardon, Macmillan physical activity manager, with Tim Horn, Macmillan physical activity physiotherapist and Ann Prescott, Macmillan physical activity assistant practitioner. Melanie said:- "We've had a really good response since launching 'Move More' in September 2015. The service is designed to get people active to give them a better quality of life. Physical activity has lots of health benefits and also contributes to social and mental wellbeing. We'd love to see even more people at the sessions. We are also able to assess the needs of each individual and can often refer them to other services that could be of benefit."

Pauline Egan, from Skelmersdale, has been attending the fitness sessions since February. She said:- "'Move More' has been brilliant in increasing my fitness and in giving me more confidence. There is also the social side of things too. It's great to meet people and we like to catch up each week."

If you live in West Lancashire, are affected by cancer, you can find out about:- "Move More" on:- 01695 656268 sebd send them an email, alternatively you can also contact them via your GP.
Edge Hill University and Tate Liverpool partnership announce exciting summer events programme
EDGE Hill University's ongoing partnership with Tate Liverpool will see an exciting programme of events take place over the coming months, including a film screening and in conversation evening about artist Francis Bacon. To celebrate the exhibition:- 'Francis Bacon - Invisible Rooms', which runs until 18 September 2016, the University's Institute for Creative Enterprise, an initiative that connects students with leaders in the creative and cultural industries, will host the evening in partnership with Tate Liverpool. The free event will comprise a screening of 'Love is the Devil.' Study for a Portrait of Francis Bacon, followed by an in conversation discussion with curator of the Francis Bacon exhibition:- 'Kasia Redzisz.'

Roger Shannon, Professor of Film and Television and Director of the Institute for Creative Enterprise said:- "The Francis Bacon evening will build on the success of previous partnership events. The 'in conversations' we've held with Tate Liverpool so far about artists Leonora Carrington and Jackson Pollock have introduced themes of contemporary artistic relevance and contributed greatly to the intellectual environment of this University's 'creative campus'. The Francis Bacon evening and other planned events will continue in this vein by bringing the curators of Tate Liverpool's major international exhibitions onto the Edge Hill campus to discuss with students and lecturers the stimulating background to the work being displayed in Tate Liverpool's critically acclaimed exhibitions."

Edge Hill has also signed on as a sponsor of the 'Yves Klein' exhibition. Launching on 21 October 2016, it is the UK's 1st museum solo exhibition in more than 20 years of the French artist. 1 of the most influential figures of the post war era, Klein's career was marked by extraordinary creativity and a bold attitude to art and life that was pivotal to later movements from pop to performance art and beyond. Presenting around 30 major works the exhibition throws fresh light on his artistic practice. Mark Allanson, Pro Vice-Chancellor of Edge Hill University said that the institution's relationship with Tate Liverpool is invaluable to the creative development of students. "The Tate Liverpool programme provokes, inspires and starts conversations. Our partnership with Tate adds a dimension to the student experience by making a world class, innovative gallery readily available to be explored. Projects flowing from the partnership provide students on creative courses such as dance, film and writing, invaluable opportunities to enhance their knowledge and employability."

Andrea Nixon, Executive Director, Tate Liverpool added:- "Partnership and collaboration is at the heart of what we do here at Tate Liverpool. We're thrilled to be continuing and developing our relationship with Edge Hill University which allows us to engage with student audiences and create fantastic joint programme together."
'The Ten Strings Duo' to play at Leo's Bar Southport!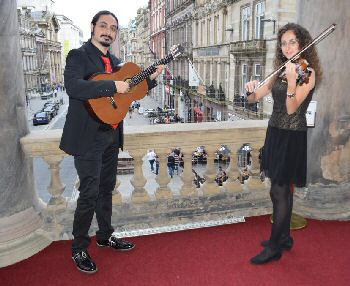 ON Saturday, 20 August 2016, 2 symphonic orchestra members from Sicily, virtuoso guitarist Davide Sciacca and gifted violinist Marianatalia Ruscica, will be performing in Southport for a one off, special event. Moving out of the normal restraints of the theatre and music halls, they will be performing classical instrumental music, at Leo's Bar, Southport. The evening will be Italian themed, with a 3 course Italian dinner with 3 options available to choose from. (Limited vegetarian option will also be available, if ordered in advance of the night.) This might be your very last chance to see them play as they are soon leaving the UK to go back home. 'Ten Strings Duo's' concerts are warmly received by audiences and critics alike. They made their UK debut in 2014 and this is their 3rd British Tour, performing in prestigious and historic venues and on BBC Radio. Plus they have also been plating at this year's Edinburgh Festival Fringe amongst other prestigious concerts and events. Click on here to find our more and to get tickets.
2 motor vehicle seized after incident in Aintree
MERSEYSIDE Police have confirmed that on, Monday 15 August 2016, Officers were called to Whitefield Drive, Kirkby, at just after 6.35pm following reports that 2 males on a scrambler bike were seen in possession of a firearm. The bike was then reported to be riding around the Maghull area before being abandoned near Switch Island. We are told that 2 males were seen by witnesses to enter a nearby ASDA supermarket, on Ormskirk Road, Aintree. The males were detained in the store, by Police Officers and arrested on suspicion of possession of a firearm and unauthorised taking of a motor vehicle. A search of the area was then carried out and a Nissan car, along with a scrambler bike have been seized for forensic examination. We are told that the 2 males, aged 17 and 25 have been questioned and an investigation is underway.

The Ramblers inspires people in the North West to Walk About
OVER September 2016 the Ramblers are getting the North West on its feet with 'Walk About' its biggest ever free nationwide walking event, offering a walk to suit everyone. But people don't have to wait to get started. The Ramblers has launched a free online tracker that allows people to log their walking activity and make the most of everything the festival has to offer. The festival takes place from Saturday, 3 September 2016, until Sunday, 11 September 2016. With over a thousand walks all over Britain, and more than 60 in the North West, there's something for everyone to enjoy; from a short stroll in the park to a challenging hike up a mountain. During the festival, people in the North West can enjoy the following group led walks:-

For those who prefer to walk alone, or lead their own walks, the Ramblers has picked its favourite routes in the North West, available from Ramblers Routes; an online library of Britain's best walks:-
Carlisle, Cumbria

Length:- 5.5 miles
Walking time:- 2 hours
Difficulty:- Easy
Starting point:- Sands Car Park, Carlisle
Description:- This is a lovely walk through the beautiful city of Carlisle, with a mix of urban and green walking. You'll head through beautiful parks, along riverside paths and through the city, passing some impressive buildings. This route even treats you to a stretch along Hadrian's Wall, the famous Roman frontier.


Wrenbury, Cheshire
Length:- 10.2 miles
Walking time:- 5 hours
Difficulty: -Moderate
Starting point:- Wrenbury church, Cheshire (nearest postcode:-CW5 8EY)
Description:- This route starts in the attractive village of Wrenbury, heading along a lovely stretch of the Llangollen Canal. You'll be treated to glimpses of the Quoisley Meres and enjoy a stunning viewpoint from an impressive sandstone obelisk, which commemorates the first Viscount Combermere.


Heswall Dales and Fields, the Wirral

Length:- 3.8 miles
Walking time:- 2 hours
Difficulty:- Leisurely
Starting point:- Bank's Road car park, Heswall (nearest postcode:- CH60 9JS)
Description:- A pleasant walk along the coast and then inland through the ancient woodland and waterfalls of Dungeon Wood. The climb near Oldfield Farm is well worth the effort as you enjoy magnificent views over the River Dee to Wales. The route returns through Heswall Dales to the shoreline.

The Ramblers' director of walking development, Simon Barnett, said:- "We all know walking can do wonders for our wellbeing, which is why we want to get the nation on its feet with our biggest free walking festival to date. Walking is good for our health and our minds and we want everyone to be able to experience the many benefits and joys it can bring. But we want to encourage people to get more active in advance of the festival, which is why we've introduced our new online tracker, which allows people to log all their walking activity and monitor their progress. It's a great way to build up activity levels, which means that by the time the festival comes around people will be able to step out on a longer walk."

Designed to suit both the seasoned walker and someone taking their 1st steps, there are lots of badges and rewards for walking regularly, completing long distances and reaching particular milestones. For example it could be for walking every day in a month or completing the equivalent of the length of Hadrian's Wall.

Anyone can take part by visiting the groups website and starting to log their walking trips; whether short or long, in the Town or the countryside, alone or with friends. Simon added:- "We're hoping the online element of Walk About will encourage people in the North West to walk more so we can create happier, healthier communities. Not only can you collect badges, but there's also a leaderboard, so people can race their friends and family to the top. With a walk to suit everyone, we want the nation to step out with us this September and join us as we Walk About Britain."

Walk About is supported by players of People's Postcode Lottery to help everyone, everywhere enjoy walking. Clara Govier, head of charities at People's Postcode Lottery, said:- "We are delighted that players of People's Postcode Lottery are able to support the Ramblers with their exciting new walking festival, which we know will help thousands of people discover the joys of walking."