RBL Bing House Open Day
Photographs and report by C and L Trollope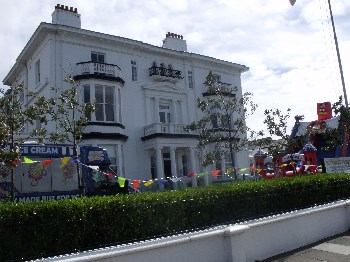 THE Royal British Legion's Bing House, in Southport, opened its doors to welcome visitors, on Saturday, 13 August 2016, in order to raise funds for support provisions for its guests.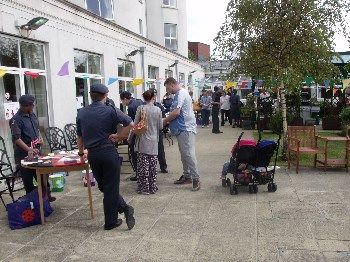 A cheery atmosphere prevailed as we moved through many attractions, both in doors and outside. There were various stalls of bric-a-brac, books ornaments and toys plus other goods such as RBL wares and a raffle with prizes donated by local firms; there were also games, and a "victim", David, willing to be pelted with wet sponges to raise cash! Helpers were abundant including many young people from the 281 Air Training Corps Southport, who freely gave their time to help and appeared to enjoy it. Also present, was Sean Connolly, who is the author of the book:- 'British Army on the Rampage' and with another new book:- 'Fighting the New Menace' that is due out at the beginning of September 2016. Incidentally, Sean has a big incentive to help as his father, who was Chairman of the Southport RBL, opened Bing House.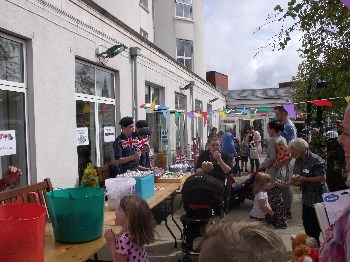 Outside the front of Bing House were a Bouncy Castle, a 6 tonne army SV, multi terrain vehicle driven by an NCO from Bootle 156 Supply Regiment, and an Ice Cream Van. At the side of the building was a miniature railway being run by Southport Model Engineering Club which gave rides to young people. Of course drinks and delicious cakes were there to be purchased and could be consumed in the very comfortable chairs adorning the imposing conservatory area, where we were able to chat to some former guests who were high in their praise of the service that they had experienced:- "Great food"; "Very comfortable accommodation;" "Entertainment every night", "So its your own fault if you do not enjoy yourself!" were some of the comments as well as the reiterated remarks about the staff! "can't put into words, they were fantastic"; "Couldn't do enough for us"; "So very helpful" were a few of the words of praise, "Of course, you can only come once in 2 years" one lady who had recently visited said ruefully. It seems that Bing House hits the right spot for many of the RBL members. The successful day seemed a just reward for the Staff.