New evidence exposing the extent of junior doctor understaffing
THE 'mind the rota gap' project asked Junior Doctors to highlight the shortage of Doctors that NHS Hospitals currently face. The results show a snapshot of an NHS struggling to cope with understaffing of its Hospital departments.

Junior Doctors responded to email and social media requests for them to report this data. Rota gaps occur when a Hospital or department is unable to cover the working shift pattern required to manage patients, due to the lack of Doctors.

Key Findings:-

► More than 25% of respondents who identified a rota gap stated their rota was short of 4 or more Junior Doctors.

► 21% of rota gaps were not being covered in any capacity ie. they were left empty

► 77% reported their rota gaps were not being covered by a sustainable model ie. no cover, by a short term locum appointment, or by existing staff taking on extra work.

These findings support the recent workforce survey carried out the Royal College of Paediatrics and Child Health which found that more than one in four senior paediatric trainee posts are unfilled, and over half of paediatric units are not meeting recommended staffing standards.

Doctors' comments identified serious potential dangers for patients of these rota gaps.

One Emergency Medicine trainee stated:- "I have noticed increased workload recently due to rota gaps. The expectations of me are to see patients quickly in A&E, make a diagnosis and start treatment. There are times I can feel out of my depth, but there is often a lack of senior support available to take advice from. Despite my best efforts, the combination of less time to see patients and lack of senior input has affected the quality of care provided."

Junior Doctors consistently described situations of high stress, tiredness, and struggling to cope with the demand. This is exacerbated by the constant pressure to take on more shifts to fill the gaps.

Anaesthetics Trainee:- "There is increased stress as I have had to cover a busy Paediatric Intensive Care Unit on my own when there should have been two Doctors covering it. There has been less support around so I have to cope with more difficult cases alone."

Paediatrics Trainee:- "There are constant calls, at all hours of the day, asking if I can cover shifts as no locum has been found. With the stress of feeling you are letting the team down if you say no to a shift."

This issue impacts on training of Doctors who are going to be the future consultants of the NHS.

Oncology Trainee:- "Over the last 5 years issues with gaps, pressure on delivering a safe service and just making sure we are seeing patient has led to huge issues with training. Cancer is a rapidly developing speciality with new innovations all the time, but at the moment, with covering rota gaps in oncology, and being ask to cover my other medical colleagues who are missing just to keep the patient's safe means that future the quality of future cancer consultants is being jeopardised by the issues with widespread rota gaps."

Commenting on the findings Dr Ellen McCourt Chair of the Junior Doctors Committee of the British Medical Association. "The dispute over the Junior Doctor contract threatens to turn rota cracks into rota chasms. Government plans to expand 7 day services without providing extra funding and extra staff will stretch an already overstretched junior doctor workforce even more thinly. We desperately need more Doctors, Nurses and healthcare professionals, alongside essential additional funding, if the government wants to deliver safe care and protect frontline staff from burnout."

The staffing of the NHS is in crisis, and we the juniors Doctors of the NHS are worried the impacts that this will have on the wellbeing of our patients, and the Doctors covering gaping holes with sticking plaster.

These gaps in the rota are having a direct effect on patient care. This is particularly stark in the A&E waiting times data, with only 82% of patients meeting the 4 hour waiting time, which is the worst performance since the introduction of the target in

2004. In fact A&E has not met the 4 hour target in over 2 years. Chorley, and Grantham, A&E departments have already identified issue with opening hours due to the lack of Doctors, rota gaps and safe staffing. Alongside the recent downgrading of Horton Maternity unit, again due to the lack of Doctors, this will mean longer waiting times, and a greater potential risk to the health of the population.
Will this affect you? Please let us know your thoughts and views on this issue by emailing us to:- News24@SouthportReporter.com.

TONI&GUY Southport thanks loyal customers as it closes after 18 years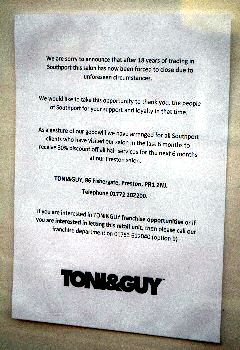 TONI&GUY Southport would like to thank all of its loyal customers, as the salon makes a difficult decision to shut after 18 years of business. The salon has been forced to make this decision due to circumstances beyond their control and unfortunately they had no other option, but to close. It is with regret that TONI&GUY Southport had to cease trading on the 17 August 2016. This decision has not been made lightly and TONI&GUY will do their utmost to find all remaining staff suitable positions at neighbouring salons.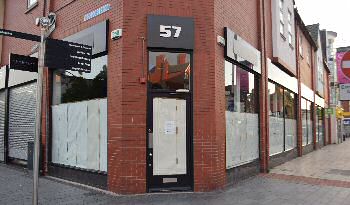 Salon Manager, James Leigh said:- "We would like to take this opportunity to thank our many clients over the past eighteen years for their loyalty, and would like to offer them all, as a gesture of goodwill, a 30% discount on all hair services at TONI&GUY Preston (01772 202200) for the next 6 months. We would also like to thank all our staff for all their hard work and wish them all the best for the future"
Landlords respond to rising cost of Housing Benefit
RESPONDING to the findings from the National Housing Federation (NHF) about the cost of housing benefit in the UK, Richard Lambert, Chief Executive Officer at the National Landlords Association (NLA), said:- "Housing benefit is not a subsidy to landlords; it's a support for tenants to ensure they can pay for their housing. However, the proportion of landlords who let to tenants in receipt of housing benefit has halved over the last 5 years as benefit levels have not kept up with rents. The NHF is clearly still reeling from the news that its members have been ordered by government to reduce spending over the next 4 years, so it comes as no surprise that they are looking to shift the emphasis and point the finger elsewhere. The private rented sector has grown as the market responds to the increasing demand for homes, particularly from a growing proportion of tenants whom the social sector and housing associations simply are not able to support in the current circumstances. The private rented sector plays a significant role in providing much needed homes for tenants so there seems no real benefit in the NHF taking a cheap shot at landlords. What we should all be talking about is the failure of successive governments to adequately allocate its housing budget and to incentivise the building of new homes. In the long term, that would be the best use of Taxpayers' money."
Celebrating the best of Wirral's heritage
HERITAGE Open Days are taking place across Wirral in September 2016, in what promises to be 1 of the biggest and best festivals of its type anywhere. More than 100 free events are scheduled to take place all around the borough over a 9 day period between 3 September and 11 September 2016, to celebrate Wirral's architecture, history and culture.

Heritage Open Days are a national initiative co-ordinated by the National Trust but supported by many heritage groups and through funding from the People's Postcode Lottery. As has become tradition, though nationally the festival only runs for only 4 days, such is the scale of the Wirral programme that our Heritage Open Days take place over 9 days.

Among the highlights this year is a visit the newly renovated World War II air raid shelters at Birkenhead High School Academy. A chance to explore some of the historic rooms of Leasowe Castle and the opportunity to take part in a themed walk exploring the past, present and future of Wirral's Victorian masterpiece, Flaybrick Cemetery, also stand out this year. The Wirral programme is run entirely by volunteers and co-ordinated by Wirral History and Heritage Association, with support from Wirral Council.

Cllr Jerry Williams, Wirral Council's Heritage Champion, said:- "Heritage Open Days are one of the highlights of the tourism calendar for visitors and residents alike, with nine fantastic days of Wirral's important culture, history and heritage. From historic buildings and guided walks, to places of worship and wonderful gardens, there is something for everyone to enjoy."

Details of the complete programme can be found online.

Pre-booking is essential for many events, so people are advised to reserve a place as soon as possible.