Support for Stoma patients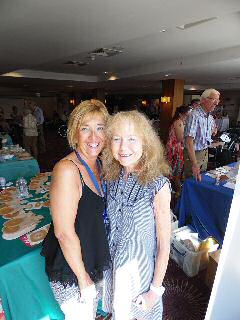 NURSES in Southport want to raise awareness of a common, yet rarely talked about condition that affects thousands of people across the country.

Around 80,000 people in the UK have Stomas of various types, following surgical procedures. More than 500 people in North Sefton wear a Stoma Pouch. These specialist Nurses offer practical and psychological support to these patients.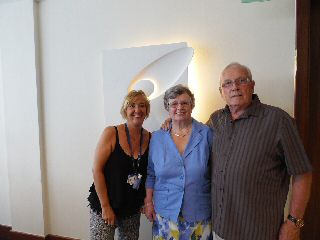 Nurses Samantha Miller and Vanessa Stevenson are based at Southport's Stoma Clinic in Poulton Road. Fellow Stoma Nurse Sharon Dearnly Davidson cares for patients in West Lancashire. Sam said:- "We offer support, reassurance and practical information to anyone who may be about to have a stoma. People of all ages and backgrounds may have to use a Stoma at some point in their lives. Predominantly most of our patients are people in their 50's and 60's who have had bowel cancer, but we also care for teenagers and younger adults too. We provide care to those who are new to living with a Stoma and also continual support to those who will live with a Stoma for the rest of their lives."

A recent annual open day for Stoma patients took place in Southport where latest products and expert advice was available. During the event patients gave excellent feedback about the care they receive.
For example:-
► Peter Wood, 78, from Ainsdale, has been using a Stoma for the last three years. He said:- "The care I have received has been brilliant and I thank Sam and the NHS for helping me."

► Lorraine McGlashon, 58, from Hightown, has been using a Stoma since January:- "The Stoma has given me a new lease of life. I go swimming every day. The Stoma Nurses have been wonderful to me and are always there to offer support. It's important to be in charge of your Stoma rather than let the Stoma be in charge of you."

Stoma Nurses offer as much psychological support as practical support.

Sam added:- "We have a wide range of patients from babies to older people who may have inflammatory bowel disease or bowel cancer. We work with patients to give them confidence to do the day to day things that most people take for granted. Our aim is to support patients to live full independent lives. The initial weeks of having a Stoma are often the hardest but with ongoing support most people learn to adapt their lifestyle."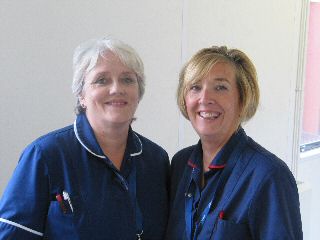 More information about Stoma Care in the UK can be found on the Colostomy Association's website.

Did you know that the 1st surgical Stomas were created in the early 18th Century? Thankfully Stoma Products have evolved and improved greatly over the years.

The word Stoma comes from the Greek word for 'mouth' as its forms the exit from the bowel. But what is a Storma? It's an artificial opening on the abdomen created to divert the body's waste into a disposable pouch that could be 1 of 2 types. The 1st is called a Colostomy. That procedure is used to divert the large intestine (colon) to an opening that is normally located on the surface of the abdomen (tummy). It can be permanent or temporary depending on what medical and surgical treatments have been undertaken. A colostomy may be used for a wide range of issues arising from a knife or gunshot wounds, though to cancer and Hirschsprung's disease. A Stoma made from your small bowel is called a Ileostomy. This procedure might be used as well if you require complex surgery on the anus or rectum. It allows most recipients to live a normal life with the use of updated provisions.

More information and support can be obtained from UK charity MacMillan.

Deaf children in the North West 37% less likely to get good GCSE's
GOVERNMENT figures show that that deaf children in the North West are 37% less likely to get 5 GCSE's, including:- English and Maths, at grades A* to C2. With thousands receiving their results this month, the National Deaf Children's Society is urging the Government, local authorities and health bodies to acknowledge this issue and provide the support needed to close the gap between deaf children and their hearing friends. Jo Campion, Deputy Director of Policy and Campaigns at the National Deaf Children's Society, says:- "It's clear that deaf children are being failed. The NHS newborn hearing screening programme has been in action for ten years and that should mean that deaf children and their families get the support they need right from the start. But a decade on, that's still not happening."

The charity is particularly concerned about deaf children and young people in and around Manchester following the City Council's proposals to reduce services in the area. Hazel Badjie, Regional Director for North West England at the National Deaf Children's Society, adds:- "As school gates across the county re-open in a matter of days, Manchester City Council must reconsider their plans to cut £410,000 from vital sensory support services, leaving around 500 deaf children in the area with reduced support at a crucial time. We need an open and transparent review conducted by deaf experts, focusing on outcomes, not on costs. Deaf children in Manchester need more support right now, not less. Ultimately, if a child is identified early as being deaf and receives good quality support in their early years, there is no reason that deaf children shouldn't achieve the same as hearing children."

To help the National Deaf Children's Society stop cuts to support for deaf children in Manchester, please click on here. To find out more about the National Deaf Children' Society's Right From the Start campaign, please go to:- NDCS.Org.UK.
New exhibition heading to Southport "The Painful Untruth"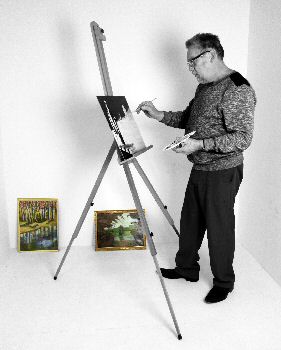 THE Waterfront Art Gallery, Southport, is located on The Promenade, between the Ramada Hotel and the Casino, will be hosting a new photography exhibition called:- "The Painful Untruth." The photos have been taken by Merseyside based photographer Pat Hughes who said:- "My collection saying a caterpillar becomes a butterfly, so they are the same thing. The work is showing people in the same way as a caterpillar, which thought its life was over it, became a beautiful Butterfly. My view is that the same applies to people. Hence photos show how they were and what they are now. Plus I have added each one's story attached to images." This exhibition launches on 11 September 2016 and runs for a few weeks. These are a few examples of the work that will be displayed.