New Faces Singer Helps Sweeten Afternoon Tea Fundraiser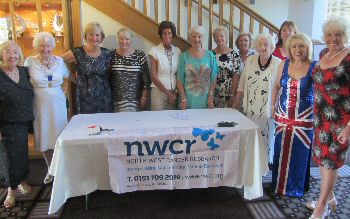 SINGER Julie A Scott who has performed in front of audiences of thousands, as well as for the Royal Family, entertained a group of Southport residents helping them raise money for cancer research.

Julie, who shot to fame on ITV's talent show New Faces in the early 80's, sang for 120 guests at Hillside Golf Club during the afternoon tea event organised by North West Cancer Research's Southport based fundraising committee.

She sang a selection of songs through the ages, providing the perfect accompaniment to the teas, coffees and homemade cakes and pastries enjoyed by guests.

More than £1,000 was raised through ticket sales and a bumper raffle, which has been donated to North West Cancer Research, the region's biggest locally based funder of cancer research.

The charity has committed to funding more than £13million worth of cancer research over the next 5 years, approximately £9million of which will be spent at nearby University of Liverpool.

Chair of the Southport committee Olive Cutts has been raising money for the charity for 26 years, after her son survived a blastoma of the eye when he was just 11 years old. She said:- "I'm thrilled with the success of this year's afternoon tea event. It was a really enjoyable day and made even better by the fact that all the money will go toward North West Cancer research. I'd like to thank the committee and the wonderful staff at Hillside Golf Club who help us every year with their time and facilities; without their help this event couldn't have happened. Cancer can be a devastating disease, but research is helping improve our understanding of it and is giving more people like my son the chance to survive it. This is why it is so important to our committee to support North West Cancer Research, as we know whatever money we raise will go on to help eliminate the disease in the future."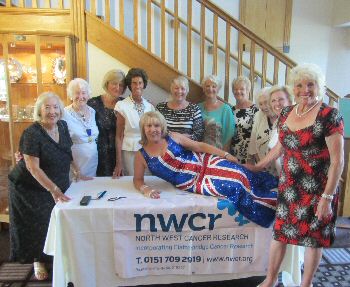 Money raised by the afternoon tea will support research at the University of Liverpool, such as a 3 year project looking at the role of the HPV virus in head and neck cancers and a clinical trial which will help improve the treatment of bile duct cancer.

It will also help fund the next generation of research scientists. North West Cancer Research currently funds 16 PhD studentships at the University of Liverpool as well as 7 intercalating students who started their placements this month. Bobby Magee, fundraising manager at North West Cancer Research said:- "It's really good to see events like this help raise money for the charity. Olive and the rest of the Southport committee have hosted many successful events like this and the money raised really does make a huge difference."

The next event to be organised by Olive and the Southport committee is its annual Chinese Banquet, on 16 September 2016, at Ho Lee Chows Chinese Restaurant. Tickets are available from Olive Cutts on:- 01704 807857 or from Ho Lee Chows restaurant on Rotten Row.

North West Air Ambulance Charity throws down the gauntlet
THE North West Air Ambulance Charity has been announced as the nominated cause for the 2016 Gauntlet Games and event organisers are calling for people from across the region to crawl, swing and slide their way through a wacky obstacle course, in an effort to keep the charity's helicopters in the air. The Gauntlet Games takes place in Manchester's Heaton Par, on Saturday, 3 September 2016. 5km or 10km of inflatable, water and climbing obstacles stand between the start and finish lines, with real Gladiators to compete against. Obstacles to negotiate include the 'Flume of Doom' water slide, rocking see saws and even a joust pit. With no time limit, the 5km race is suitable for participants of all fitness levels, and is billed as a hilarious day out for friends and family, with the 10km option throwing in some extra challenges. Participants who choose to compete as part of the North West Air Ambulance Charity team receive exclusive discounts, as well as raising vital funds to keep the charity's fleet flying 365 days a year. They also receive a T-shirt, water bottle and medal to wear with pride. Linda de Sa, Challenge Events Officer at the North West Air Ambulance Charity, says:- "The Gauntlet Games are a real 1 off event and we're thrilled to have been selected as their nominated charity. When else will you get the chance to try out such a brilliant range of obstacles; all while raising money that goes straight to save lives all over the North West? Last year, we flew over 2,000 rescue missions throughout the region, funded entirely by public donations. We encourage anyone who's looking for a day out with a difference to join our Gauntlet Games team now and be part of a truly lifesaving adventure."

The Gauntlet Games take place in Heaton Park on Saturday 3rd September, with start times between:- 9:30 and 11:30. To sign up, visit:- TheGauntletGames.Co.UK, and sign up to join the:- 'North West Air Ambulance Charity' team. Use the code:- 'NWAA5' to secure your discount.
A charity event is planned to mark the Isle of Man leg of an epic journey around the British Isles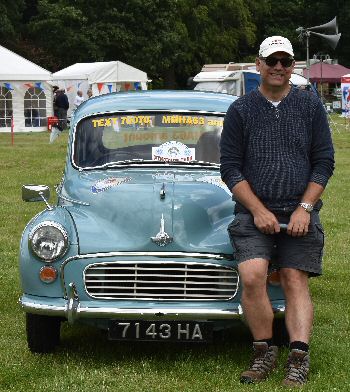 TO celebrate its 40th Anniversary of the Morris Minor, the Morris Minor Owners Club have arranged for a standard specification 1962 Morris Minor 4 door saloon to travel from John O'Groats to Land's End. Instead of using the most direct route, the car, driven by Bruce Kelsey, will criss cross Britain in an attempt to visit every branch of the MMOC and several locations with links to the history of the car and the club. The journey of more than 3,000 miles is expected to take up to 5 weeks with events being held at each of the 75 planned stops to raise money for charity. The car travels to the Island on 4 September 2016, with transport costs supported by the Isle of Man Steam Packet Company and Wades Truck Services. On the day the car arrives in Douglas, the Isle of Man branch of the club will host an event in the B&Q car park on Spring Valley Industrial Estate. Starting at 10am, it will feature several locally owned Morris Minors from between 1949 and 1971, with the marathon car due to arrive shortly after 2pm. There will be collections for Marie Curie, which is being supported by the MMOC charity marathon, and Hospice Isle of Man, which will have representatives at the event. Bernie Wade from the Isle of Man branch of the MMOC said:- "We're really pleased the Island could be included in this historic journey and hope we'll have a good turnout to greet Bruce. It'll not only be a great opportunity to see a wonderful display of cars and chat to the owners, but also a chance to support very worthwhile charities. We're very grateful to the Isle of Man Steam Packet Company for its support, as well as to B&Q for its help in putting on the event." Steam Packet Company Chief Executive Mark Woodward said:- "We look forward to welcoming Bruce and the visiting car to the Isle of Man and hope the local branch's event enjoys a good turnout and raises plenty of money for 2 very deserving causes." So keep an eye out in Liverpool to see it pass through on it's way to the ferry boat.