Liverpool rolls out red carpet for World Premiere of The Beatles film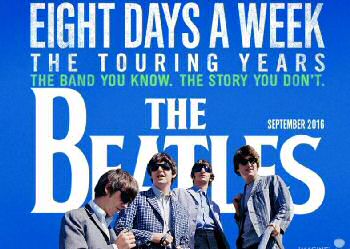 LIVERPOOL is to host the World Premiere of 1 of the most highly anticipated documentary feature films of 2016.

Academy Award winner Ron Howard's authorised film:- 'The Beatles - 8 Days A Week - The Touring Years' is going to be shown to a specially invited audience at city centre venue FACT (Foundation for Art and Creative Technology) at 6.30pm, on Thursday, 15 September 2016, 30 minutes before it is screened at London's Leicester Square.


The StudioCanal film charts the phenomenal early years of The Beatles (1962 to 1966) using rarely seen footage to explore how John Lennon, Paul McCartney, George Harrison and Ringo Starr came to be a phenomenal, world renowned band.

Following the invitation only city premiere which will be hosted by Mayor of Liverpool Joe Anderson, the cinema doors will be reopened at 8.45pm as members of the public are being given the opportunity to apply for tickets for an exclusive FREE screening of the film, once again at FACT.

Anyone who would like to be among the 1st in the world to see the 100 minute, 12A rated film needs to go online and fill in the form or by sending an email, with their full name and contact details.
Tickets are limited, each will include a +1, and a full list of terms of conditions are on the Culture Liverpool website.

The deadline for applications is, 5pm Wednesday, 7 September 2016.

Joe Anderson said:- "This is a huge coup for the City; but where else could the world premiere of a film dedicated to The Beatles take place? The Beatles are our most famous sons and their legacy lives on with hundreds of thousands of visitors heading here every year to feel that connection with the Fab Four and spend some time in their hometown, where 4 young lads honed their music skills and went on to become the most famous band in the world. Earlier this year a report showed that the heritage of The Beatles brings in £81.9 million to the local economy and supports more than 2,000 jobs, so without a doubt, the impact of this band is still felt in the City today. I'm delighted to be hosting the screening of this film. There will be something truly special about the premiere taking place in the City where it all began and I'm sure we're going to see a huge number of applications from music fans who want to be part of this momentous event."

Bill Heckle, Director of Cavern City Tours, said:- "It is appropriate that the 1st screening of Ron Howard's hugely anticipated Beatles film should take place in Liverpool, where it all began! The amazing story of the Beatles is a part of Liverpool's history and heritage which can still be very much seen and heard on the streets of the City. It's very fitting that the 1st sights and sounds of this film will start here before it reverberates once again around the world."

FACT's Executive Director Jo Wright says:- "We are delighted to be premiering this prestigious film here at FACT with our cinema partners Picturehouse. Together, we look forward to welcoming people from near and far to come and enjoy the story of this fascinating time in Liverpool's history, recognising its importance for local culture, communities and the economy of the region."

Details will be released on Friday about how Liverpool organisations are celebrating the world premiere by staging some very special Beatles related events.

Port Sunlight Village opens its doors to visitors for Heritage Open Days
PORT Sunlight Village Trust welcomes the return of Heritage Open Days, from 3 September to 11 September 2016, and the Trust looks forward to being part of Wirral's extensive programme of activity. On Saturday, 3 September 2016, there will be free entry into Port Sunlight Museum from 10am to 5pm. Visitors will get the chance to view the latest special exhibition:- 'Port Sunlight in Focus 1896 to 1916' which explores the three local photographers who contributed most to the pictorial record of the village during its early years. On Sunday, 11 September 2016, 'Open Village' is back. Now in its 3rd year, this popular event provides an important opportunity to showcase Port Sunlight's unique history and heritage and celebrate the hard work of both the residents and Port Sunlight Village Trust who work in partnership to preserve and promote the special character of the village. From 11am to 4pm, the village will open its doors, gardens and buildings allowing access to areas normally out of bounds to visitors. A free trail will be available from Port Sunlight Museum gift shop for people to pick up and explore the village, meet residents, and enjoy privileged access.

Katherine Lynch, Heritage Manager at Port Sunlight Village Trust said:- "Heritage Open Days are extremely important and the History & Heritage Association do a fantastic job in making Wirral's annual programme one of the best in the country. Our event 'Open Village' is very much in keeping with the spirit of this national initiative and we are delighted to share the experience with village residents and other Port Sunlight attractions, groups and societies."

Katherine continued:- "I don't want to give too much away, but visitors can expect to get inside some of the village houses, receive crown green bowling tips from 1 of the village's longstanding bowling clubs, and see inside Lever House - the former offices of Lever Brothers and now home to Unilever Port Sunlight."

Lesley Owen Edwards, Senior Archivist and Records Management at Unilever Port Sunlight commented:- "Unilever is delighted to be part of this year's Heritage Open Days. Come and visit the beautiful entrance to Lever House designed by William and Segar Owen and built for William Lever in 1895. An exhibition by Unilever Archives and Records Management will document the history of the building that was further enlarged with the addition of the South Wing in 1914."

To find out more about Open Village contact:- events@portsunlightvillage.com. To discover Wirral's HoD programme, pick up a brochure in Port Sunlight or click on here.
'Cuba es mi marca' – Cuban Mini-Film Festival in Liverpool
THE Burjesta Theatre are happy to announce that we will be hosting, film critic and poet Fernando Leon Jacomino and photographer Sonia Amalguer who are visiting Britain from Cuba and are touring around showing 3 exceptional films from Cuba as well as a photographic exhibition of images of the land and its people. They will be discussing the films and photographs and their relevance to Cuban society over 2 evening and 1 afternoon sessions until Saturday, 3 September 2016. Sonia Amalguer's photographic exhibition will be on display at each session. Each of the sessions are a separate event and costs £3 entry (£5 solidarity price) – pay on the door. All sessions take place at The Casa.

The last 2 events will be:-

► 'Los Dioses Rotos' – (The Fallen Gods) - Directed by Ernesto Daramas, this film was Cuba's candidate for the 2008 Oscars and tells the story of a young university professor, Laura who while researching the famous Cuban racketeer and pimp Alberto Yarini, who operated in the 1900s, finds herself entangled in present day Havana's dark side of prostitution and crime. Showing will be on Friday, 2 September 2016, from 7pm.

► 'Fresa y Chocolate' – (Strawberry and Chocolate) - Directed by Tomás Gutiérrez Alea and Juan Carlos Tabío this 1993 Oscar nominated film (awarded Special Jury Prize at the Sundance Festival and Berlin Film Festival), tells the story of Diego, a cultivated, homosexual and sceptical young man, who falls in love with a young heterosexual communist full of prejudices and doctrinal ideas. 'Fresa y chocolate' is a coming of age story, told through the development of a growing friendship which overcomes incomprehension and intolerance. on Saturday, 3 September 2016, from 3pm.