Southport Nursery Apprentices Go For Gold in Rio Olympics Competition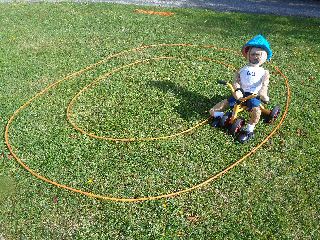 LEARNERS, staff and children at Tibbi Tots nursery in Southport are celebrating being crowned one of the winners of a competition organised by Busy Bees Early Years Training Academy by creating their very own scarecrow themed Olympic villages in celebration of the Rio 2016 Olympics.

A number of creations were made by the nursery staff, including Advanced Early Years apprentice Kayleigh Griffiths and Intermediate Early Years apprentices Nicole Johnson and Alainnah Waterworth, with athletes such as Bradley Wiggins, Charlotte Dujardin and Greg Rutherford making an appearance in the scarecrow village. Because of the high standard of entries, four prizes were awarded to the talented teams of builders, with the other three recipients being Busy Bees nurseries at Bitteswell Montessori, Guiseley and Birmingham Dartmouth Circus. Each of the talented winners will receive a chocolate hamper to share with their teams.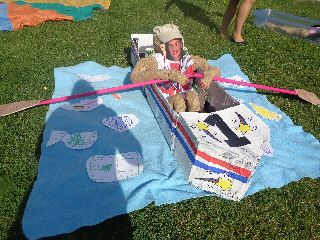 Speaking of their success, nursery manager, Sharon Mackenzie said:- "I'm incredibly proud of the creativity displayed by our staff and we had a fantastic day as a team working with the children to create and build the scarecrows for the competition. The activity was truly enjoyable and to see the hard work and dedication that our nursery staff put into their role rewarded is so pleasing. We'd like to thank Busy Bees Training Academy for developing a fantastic idea to help us all get into the spirit of the Games!"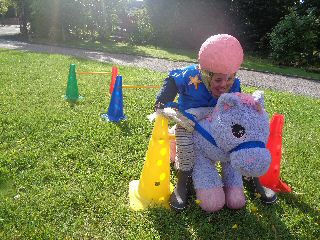 Busy Bees Early Years Training Academy, part of the wider Busy Bees group, which provides apprenticeships and training opportunities across the childcare, management and catering sectors for learners both in Busy Bees and non-Busy Bees settings, regularly commissions such competitions to inspire its learners to think on their feet and show the importance of up and coming talent getting creative through playful activities.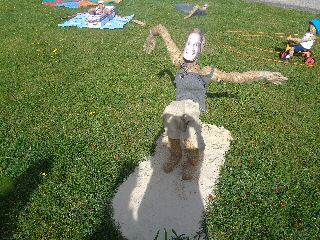 Fay Gibbin, Training Manager at Busy Bees Training, said:- "The 2016 summer Olympics in Rio are a great excuse to hold a competition involving our learners, staff and children in nursery. We've seen some real effort put into the scarecrow villages and the apprentices have been especially creative with the themes; it was brilliant for the children to get involved too. This competition not only required the learners to put their practical and artistic skills to the test, but the storytelling aspect of the chosen theme was a big part in our decision to choose a winner. We wanted to give the prizes away to people who had put a lot of thought into their villages and look at how the appearance of their scarecrows related back to their story. Having the ability to capture children's imaginations is a fundamental part of becoming a childcare practitioner and this is why we place a lot of importance on storytelling in the nurseries day to day."

Liverpool's Reserve Army thanked
LIVERPOOL is marking Reserves Day, on Thursday, 8 September 2016, with a special event for Council staff who volunteer for the Armed Forces in their spare time. Staff ranging from lifeguards to licensing officers who are members of the Reserve Forces will be thanked by the Lord Mayor at a reception at the Town Hall. It will also be attended by the High Sheriff of Merseyside, senior military personnel and senior Council managers. Reservists volunteer their spare time to serve in the Reserve Forces, balancing busy home lives and various jobs at the Council with a military career, so that should the need arise, they are ready to serve. To show its thanks for their work, the Council is also allowing Reservists to swap their usual office attire for their military uniform, so they can demonstrate their pride in serving the country.

Lord Mayor of Liverpool, Councillor Roz Gladden, said:- "We all owe our Reservists a great deal of thanks for their selflessness in being willing to volunteer for the forces. It requires a great deal of sacrifice and commitment and impacts on family and home life in addition to their work commitments and I am delighted to be able to host this reception to pay tribute to their contributions to the forces."

Councillor Ian Francis, Armed Forces Champion, added:- "I wish to express my deepest admiration and thanks to our Reservist staff for the invaluable contribution they make to the Armed Forces and for their bravery and dedication to protecting the country's security, both at home and abroad."

The City Council offers up to 10 days paid leave to attend summer training camp each year, and unlimited unpaid leave for the duration of any period of active service. This is complemented by a wide range of flexible working policies and procedures.
Celebrating 'digital excellence' at Royal Liverpool as they become 'global exemplars'
THE Royal Liverpool and Broadgreen University Hospitals NHS Trust has been selected to become a 'global exemplar' in digital technology. The news comes from an announcement made by the health secretary, who introduced the Royal Liverpool University Hospital as 1 of 12 "global exemplar" trusts in line for funding as part of investment into technology and infrastructure to enhance staff training and digital technology. Each trust will receive up to £10 million to act as "global exemplars" of digital technology and will be expected to pioneer best practice, knowledge and digital expertise alongside international colleagues. The aim of the plans is intended to make the NHS easier to use for the increasing numbers of people using smartphones and other mobile devices and those accessing public services online. To support the innovation of digital services NHS staff will work with universities identified as 'digital academies' to help train staff to deliver high quality digital healthcare. The funding will enhance existing NHS tools including the development of a new online triage system as part of NHS:- 111's non-emergency phone line. It will also enable the creation of patient focused health applications for use on mobiles, tablets and wearable devices for patients to monitor and improve their health and lifestyle.

David Walliker, director of information technology at the Royal said:- "This is fantastic news for our Trust. In our recent CQC report our innovative projects were highlighted as 'outstanding' as we have implemented a new whiteboard system throughout clinical areas to assist staff to manage and respond to patients more effectively. The whiteboard system is used to provide staff with information to highlight what beds have been allocated to individual patients, what assessments have been completed and to also highlight any vulnerable patients whilst they are in our care. The news that the Trust will be awarded this accolade really demonstrates our commitment to making our services better for patients. By responding to developments in technology and recognising that most people are using mobile technology to access health information means that we can be at the forefront of delivering this type of technology for our patients to improve services. Success will be when digital excellence becomes the very DNA of how we deliver, improve and experience health and social care for our patients and staff and that we act as exemplar and implementation partner to other NHS organisations."
A new voice for New Ferry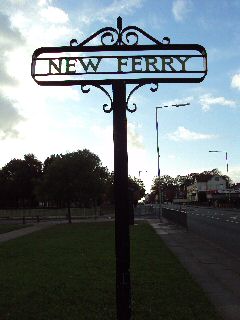 RESIDENTS, businesses and community groups in New Ferry are now coming together to create a new local voice for the area. Early in 2016, the Wirral South Constituency Committee invited businesses and community organisations to a meeting to discuss the setting up of a new Town Team for the area. The meeting was a success, with groups including:- Port Sunlight Village Trust, New Ferry Residents' Association, New Ferry Village Hall, and New Ferry Rangers FC, all turning up. Other organisations, including:- Grove Street Primary School and St. Mark's Church, couldn't make the meeting, but have indicated their support and involvement in the project. Cllr Tracey Pilgrim, Chair of Wirral South Constituency Committee said:- "It's never been more important for people to be able to have their say on things that matter in their neighbourhoods. New Ferry is a busy community with issues that are common to other Towns, in Wirral, as well as some unique ones of its own, and the Town Team will reflect on these issues and find solutions in partnership with residents, businesses and community groups. If you want to make a difference in your local community, we want to hear from you." Through this project, a New Ferry Traders' Association is also being formed, to make sure that businesses can have their say. The Town Team will work with representatives from the Police and Fire Services and the Council's Anti Social Behaviour, Youth Services and Outreach teams, and the Wirral Chamber of Commerce. If you are a member of a local community organisation, a business or a resident of New Ferry, please contact Shannon Kennedy on:- 0151 666 3076 or email them to find out more about how you can help your local area.