Half of Britons have no will it's revealed, as Will Aid launches its 2016 campaign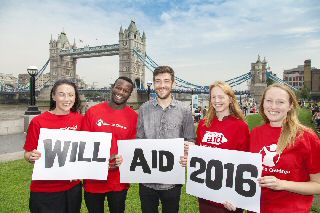 HALF of Britons have not made a will, meaning they have no say in who their assets will be passed on to when they die, new figures have revealed. The statistics have been compiled as part of a poll by charitable initiative Will Aid, to tie in with the launch of the organisation's 2016 publicity drive My Last Words. It found that while young people are the least likely to have made a will, an incredible 19% of people aged 55 and over haven't either. It also discovered that 35% of people with no will have dependent children and therefore have not assigned guardians for them. Will Aid Month, which takes place every November, encourages people to complete this vital piece of paperwork and tick it off the to do list; as well as offering them a chance to raise much needed funds for charity. Will Aid partners with law firms who pledge their time to write basic wills, with clients invited to donate the fee to nine charities supported by Will Aid instead.

Peter de Vena Franks, campaign director, said:- "A will tells your loved ones who should have your money, property and possessions when you die and who will be in charge of following your instructions; your executor. Without this information, the law decides how your estate is passed on and this may not be in line with your wishes. Will Aid makes it easy for you to get a professional will drawn up with a solicitor as well as the opportunity to help nine fantastic charities who work with vulnerable people all over the world."

The recommended donation for your basic Will Aid will is £95 for a single will and £150 for a pair of mirror wills.

Those who wish to make a will can make their November appointments from 5 September 2016.

Will Aid patron, Dame Judi Dench, said:- "These days, families can be complicated and it's more important than ever that you have a proper will to make sure all your loved ones are protected. It is also very important to review your will every few years. Family circumstances change, people grow older and the rules relating to inheritance change. The charity will writing scheme, Will Aid provides the perfect opportunity to make or update your will and give to charity at the same time."

Last year Will Aid raised more than £1 million for its charity partners; ActionAid, Age UK, British Red Cross, Christian Aid, NSPCC, Save the Children, Sightsavers, SCIAF (Scotland) and Trocaire (Northern Ireland) The campaign has raised more than £17 million in donations since it started. This year publicity drive 'My Last Words' invites people to post their "last words" online accompanied by the hashtag #MyLastWords to encourage people to open up channels of communication on what can be a very emotive subject. Solicitors can still sign up to take part. Contact Will Aid today to find out more or book an appointment, online.

Liverpool's cycling revolution could save commuters nearly £2000 per year
LEADING cycle retailer and manufacturer Ribble Cycles, has undertaken independent research into the cost of commuting to work in Liverpool.

The research found that in Liverpool the petrol and parking expenses for driving into work is costing commuters an average of £1,719.09 per year, exceeding the average for England and Wales by £84.67.

Figures obtained by Ribble Cycles from Just Park, Europe's leading provider of pre-bookable parking, revealed that in Liverpool the average cost of parking at work is a staggering £1,209.30 each year, which is £170.88 more than the estimated average for England and Wales.

This is in addition to the average £509.79 per year a commuter can expect to pay on petrol in Liverpool according to the Department of Energy.

The study revealed that the cost of commuting by car goes beyond affecting our own pockets; with the average Liverpool commuter responsible for 1195.49 kgCO2e in carbon dioxide emissions each year by driving into work.

The annual cost of public transport can also be expensive, costing on average £912 for commuters in Liverpool.

Liverpool is undergoing a cycling revolution, the city's council created a 12 year cycling strategy plan in 2014 aiming to increase the amount of travel by bike. By 2025 Liverpool City Council hopes that 10% of all trips are made by bike.

With the popularity of cycling and cycling events in Liverpool growing, it is fitting that Liverpool City Council is investing time and money into creating safe, accessible and convenient cycle routes for the public.

Hourbike, the largest bike rental company in the UK outside of London, has created a Citybike hire scheme in Liverpool. This scheme has over 1,000 bikes spread across Liverpool's network. The Citybike scheme is supported by Liverpool City Council and part-funded by the Department for Transport.

Tim Caswell, Managing Director of Hourbike, said:- "Since the Citybike scheme launched in Liverpool, in May 2014, it has seen on average year on year growth of over 40% in cycling trips made in the city, with the total journeys made covering approximately 85,000 miles. With an annual subscription costing just over £1 per week and a free 30 mins at the beginning of every rental, many members are achieving significant cost savings by cycling, as well as improving their health. With cycling becoming more accessible in the city we hope to see even more people choosing a bike as their mode of transport."

Matthew Lawson, Chief Marketing Officer, at Ribble Cycles said:- "The cost of commuting to work each day in Liverpool is expensive, and with petrol and rail fare prices increasing, it is set to get worse. Many commuters feel this is an unavoidable cost, but it needn't be if they opt to cycle to work instead.

There are many employers in Liverpool that offer great cycle to work schemes, which let you pay for a bike in small instalments each month, making owning a bike much more affordable. There are also the two major National Cycle Network routes in the city which enable commuters to cycle to work via safe and accessible routes, so it is definitely worth reconsidering your commute."

For more information, see the Ribble Cycles blog.