Ryanair to expand operations and add over 200,000 extra seats from LJLA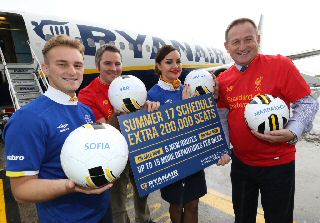 RYANAIR has announced that they will be expanding operations from Liverpool John Lennon Airport (LJLA) for Summer 2017 with 5 new destinations to be served during the Summer and increases in frequency on existing services. The airline's expansion will bring up to an extra 15 departing flights per week and over 200,000 additional seats on sale from Liverpool compared to this year and an expected 11% growth in Ryanair passenger traffic.
The new routes to be featured from Liverpool for next Summer are to:- Prague, the capital of the Czech Republic, Sofia the capital of Bulgaria, Marrakesh in Morocco, the Spanish Catalan City of Girona and Bari in Southern Italy. In addition there will be increased departures each week to Warsaw in Poland, Gran Canaria in the Canary Islands, Palma de Mallorca, Faro on the Portuguese Algarve and to the Spanish holiday destinations of Alicante and Malaga.
This will see Ryanair serve some 32 destinations from Liverpool next Summer and this latest expansion of their services is expected to further continue the growth in passenger numbers that the Airport has been experiencing for the past 18 months. Ryanair celebrated the launch of its Liverpool summer schedule and new routes by launching a 100,000 seat sale at prices starting from just Ł19.99, across its entire European network, for travel in October and November, which must be booked by midnight, on Monday, 12 September 2016. Andrew Cornish, CEO for Liverpool John Lennon Airport added:- "This latest commitment from Ryanair towards the Airport and the City Region is a reflection of the confidence that we both have in the opportunities for further growth here. Ryanair recognise the recent investment put in by the Airport with improved facilities and our best in class customer service, giving the region's travellers a great Airport experience typified by our Faster. Easier. Friendlier marketing."

Robin Kiely, Head of Communications at Ryanair added:- "We are pleased to launch our Liverpool Summer 2017 schedule earlier than ever, which includes 5 new routes to:- Bari, Girona, Marrakech, Prague and Sofia, and more flights to Alicante, Faro, Gran Canaria, Malaga, Palma and Warsaw, which will deliver 2 million customers p.a. and support 1,400 jobs at Liverpool John Lennon Airport. Liverpool customers and visitors have a great choice of low fare sun getaways, with 32 summer 2017 routes to choose from, making Ryanair the ideal choice for families, leisure travel and business customers, who can enjoy our new cabin interiors, great new digital features, more new destinations and even lower fares, as we continue to roll out our 'Always Getting Better' programme. Customers can look forward to even lower fares when they make advance bookings for Summer 2017. As our recent guidance confirmed, Ryanair expects average fares to fall by between 10% to 12% in the 6 months to March 2017, so there's never been a better time to book a low fare flight on Ryanair and we urge all customers who wish to book their summer 2017 holidays to do so now on the Ryanair.com website, where they can avail of the lowest fare air travel to and from Liverpool."
Lost Medication in Bootle / Crosby area
MERSEYSIDE Police have issued an appealing for the public to be cautious after prescription medication is believed to have been lost in Bootle or Crosby, on Wednesday, 7 September 2016. Officers in the Sefton area received a report, at about 3.10pm, that 15 to 16 Pregabalin tablets had been left on the 53 Bus, somewhere between Bootle Strand and Moor Lane, in Crosby. Officers are reminding people that taking any medication which has not been prescribed for them can be dangerous and, in some circumstances, can prove fatal. Anyone who finds any of the medication is asked to hand it in to any Pharmacy, Police Station or you can call:- 101 to alert the Police.

Mark I tank to appear 'virtually' in Southport honor of 100 Years of Tanks
EXACTLY 100 years on from the first tank attack in history, people in Southport will be able to take a step back in time to locate and view a Mark I tank, externally and internally; and even place one in a location of their choice; thanks to a free app launched in association with The Tank Museum to honour the memory of pioneering British tank soldiers. The virtual tank will be positioned in Southport's Victoria Park on 15 September, marking 100 years since the first tank entered the WWI battlefield. In honour of this anniversary, the free Tank 100 mobile app, from the World of Tanks publisher and game developer Wargaming, is available for iOS and Android; also allowing the user to place a tank in a location of their choice, and even take pictures of it featuring themselves, family or friends. Virtual reality has gripped the nation this year with the popular Pokémon Go game, and 'Tank 100' works in the same way. Through the app, users can experience life size augmented reality Mark I tanks at prime locations in Towns and Cities across the UK, as well as view stunning 360 virtual reality films of tanks in action. Wargaming has partnered with The Tank Museum in Bovington to deliver the fascinating history behind the development of the first tanks during WW1, and the app was developed by Ballista Digital; a leading producer of history based apps for museums. Markus Schill, General Manager Europe Wargaming, said:- "History is part of Wargaming's DNA. We wanted to use all that technology has to offer to give everyone a new way to rediscover history, tanks and facts of WWI. The Tank 100 App will allow you to virtually see the first tank on the battlefield or see a life size model of the Mark I - or view a smaller version pop up on a desk top."

CEO of Ballista Digital, Tom Clifford, added:- "We are very excited about working with Wargaming to create this opportunity for tank enthusiasts to 'virtually' experience the Mark I tank. The app will help bring the story of the development of the tank to life, and is the start of an ongoing AR & VR App experience that will track the history of the tank through the 20th Century."

The Tank 100 app will continue to grow over the coming months. Future versions will have additional WW1 and later 20th Century tanks to coincide with key anniversaries. The augmented reality 3D model tanks will also be enhanced to allow users to interact and take control of the tanks themselves. Wargaming is celebrating 100 Years of Tanks with a host of online and offline events in remembrance of the Mark I, the first tank to hit the battlefield. In addition to Tanks 100, there are numerous in game events featuring the Mark I across World of Tanks PC, PS4 and Xbox from September 15, as well as World of Tanks Blitz from 19 September 2016. The main celebration is organised in partnership with The Tank Museum, Bovington, and will take place 15 September 2016, in London. During the event, a Mark IV replica (created for Steven Spielberg's movie "War Horse") will be showcased in Trafalgar Square, just as it was 100 years ago with the Mark I. To download the app, for iOS and Android.
Free childcare place success in Liverpool
A campaign to encourage parents to take up free childcare and early learning places in Liverpool has proved a huge success. Liverpool has around 3,000 free places for under 2' as part of a national programme targeted at low income families. In June 2015 around a ⅓ (1,100) had not been taken up, but following a huge drive over the last year the take up rate now stands at 82%. It means almost 350 additional children have benefited from 15 hours of support per week to help learning and development, which is an 18.5% increase on last summer term. Councillor Nick Small, Assistant Mayor and Cabinet member for education, employment and skills, said:- "I am delighted we've had such success in driving up take up rates and it's a result of a lot of hard work by our staff in finding innovative ways to reach out to families through our Children's Centres and other council services to encourage them to sign up. It is vital that parents who are eligible for free childcare and early learning places use them as the additional help and support from childcare professionals following the early years curriculum can make a big difference. This is all about making sure that our children get the very best start in life and are where they need to be in terms of development when they start school."
The Council worked with social enterprise Outreach Solutions to run an intensive, targeted campaign, targeting Clubmoor and Norris Green in the north and Knotty Ash and Yewtree in the east where take up rates were low. A 6 week programme engaged communities and nurtured local champions to become advocates for early learning; and the way a wide range of activities in many different settings; from local shops to children's centres; were used to get messages across. More information about free childcare and early learning places can be found online or parents can contact their nearest Children's Centre.