Be Clear on Cancer roadshow visits Birkenhead to raise awareness of lung disease symptoms
THE 'Be Clear on Cancer' roadshow, part of a Public Health England campaign, will be visiting the Pyramid Shopping Centre in Birkenhead this month. The campaign will raise awareness that a persistent cough, or getting out of breath doing everyday things such as vacuuming or walking up a short flight of stairs, could be a sign of lung cancer or other lung disease. Breathlessness can also be a sign of heart disease. The event will encourage anyone who notices these symptoms to visit their GP as finding these conditions early makes them more treatable.

The most recent data reveals that in Wirral:-
Around 280 people are diagnosed with lung cancer each year.


Around 8,000 people have COPD (chronic obstructive pulmonary disease; a common form of lung disease that includes emphysema and chronic bronchitis).


9 out of 10 cases of COPD are caused by smoking.


Around 13,070 local people have coronary heart disease.
The Be Clear on Cancer roadshow is touring the country and will be in Birkenhead at the Pyramid Shopping Centre on Friday, 16 September 2016 and also on Saturday, 17 September 2016.

At the event, leaflets will be distributed that provide information on lung disease, including lung cancer, and heart disease. A nurse will also be on hand to talk to anyone who has any questions.

Early diagnosis of these conditions has the potential to save lives and improve the quality of life of those living with long term conditions, such as COPD. The earlier heart disease is diagnosed the better; treatment can help manage symptoms and reduce the chance of a heart attack.

Fiona Johnstone, Director of Public Health, Wirral Council said:- "Spotting the signs of heart and respiratory diseases early makes them more treatable. A persistent cough or breathlessness might not be anything serious, and more often than not there is nothing to worry about, but don't try and diagnose yourself, visit the roadshow on the 16 and 17 September or see your doctor to find out for sure."

The nationwide Be Clear on Cancer campaign is running until October 16. For further information about the signs and symptoms of lung cancer, other lung diseases and heart disease, search:- 'Be Clear on Cancer.'

Gogglebox star supports Wirral Council's blood pressure testing day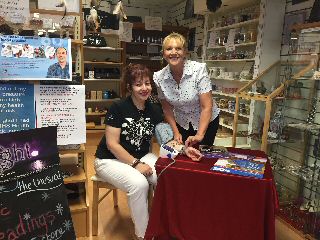 WIRRAL Council are inviting people to follow in the footsteps of Gogglebox's Viv Woerdenweber and have their blood pressure checked for free at Birkenhead Market on Wednesday, 14 September 2016. The day has been arranged to coincide with Know Your Numbers! week, the UK's biggest blood pressure testing event, which this year runs between 12
September to 18 September 2016.

Nearly 50,000 adults in Wirral have been diagnosed with high blood pressure (hypertension) and another 45,000 have it, but don't know it.

Having high blood pressure is a big problem; the heart has to work harder to pump blood around the body which can weaken the heart over time. High blood pressure also places a strain on the walls of arteries, making a blockage more likely and also increases the risk of serious health problems such as heart disease, stroke and kidney disease.

Viv Woerdenweber said:- "Know Your Numbers! week is a fantastic initiative, helping to identify people living with undiagnosed high blood pressure and raising awareness of this silent killer."

Fiona Johnstone, Director of Public Health, Wirral Council said:- "High blood pressure isn't usually something that you can feel or notice but if you have it you're more likely to have a heart attack or stroke, so it's important it doesn't go undiagnosed."

Nurses from Public Health will be on stall P18, between 9am to 4pm, offering free blood pressure checks and advice. The event is also supported by ABL Wirral, who will be on hand to offer free support for anyone wishing to stop smoking.