1.3m businesses welcome digital Tax reprieve, says local specialist
NEWS that some of the smallest businesses and landlords won't have to submit online Tax updates every three months, will come as a huge relief to local business owners according to a small business accountancy specialist. Andrew Geddes who runs Tax Assist Accountants, in Southport said:- "We're delighted the Government is listening to the concerns of business owners and has announced the exclusion of a further 1.3 million small businesses and landlords from having to make quarterly updates and keep their records digitally. This means 2.9 million of the UK's 5.4 million businesses will be exempt from digital quarterly reporting."

HMRC had previously said that only employees or pensioners who had profits of no more than £10,000 from a 'secondary income', would be exempt, but they have now included small firms and landlords with annual turnover or gross income below £10,000. They are also considering delaying the deadline to go digital for firms with annual income over £10,000, from 2018 to 2019.

"Local business owners are already facing major new responsibilities including workplace pension schemes and the National Living Wage. Whilst the 'Making Tax Digital' plans will have some advantages for small businesses, the initiative will require a huge shift in how many local business owners maintain their records and interact with HMRC. The only way to update a digital Tax Account will be via software and HMRC has said it will not be providing a solution, so we'll continue to work closely with our national partners such as QuickBooks Online, whose technology helps our clients to simplify processes and reduce their administration time. The Government's plan to eliminate the need for an annual Tax Return by 2020 still stands and we want to ensure that, when the call does come for all small businesses to keep records digitally, local business owners are ready." said Andrew Geddes.

TaxAssist Accountants Southport is a local business, based in Southport, Ainsdale, Birkdale and Formby providing Tax and accountancy advice and services purely to small businesses.
Merseyside Netball Team reaches new heights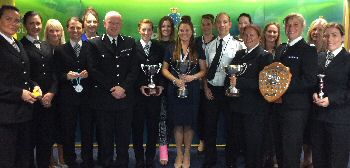 MERSEYSIDE Police's all conquering Netball Team have enjoyed an audience with the Chief Constable Andy Cooke and Assistant Chief Constable Ian Critchley, on Wednesday, 19 September 2016.

The team, captained by Leanne Lloyd and Victoria Williams, brought home the national Police Service UK (PSUK) Netball trophy from Nottingham earlier this month, overcoming the hosts Nottinghamshire Police in the final. The trophy takes centre stage in a cabinet already heaving with the European Corporate Games, Liverpool League and Cup, Cheshire Elite and Lilly Cup.

The 2 day event saw Merseyside Police net 8 victories on their path to glory. The B Team also marched to their silver cup final, only losing out to reigning champions West Yorkshire in the final.

Captain Leanne Lloyd said:- "Both our teams had excellent weekends and should be so proud of how they represented the force once again. After being runners up in last year's final, we were so focussed on going 1 better this year, and beating the hosts in their back yard makes the achievement all the more satisfying."

Chief Constable Andy Cooke said:- "The teamwork and sheer determination our netball teams have shown has been inspirational to see, not only at the PSUK tournament, but throughout the season. They are true ambassadors for the force, playing to such a high standard, and doing all of this in their spare time."

Maghull blind veteran urges other veterans to seek free support this National Eye Health Week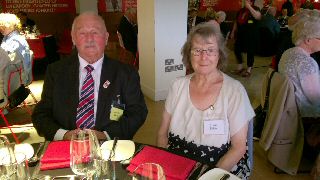 THIS National Eye Health Week, 19 September to 25 September 2016, a Liverpool Army veteran who lost his sight due to a stroke has urged other ex-Service men and women to contact national sight loss charity Blind Veterans UK for its support. Kenneth Baker, 83, lives in Maghull and has been receiving support from Blind Veterans UK since 2015. Born in Liverpool, Kenneth was first employed in a timber yard before joining the Loyal Regiment (North Lancashire) for National Service in 1951 at 18 years old. Kenneth served in Egypt in the lead up to the Suez Crisis and then also in Trieste, Italy before he was discharged as a private in 1953. He continued part time National Service in the Kings Regiment until 1956.

It was years later, in 2013, that Kenneth suddenly lost his sight to a stroke. The stroke caused the blood to his optic nerve in his right eye to be cut off, leaving him severely vision impaired. He has always been severely short sighted in his left eye.

Kenneth said:- "I was in bed about to go to sleep one night when my wife suddenly said that there was something wrong with my eyes. My eyes were glazed over and I was stuck staring into space. I couldn't see her at all. All I saw were many coloured lights flashing in front of my eyes. I was taken to the Hospital at 1am and told that I had just had my 2nd stroke. The doctor who treated me said that if I had come into the Hospital a bit earlier they might have been able to do more for me. Unfortunately it was too late to save my sight. Losing my sight was really hard at 1st. I was still running my own business as a handy man and then suddenly I could not drive or do any DIY. I had to completely pack it all in. That was a difficult change to be faced with and I did feel a bit lost."

This National Eye Health Week, Blind Veterans UK is reaching out to vision impaired veterans like Richard who could be benefitting from its free, life changing support. Regardless of how a veteran lost their sight or when they Served, Blind Veterans UK will provide free, lifelong support to them and their families to help them discover life after sight loss.

Blind Veterans UK estimates that there are currently 59,000 blind veterans that would be eligible to access its specialist support, most of whom are not currently aware of it. Fortunately for Kenneth, his local opticians knew about Blind Veterans UK and encouraged him to get in touch with the charity to apply for their free specialist support. As well as free equipment, Richard has had a week of training at the Blind Veterans UK centre in Sheffield. He has also visited the Llandudno centre for a holiday and attended a reunion of blind veterans at Anfield Football Stadium.

Kenneth said:- "My training week at the Blind Veterans UK centre was really helpful and the staff there were brilliant. They made sure I felt comfortable and they taught me so much. The charity gave me so much free equipment as well, like software for my laptop and a scanner which magnifies documents so that I can read them again. Initially I said that I didn't need the scanner because I just felt like I was taking too much, but they assured me that it was mine to use as much as I need to. The best piece of equipment that I've been given by far is a special smart phone adapted so that I can use it. It's made such a huge difference because now I have an easy way to keep in touch with my family and friends. The support from Blind Veterans UK has been such a great experience and I'm very grateful for all their help."

Blind Veterans UK is the national charity for blind and vision impaired ex-Service men and women, providing vital practical and emotional support to help veterans, discover life beyond sight loss. The charity has 3 centres in Brighton, Sheffield and Llandudno, North Wales and a network of welfare officers around the UK.

If you, or someone you know, served in the Armed Forces or did National Service and are now battling severe sight loss, find out how Blind Veterans UK could help by calling:- 0800 389 7979 or visiting:- NoOneAlone.Org.UK.