Liverpool Life Sciences Accelerator tops out!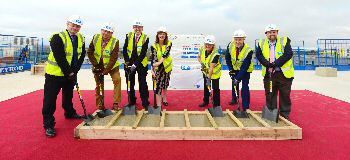 THE £25m hi tech laboratory facility being built on Daulby Street has reached its highest point of construction. This milestone was celebrated by the Royal Liverpool and Broadgreen Teaching Hospitals, NHS Trust, the Liverpool School of Tropical Medicine (LSTM) and developer IHP with a topping out ceremony. Those attending included the Deputy Mayor Cllr Ann O'Byrne and Colin Sinclair, executive director of the City's Knowledge Quarter. Aidan Kehoe, chief executive of the Trust thanked the LSTM, the City Council and said:- "The Accelerator will be a fantastic asset to the City and is part of a vision for the City with the Knowledge Quarter creating an international hub for life sciences. The Accelerator is also the 1st part of a Liverpool Health Campus that will be built around it, bringing economic benefits and up to 5,000 jobs that will help improve the prosperity for the people of Liverpool."

Professor Janet Hemingway, LSTM director said:- "There is already a great deal of excitement from industry about the Accelerator, which will see us strengthening our already close research ties with the Royal, encouraging further international links as well as with local SMEs. It is an original offering which will put Liverpool very solidly on the map with its strong knowledge economy."

Deputy Mayor Cllr Ann O'Byrne said:- "The topping out ceremony recognises the skills and talent that are indigenous in the City of Liverpool. We are growing in our base for world class facilities and the Accelerator is 1 that will create jobs for local people, along with great opportunities for young people, graduates and apprentices. Liverpool is leading the way in health and wellbeing and it is at the heart of what we do, from life sciences and children's centres to activities to get people fit and healthy, this all contributes to making Liverpool a great City."

Colin Sinclair, executive director of the City's Knowledge Quarter added:- "The Knowledge Quarter is a Mayoral development zone within the City stretching from the waterfront all the way up to Lime Street. It is the biggest cluster of academic and clinical facilities in Liverpool and is also home to some of the most brilliant, innovative businesses working in science, life science and technology. Liverpool leads the world in fighting against infectious diseases and personalised medicine, this is proof Liverpool is a global City and we can compete with anyone, anywhere in the world."
Safety Collaborative reduces the pressure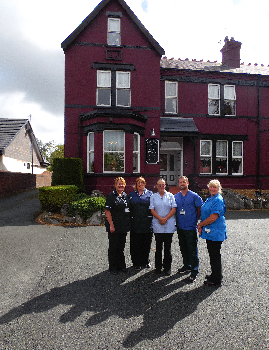 A Hospital Trust is working with care homes across the community to tackle the problem of pressure ulcers. Anyone who sits or lies down for prolonged periods of time, such as those confined to bed, risk developing a pressure ulcer. Ulcers can be painful and lead to serious infection. 1 in 5 patients in UK Hospitals suffers from a pressure ulcer; commonly known as bed sores. People aged 70+ are particularly vulnerable, as they are more likely to have mobility problems and ageing skin. Southport and Ormskirk NHS Hospital Trust launched a Patient Safety Collaborative in June 2015 to tackle the problem. The initiative sees the Trust working with partners to prevent pressure ulcers in care homes and also within the Hospital. The collaborative brings together private care homes and clinicians from across the Trust. Dominic Williams, tissue viability nurse specialist, said:- "The common goal is to share best practice and also develop new ways to tackle pressure ulcers. It's about better awareness of those patients most at risk and taking steps to prevent them developing ulcers in the 1st place. We are training our staff and developing better systems to keep pressure ulcers away. It's been especially rewarding to be talking to care homes as we can all share ideas on best ways to tackle the problem." Park Grove Care Home in Burscough is an active member of the Patient Safety Collaborative. It has recently been commended by the Care Quality Commission for its work to reduce pressure ulcers. Park Grove's registered manager, Angie Finnigan said:- "We've gained such a lot from joint working with the Trust to reduce pressure ulcers. We meet regularly and the group is a really great forum for agencies to meet, learn and improve." On 12 October 2016, a Patient Safety Collaborative summit takes place at Southport Hospital, within the Clinical Education building. The event will run from 1pm to 4.30pm and will be an opportunity to showcase all the areas from the Trust and care home partners who have been working to reduce pressure ulcers. Care home managers are welcome to attend should send an email.

R Charity launch Pink Parties for Breast Cancer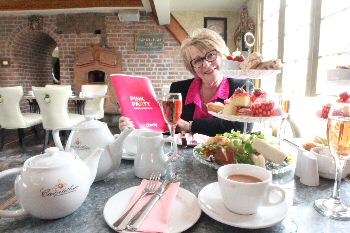 THE Royal Liverpool and Broadgreen University Hospital's R Charity is hoping to turn Liverpool 'pink' for the month of October with the support of local comedian Pauline Daniels, who celebrates 3 years in remission this year (2016). October is breast cancer awareness month, and in the lead up to the month, R Charity has joined forces with Pauline Daniels to help raise awareness and funds for the Royal's Breast Unit.
The Pink Party campaign is being kicked off with Pauline and Capital FM calling for the people of Liverpool to register and host their very own Pink Party, in support of the breast unit appeal. The funds raised will enable the Royal Liverpool University Hospital to buy 3 new mammography units, including 2 with the latest tomosynthesis technology for the breast unit.
The equipment will be able to help diagnose breast cancers earlier, when treatment is most effective, whilst reassuring most patients and improving the outcomes for women facing this challenge. Pauline is passionate about raising awareness and much needed funds for the breast unit, and feels that her involvement is vital to help spread the word about breast cancer and to help improve lives of patients in the future.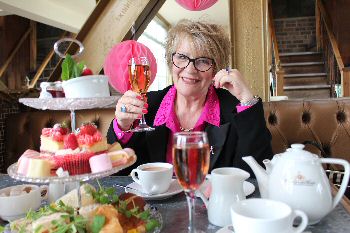 Pauline Daniels said:- "I'm backing the Royal's Pink Party campaign, to send a message to women (and men) highlighting the importance of checking their breasts and knowing the things to look out for. I challenge you to hold a Pink Party to raise funds for the brand new 3D mammography machines that will be vital in saving and improving more lives in the future. When I was a girl, a woman with breast cancer would lose her breast, her life or both. Today we can make a real difference, so come on girls and boys; it can affect us all, let's make the experience better for cancer patients now and cancer patients to come."

As part of the Pink Party campaign a grand Pink Party afternoon tea is taking place on 12 October 2016, at 30 James Street Hotel. Survivors, relatives and fundraisers will join together to celebrate by turning pink for breast cancer awareness month.
The Pink Party campaign hopes to encourage, both men and women, to take part, and the event at 30 James Street promises lots of fun. Entertainment will include a pink afternoon tea, live performances from 'James the singer', beauty treatments from Harvey Nichols Beauty Bazaar and a raffle with lots of prizes. Each person that attends will be entered into a prize draw to win a luxury overnight stay at the hotel.

Aimee Clare, senior community fundraiser said:- "We are extremely grateful to Pauline Daniels for her support for this year's Pink Party campaign, and to everyone that is thinking about registering to take part. We couldn't dream of raising the money that we need to invest into lifesaving equipment for the new breast unit without the support of local people, organisations and places. Organising your Pink Party couldn't be easier, but if you need any inspiration or support, please get in touch. Don't forget you can also tweet us @RCharityLpool or visit us on Facebook. You can also nominate your friends to post a #RPinkParty selfie and ask them to text to donate by texting:- 'PINK46' £5 to 70070 to make a £5 donation straight to the 'Breast Unit Appeal.' For tickets to R Charity's official Pink Party launch at 30 James Street or simply for more information on getting involved or registering for your own pink party pack please visit:- PinkParty.Org.UK or call:- 0151 706 3172."