Get Ready to Ramble - Ramblers back Active Wirral campaign with free walking event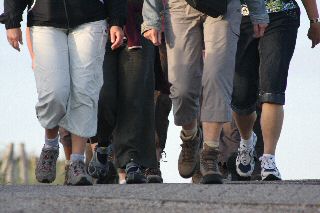 WIRRAL Ramblers are getting behind the Council's latest 'Active Wirral' campaign to encourage local people to take more exercise.

The Ramblers have organised a walk that will take place, on Monday, 3 October 2016, with a specially designed route accessible to all. The free event will begin at the Spital Train Station Car Park, at 11am, and is expected to take approximately 1 ½ hours.

Wirral Ramblers are the largest walking group in the region with around 800 members, and lead dozens of walking events every year across the North West, Yorkshire, the Peak District and Wales.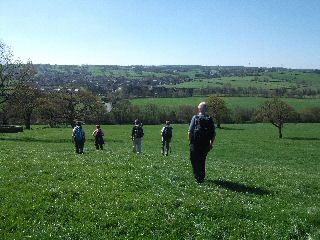 Cllr Ann McLachlan, Cabinet Member for Transformation, Leisure and Culture said:- "Our Pledges make it clear we are fully committed to supporting and encouraging a healthier Wirral. But we also want to make that fun for people to participate in and with this month's theme for our Active Wirral campaign being 'Let's Walk' we are excited to have Wirral Ramblers involved. The Ramblers have been really supportive of our plan to help people in Wirral take that first step towards getting active and adopting a healthier lifestyle. We hope that some of those who attend this walk will think about joining the Ramblers and making a lasting, positive difference to their health."

Gordon Clarke, Chairman of Wirral Ramblers says:- "Wirral Ramblers are very happy to join with Active Wirral in offering the opportunity to take part in a pleasant late morning/early afternoon local walk. The walk will be at an easy pace and designed to introduce people to the pleasure of walking and to increased fitness. So, take those first footsteps to a healthier outlook by taking part in the 1st Wirral Ramblers and Active Wirral health walk."

Walkers are asked to wear sturdy footwear and dress appropriately for the weather. Wirral Ramblers currently organise regular walks on Wednesdays and Sundays and host regular social events at the RAFA Club, located on Alton Road, Oxton, Merseyside.

To find out more, visit:- WirralRamblers.Org.UK. To find out about other Active Wirral events and activities, go to the group's Facebook Page.

Arrest made after Firearms discharged in Bootle
MERSEYSIDE Police have arrested a man following reports a firearm was discharged in Bootle on Wednesday, 14 September 2016. At about 9.45pm officers were called to Cambridge Road, following reports shots had been fired from a blue Ford Mondeo car that was parked in the street. On arrival officers discovered damage to a property and a stationary blue Honda car consistent with a firearm discharge. No 1 was injured. At this stage of the investigation, the motive for the incident is unclear, but it is believed to be a targeted attack. Crime scene investigators have carrying out a forensic examinations of the scene and house to house inquiries are being conducted in the area. High visibility patrols have been stepped up in the area to reassure the public. A 40 year old man from Widnes has since been arrested on suspicion of possession of a firearm with intent to endanger life. Superintendent Dawn McNally said:- "The investigation is in its early stages and the motive for the shooting is unclear however we believe this was a targeted incident. We are relentless in our pursuit of those involved in gun crime and criminals who have no regard for other people and will continue to take action to protect our communities from those intent on using firearms on our streets. Information from our communities is vital and I would urge the local community to come together to help us take a stand against the use of firearms and violence on our streets. If you saw or heard anything last night that may help us with our enquiries, please report it to us so we can take action. If anyone has any information about this incident or those involved in gun crime, or who knows where weapons are being stored, I would urge them to contact us so that we can make our streets safer. Anyone who may have information which could help us with their inquiries should contact the specialist Matrix team on:- 0800 230 0600, or Crimestoppers, anonymously, on:- 0800 555 111."
Wizz Air to launch another new service from LJLA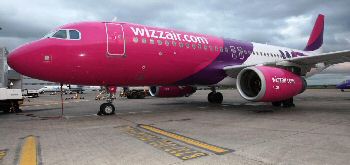 THE airline Wizz Air have announced that they are to commence flights from Liverpool John Lennon Airport (LJLA) to the Polish City of Lublin in May 2017. The twice weekly service will operate on Sundays and Wednesdays, commencing on 21 May 2017 and will be Wizz Air's 6th destination from Liverpool, complementing the airline's existing flights to Warsaw, Gdansk, Katowice, Riga and Budapest. This new service will take the number of weekly departures by Wizz Air from Liverpool up to 17 from next Summer. This will be the North West's only flights to Lublin which is the largest City in South East Poland, known for its picturesque old Town and cultural amenities. Wizz Air is the largest low cost airline in Central and Eastern Europe with a network of over 450 routes, connecting 126 destinations across 38 countries. The airline operates a fleet of 72 Airbus A320 and Airbus A321 aircraft and last year they carried over 110,000 passengers via Liverpool; an increase of over 60% compared to 2014 Paul Winfield, LJLA's Air Service Development Manager commented:- "We are delighted that Wizz Air are to further strengthen their presence at Liverpool by expanding their range of destinations to include Lublin and we look forward to continuing to work with them and explore further opportunities to operate more flights from Liverpool; the North West's Fastest, Easiest and Friendliest Airport." Tamara Vallois, Head of Communications at Wizz Air said:- "We are thrilled today to announce our 6th route from Liverpool. The new service is our fourth low fare connection from Liverpool to Poland and offers direct access to the picturesque City of Lublin in Lesser Poland. Lublin boasts a beautiful Old Town and is ideal for a short City break as well as a great value for money longer getaway. With tickets starting from only £16.49, we hope to see many happy customers on board our young fleet."