Hot off the Press! Edge Hill students publish 1st book
EDGE Hill University's student led publishing house has produced its very first book, Head Land, a collection of award winning short stories celebrating 10 years of the Edge Hill Short Story Prize. The book, which features stories from some of the authors who have been awarded the Prize in the last decade, is published by Edge Hill University Press (EHUP), a student led literary imprint designed to equip students with industry knowledge and highly marketable skills. Staffed by a mixture of undergraduate and postgraduate students, EHUP has worked in close partnership with Glasgow based Freight Books, giving the interns an authentic industry experience and helping them to build the skills and contacts they will need to secure a job in the competitive world of publishing. Rodge Glass, Creative Writing Programme Director and co-director of EHUP, said:- "Every aspect of the book, from selecting the stories and liaising with authors to booking promotional events and marketing the book on social media, has been done by students. Most of the interns had never been involved in publishing before so they have had to learn everything on the job; and they've exceeded all of our expectations. This type of hands on publishing experience is pretty rare in higher education and we hope it will give our students the edge when it comes to applying for jobs after graduation."

Student intern Harriet Hirshman is responsible for arranging a book tour to accompany the launch of Head Land. She added:- "It can be quite stressful, particularly when I've had coursework or exams to do at the same time, but I'm really glad to be doing the internship. It has given me so many opportunities to develop new skills, talk to people and just get myself out there that will definitely be useful in the future."

Head Land, 10 Years of the Edge Hill Short Story Prize brings together some of the most acclaimed short story writers working today, including the previous Edge Hill prize winners:- Kevin Barry, Colm Tóibín Jeremy Dyson and Kirsty Gunn. It also features some of the best shortlisted authors and past winners of the student judged Reader's Prize.
To celebrate Edge Hill's entry into the world of literary publishing, 3 of the book's contributors will be reading from their award winning stories at a special FREE event at the Arts Centre, on 22 November 2016. Edge Hill graduate and rising star Carys Bray whose 1st novel:- 'A Song for Issy Bradley', was shortlisted for the Costa Book, before winning the Author's Club Best First Novel Award and the Utah Book Award.
Adam Marek, acclaimed author of 2 short story collections, Instruction Manual for Swallowing and The Stone Thrower, whose work is featured in The Penguin Book of the British Short Story. Rob Shearman, who has worked as a writer for TV, radio and the stage, and published four collections of short stories, including 2 that have been nominated for the Edge Hill Prize. He is well known as 1 of the writers on the BAFTA winning revival of Doctor Who. The event is free, but booking is essential. There will be drinks and canapés from 6.30pm, plus an introduction by the Vice Chancellor, Dr John Cater. Tickets can be booked online or via the Box Office on:- 01695 584480.
Appeal after train hits shopping trolley on tracks near Edgehill Station
THE British Transport Police Officers have issued an urgent appeal for information after a busy passenger train struck a shopping trolley that had been placed on the line. The incident occurred, on Tuesday, 6 September 2016, just before 8pm, between Edgehill and Liverpool Lime Street Stations, in the Chatsworth Drive and Overton Street area. Luckily no one was injured, but such was the damage to the train that it had to be taken out of service, causing delays and cancellations across the network.

PC Steven Davies said:- "The service had departed Edgehill station and made its way through the cutting. Suddenly the train struck a shopping trolley that had been placed on the tracks. This caused extensive damage to the train and two of the four lines were temporarily closed as a result. This was a deliberate and malicious act that could have resulted in serious injury or worse, apart from the fact that those responsible endangered their own lives. I cannot over emphasise just how dangerous this is. Reckless acts like this can result in potentially fatal consequences, something to keep in mind for those who are responsible."

A Northern spokesperson comments:- "Mindless acts of vandalism such as this cost the rail network much more than a hefty bill. An incident such as this can cause serious shock and upset to train crew, and as a result, our customers can suffer long and unnecessary delays and disruption to their journey. Our employees have the right to work in a safe environment and incidents like these not only put them in danger, but also risk the lives of the customers we serve. We simply will not tolerate this type of behaviour and continue to work closely with the BTP to investigate and prosecute those who carryout such crimes."

Anyone with information about the incident is asked to contact British Transport Police on:- 0800 40 50 40, or text:- 61016, quoting reference:- '248 of 26/09/2016.' Information can also be passed anonymously to the independent charity Crimestoppers on:- 0800 555 111.

Comic strip competition gives pupils chance to repeat generation green winning success
AS part of the Generation Green Smarter Power competition, school children aged 7 to 11 are being asked to draw a cartoon showing British Gas mascot, Wilbur, demonstrating how to save energy with smart meters. The winning comic strip will be chosen by 3 judges, including:- Nigel Parkinson, artist at the world famous comic:- 'The Beano.' Southport already boasts a Generation Green winning school after Our Lady of Lourdes Catholic Primary and Nursery School was awarded an eco prize worth up to £50,000 in 2014. They received solar panels, a new heating system and an energy display monitor that shows real time energy consumption. Pupils now have the opportunity to continue the Town's winning streak and see their school transformed, too. In their comic strip, schoolchildren will be asked to show how using smart meters could save energy in the home. British Gas is leading the smart meter roll out, and the Government wants every household to be offered smart meters by 2020.

The competition aims to get children thinking creatively about how they use and save energy so they better understand the benefits of smart meters. Nigel Parkinson said:- "I can't wait to see the kids' entries; they always have great ideas! I'd really like to see comic strips telling a fun and lively energy saving story with plenty of good humour showing how homes can benefit from smart meters."

Abi Robins from British Gas added:- "Southport is already home to a Generation Green winning school and pupils now have the opportunity to repeat the town's success with the Smarter Power competition. We want to see the most creative comic strips, complete with imaginative ideas on how to save energy with smart meters. We can't wait to see if Southport can continue its winning streak and win another school energy makeover, worth up to £50,000."
The competition will be accepted entries until January 2016. Schools can register for the competition via:- GenerationGreen.Co.UK.
Nurse Catrina's vocation to care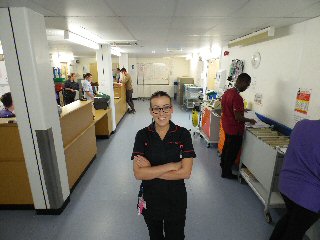 AS a NHS trust continues its recruitment drive, one of its nurses has become one of the UK's youngest senior sisters. Southport and Ormskirk NHS Hospital Trust stages its next nurse recruitment event, on Monday, 10 October 2016. The Trust hopes to employ top class nurses like Catrina Dickens. At 24 she runs a trauma ward at Southport Hospital. Just 3 years ago she was a trainee nurse studying at Edge Hill University where she gained a first class degree. Catrina started working for the Trust in October 2013 as a staff nurse and has been promoted twice based on performance and ability. She has responsibility for 35 staff and manages a busy 30 bed ward which cares for trauma injury patients. Catrina, originally from Flintshire, North Wales, said:- "Being a ward manager and senior sister is a big challenge but it's something I love. This is a great place to work. The hospital is small enough to have a community feel, but busy enough to be exciting and challenging. The training and support given to me has been fantastic. The Trust is a place where you can thrive and develop."

Catrina's rapid rise through the ranks comes as no surprise to her colleagues who have been impressed by her dedication and drive. Carol Fowler, acting deputy director of nursing, said:- "Catrina has been recognized for her skills and abilities and has got this promotion on her own merits. This reflects the Trust environment for talented nurses to develop."

The Trust embarked on a nurse recruitment campaign over summer. Vacancies exist across acute, community, surgical and medical nursing disciplines. More details about our vacancies here. The next recruitment event for nurses takes place, on 10 October 2016, at Southport Hospital, from 3.30pm to 7.30pm. Candidates who complete an online application form could be invited for interview at the recruitment event. B5 Staff Nurse online applications can be filled in online. Applications close on the 5 October 2016 and interview times will be confirmed by 7 October 2016. Carol added:- "We are keen to meet nursing students, qualified nurses and those returning to the profession, from across the region and beyond who are interested in a career in nursing at Southport and Ormskirk Hospitals. At the recruitment event you will be able to find out more about the Trust and chat to nurses already working for us."

Details for nurses returning to the profession is available online.