Firefighters rescue dog stranded on island in Bebington pond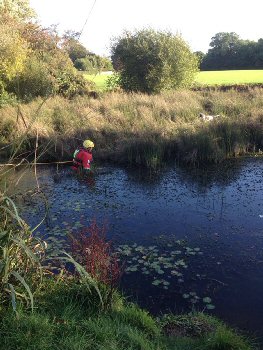 A rescue dog adopted from Cyprus was brought to safety by firefighters after she became stranded on an island in a pond, in Bebington, Wirral. Lucy, a 2 year old mixed breed spaniel, ran in to difficulty while out on a walk with owner Helen Lambert in an area of parkland, on Stanton Road, in Bebington, on Sunday, 25 September 2016. After running to the water's edge for a drink Lucy, who was adopted from Jodie's Cyprus Dogs Rehoming Sanctuary, in January and flown to the UK via Paris, fell in and swam to an island of reeds in the middle of the pond for safety.

Despite Helen's pleas to return, Lucy could not be coaxed back across the water and, after 2 hours of Lucy being stranded, Helen eventually called Merseyside Fire and Rescue Service to help.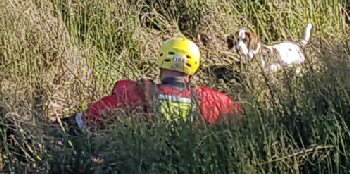 1 Fire Engine arrived at the parkland, at 4.30pm. Firefighters wearing water suits then entered the pond and encouraged Lucy in to the water, where she was able to swim back to dry land.

She was reunited with owner Helen and escaped very tired, but thankfully uninjured, from her ordeal.

Helen, who lives in Eastham, said:- "Lucy is a big bundle of cuddles and fun and she likes getting up to mischief wherever she can. I took her for a walk and she went over to get a drink from the pond but then accidentally toppled in. She panicked and swam to the reed island in the centre but we couldn't entice her back. We tried everything and passers by even stopped to help. Eventually, she was so exhausted that we called the fire service. We are so grateful to the firefighters who came along to help. They coaxed her in to the water and encouraged her to swim across to me. Luckily she wasn't injured by her adventure and we are very grateful to have her home."

Watch Manager Des McDonald, who attended the rescue, said:- "Lucy had been stranded for 2 hours when we arrived and she was very scared. We went in to the pond wearing water suits and encouraged her in, and then she swam to safety on her own. Thankfully she was uninjured and was safely reunited with her owner. We would always advise dog owners to keep their dogs on leads near water and never let them stray on to frozen lakes or ponds. Never enter the water to try and save your dog as you could end up in danger yourself. Remember that wet riverbanks, steep edges or jagged rocks can make it hard for a dog to scramble out and they are a slip risk for owners too. Even dogs that like swimming can usually only swim for short bursts so keep an eye on your dog and don't let it enter the water if it's older or tired. If your dog does enter the water and struggles it may have inhaled water and should see a vet immediately. Dogs can drown after the event if water has entered their lungs."

If your dog has struggled in the water and has managed to make it out it is worth getting them checked by a vet. Just as with humans, if water has entered the lungs drowning can occur at a later stage.

For more advice about walking your dog safely around water via this link.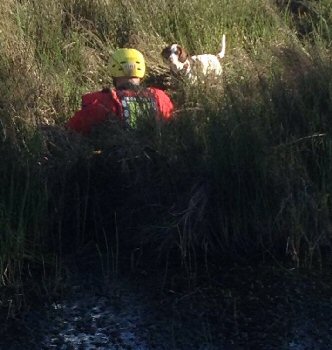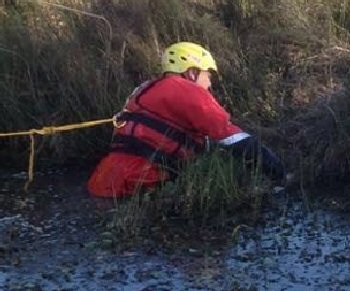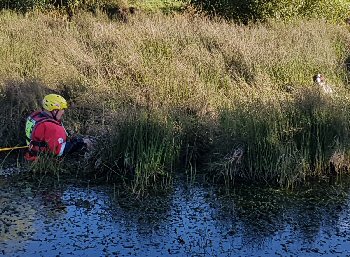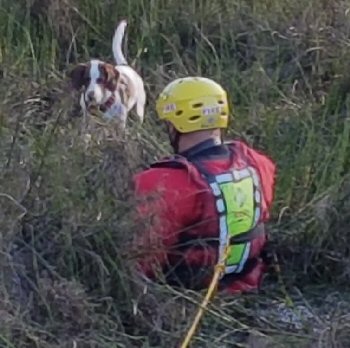 A million miles milestone for CityBikes
LIVERPOOL is all about pedal power as latest figures show that CityBikes have travelled a million miles around the City.

Since the scheme launched in May 2014:-

► 204,899 bikes have been hired.

► 49,964 people have subscribed to sign up to the initiative.

► More than 25,000 users have rented the bikes around 8 times.

► The average time people spend on the bikes is around 38 minutes, covering 8 miles within that time .

This news comes as the latest 2015/16 cycling rates have been released for Liverpool which show that during this period, there has been a rise of 10.2% in people getting on their bikes. Cabinet Member responsible for Transport, Councillor Malcolm Kennedy, said:- "We always knew the Citybike scheme would be popular, but to hit the million miles landmark a little over 2 years after launching the initiative is staggering. There is a real mass appeal of our green bikes; whether it's tourists exploring the City, residents getting out and about or business people using them to get from A to B there is a huge variety or users who are making the most of this value for money service. With stations located across the City and 1,000 bikes, we're confident the scheme will go from strength to strength; so here's to the next million miles!"

Mayoral Lead for City Wellbeing and champion for promoting cycling in the city, Councillor Tim Beaumont, said:- "As a City we take cycling extremely seriously and our aim is to be the fastest growing City for cycling in the UK by 2026, which will in turn improve people's health and wellbeing. We want to ensure there are no barriers when it comes to people taking up cycling, and CityBike is a great example of this as it's an easy and hassle free way to travel around the City. I'm sure the scheme will go continue to be hugely popular and will help us achieve our cycling goals over the next few years."

For more information, visit:- CityBikeLiverpool.Co.UK. The strategy can be found by clicking on here.

More photos released and 7 charged following February 2016 disorder, in Liverpool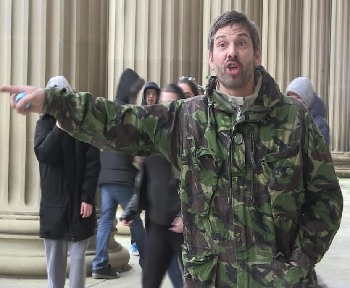 MERSEYSIDE Police Detectives investigating the disorder in Liverpool City Centre, that took place on Saturday, 27 February 2016, have released additional photographs of people they wish to speak to as part of on going enquiries. In total 38 people were arrested following the disturbance in the area around Lime Street, Railway Station and St. George's Hall. We have also be informed by Merseyside Police that so far 33 people were arrested on the day of the disorder and a further 5 were arrested, on 24 May 2016, during a Police operation. A further 21 have also been questioned in relation to the disturbance. To date 7 people have been charged.

The 7, at time of publishing this edition are:-

► Paul Pitt, 50, from Essex, was been charged with s4 Public Order Offence and has appeared at Liverpool Magistrates Court, on Wednesday, 28 September 2016.

► Paul France, 49, from Bootle, was been charged with s5 Public Order Offence and has appeared at Liverpool Magistrates Court, on Thursday, 29 September 2016.

► John Vickers, 61, from Darwen, has been charged with assaulting a constable and will next appear at Liverpool Magistrates Court, on Thursday, 6 October 2016.

► Susan Kinsella, 45, from Northampton, has been charged with s4 Public Order Offence. She will next appear before Liverpool Magistrates Court, on Wednesday, 12 October 2016.

► John Herbert, from Edinburgh, has been charged with a s5 Public Order Offence and will next appear at Liverpool Magistrates Court, on Monday, 17 October 2016.

► Thomas Law, 54, from Coventry has been charged with s4 Public Order Offence and is next due to appear at Liverpool Magistrates Court, on Friday, 21 October 2016.

► Peter McCloskey, 46, from North Lanakshire, has pleaded not guilty to a s4 Public Order Offence and will next appear before Liverpool magistrates court for a trial, on Thursday, 22 December 2016.
Detectives are currently exploring a number of lines of enquiry to identify other individuals who participated in the event or were in the area at the time who they would like to speak to as part of their investigation.

Detective Sergeant Lou Birchall said:- "A large number of arrests have already been made, but we are not resting on our laurels. Our investigation will continue until we have done everything possible to identify and trace everyone who may have been involved in the disorder or who committed criminal offences. This disorder caused a great deal of disruption, damage and panic in Liverpool, with many shoppers, workers and visitors to the City Centre affected. The Police will always look to facilitate lawful, peaceful protest or organised public events, but disorder and violence is not acceptable and will not be tolerated by us. My investigation team are keen to hear from the people pictured in the photographs or from anyone who knows them as they may have information that could help progress our on going enquiries into the events that day. If you are that person or you are someone who knows them, please come forward. You can call Merseyside Police on:- 0800 230 0600 or leave information anonymously with Crimestoppers on:- 0800 555 111."