Special guests take to the stage for celebration of 'The Jam'
A host of special guests have been announced to take part in a concert marking the end of Liverpool's highly acclaimed retrospective exhibition of:- 'The Jam'. Taking place at Echo Arena Liverpool, on Wednesday, 5 October 2016, legendary presenter Janice Long will host the night which will see 'The Jam' bassist, Bruce Foxton, perform alongside The Songbook Collective. - Paul Weller's backing band and includes:- Steve Cradock from Ocean Colour Scene, The Farm who will act as support act on the night playing tracks by The Jam, Mercury Prize winning Badly Drawn Boy, Mani - Stone Roses and Primal Scream band member, Haircut One Hundred's Nick Heyward, Big Country drummer Mark Brzezicki, Amsterdam frontman Ian Prowse, Former vocalist and guitarist from The La's and Cast Barry Sutton, Inspiral Carpets frontman Tom Hingley, Chris Griffiths from The Real People... Plus lots more acts will be announced in the run up to the concert.
The gig celebrates the end of the 'About The Young Idea' exhibition which has been on display at the Cunard Building since July and explores the music, background, political and social impact of 'The Jam'. The final day of the showcase is on Thursday, 6 October 2016.

Tickets for 'A Celebration of The Jam' are £45 and available from the Echo Arena online box office office. A percentage of ticket proceeds will go to local charities including:- 'Be One Percent' and 'Impact England.'

Nicky Weller who is organising the concert and co-curated the exhibition, said:- "There is a real buzz around the gig and we've had a great reaction from artists who want to be part of this special concert. We're so pleased with how the exhibition has been received in Liverpool, and this concert very much feels like us giving something back to the fans. It will be a great night packed full of hits from The Jam which is sure to be a crowd pleaser."

About The Young Idea is the second exhibition Nicky and fellow curators Den Davis and Russell Reader have developed dedicated to 'The Jam', after a smaller version took place at London's Somerset House last summer. Nicky was the founder of 'The Jam' fan club which she set up when she was a teenager. Tickets for the exhibition in the Cunard Building cost up to £9.50, with discounts at off peak times. Tickets can be purchased from:- NiceTimeInc.Com. The concert has been made possible thanks to the support of The Cavern Club, Wigwam, Lite Alternative and Sugar and Spice.
Suspected drug find after closure order of flats in Southport
MERSEYSIDE Police had a closure order granted on 8 flats, located in Talbot Street, Southport, on Friday, 8 July 2016, following reports of drug activity and antisocial behaviour. The order place on the property, by South Sefton Magistrates Court, was to end on Saturday, 8 October 2016. Now Merseyside Police have confirm that a search took place on Thursday, 29 September 2016 that lead to a discovery of what is believe to be heroin, hidden within a wall. The suspected drugs have been seized and an investigation has since been started, to trace those responsible. Neighbourhood Inspector Graham Fisher said:- "We will continue to act when we receive information from our community in relation to crime and anti social behaviour. This action highlights that we will make every effort to prevent crime. These drugs can no longer be sold within our community where they cause harm and misery. I would encourage any members of the community who have any information to call us via:- 101 number or through Crimestoppers anonymously on:- 0800 555 111."

Original Cruisers Halloween Rock Weekend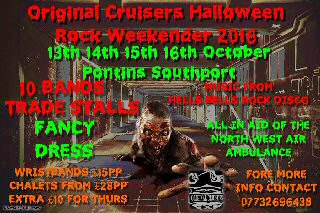 THE Original Cruisers are hosting their annual 'Rock Weekender' at Pontins in Ainsdale which is seeing numbers of around 1500 people attend:- 'Southport's Biggest Halloween Fancy Dress Weekend.'

"People from all over the could try arrive for a weekend full of fun and frolics were they meet up with old friends and make new friends. We have a full weekend of Live entertainment, 10 Live Bands, Burlesque Shows, DJ that plays non stop. there are a lot of trade stalls for you all to treat yourselves and you can even get a new tattoo from our tattooist... Saturday brings in the Halloween themed fancy dress night and its truly an amazing sight to see. Everyone is welcome to come and enjoy their weekend with us!" said Charlie from The Original Cruisers.

Wristband prices start at £15 of you ore book or £20 if you pay on the gate, its the cheapest rock weekend to be held in Southport... If you wish to get some wristbands please contact Charlie on:- 07732696438.
FoxEffects - Basic Full Body Painting Workshop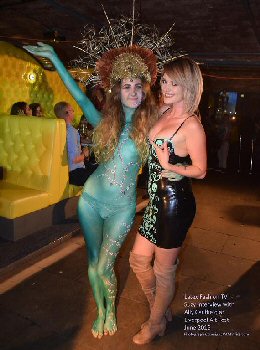 ON 16 October 2016, VAMPHire.com are offering you the chance to do a introduction workshop to full body painting, just in time for Halloween, at the Fox and Goose, Southport, from 3pm to 6pm.

This special event is aimed at giving you a chance to learn from a professional Stage Make Up Artist, called:- Terri Langley, aka:- 'Vile Style FX.' The demo model she will be using will be Ally Caulfield, pictured on her in green...

The event will have a talk and then you will get to work in groups, painting models. Each group will be no more than 6 people to a model. Body pain will be supplied as well as application devices. Models will be semi-nude, so please have respect for them at all times.

As the Fox and Goose is a pub, please note that you must be over 18 to attend. Also drinks will be on sale at the venue. Doors open at 2:30pm and event will start promptly at 3pm. After the event, the group can go over the road to Leo's Bar to go over the designs and relax.

Tickets are just £20. You can buy tickets now online, via both:-MerseyReporter.Com/Shop and also on VAMPHire.com/Public-Shop. Tickets can also be obtained via both:- The Fox and Goose and Leo's Bar.