Merseyside smokers urged to use free support this 'Stoptober'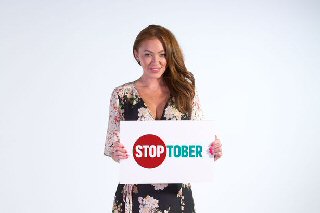 LOCAL health organisations are encouraging smokers to sign up to 'Stoptober' ; the 28 day quitting challenge, with a clear message that:- "with so much free, expert support; there has never been a better time to quit smoking." The campaign has returned with even more free motivational support including support via the new 'Stoptober' app, a daily email service and Facebook Messenger bot which when cravings strike can provide instant support. Local services and pharmacies are also available to provide free, expert face to face support and guidance. People who quit with the support of a stop smoking service adviser are four times more likely to successfully stop for good. Healthier Futures a social enterprise that helps people in Cheshire and Merseyside to live longer, healthier, happier lives has pulled together 5 top tips to help beat cravings and quit this October and beyond:-

1. Make a fresh start – throw away your cigarettes, ashtrays and lighters.
2. Avoid temptation – know where and when you might be tempted at the start, and try and avoid these places.
3. Share the good news – tell people you want to quit and how you're doing.
4. Get free online support – download the Stoptober smart phone application.
5. Get free face to face expert support – contact your local stop smoking service.

Eileen O'Meara, Chair of the Cheshire and Merseyside Directors of Public Health Executive Board and Director of Public Health and Public Protection, Halton Borough Council said:- "Stoptober is a great opportunity for smokers across Cheshire to quit together alongside friends, family and thousands of other people in our area. There has never been a better time to stop smoking, with lots of help and support available. It doesn't matter how many times you have tried before, call our specialist stop smoking advisers and take on the challenge this year. Quitting is the single best thing you can do for your health and with the help of our local stop smoking advisers, the campaign's support and motivation I am sure we will have another successful 'Stoptober'."

Andrea Crossfield, Chief Executive of Healthier Futures said:- "I encourage everyone who smokes in Cheshire to take on the Stoptober challenge this year, for a healthier and wealthier future for you and your family. After another successful 'Stoptober,' in 2015, which saw over 30,000 people in the North West sign up, it would be great to see even more people pledge to stop and join together to make a positive change. If you stop smoking for 28 days then you are five times more likely to stop for good, improving your health and putting more money into your pocket. Remember you're not alone, there are local stop smoking advisers here to support you to quit smoking throughout the year. If you stop with a local adviser you are even more likely to quit for good, so get in contact today for free help and advice. Find your local service at:- NHS.UK/SmokeFree or drop into your local pharmacy for a chat."

Next stop stardom: Southport train station gets on board for annual music competition
LOCAL musicians from Southport are being invited to take part in the annual Merseyrail Sound Station music competition. The competition, which is celebrating its 4th Anniversary this year, is a unique collaboration between Merseyrail and renowned music magazine Bido Lito!

The competition encourages local, undiscovered musicians to film themselves on a smartphone, performing an original track at one of seven designated performance locations on the Merseyrail network:- Liverpool Central, Liverpool South Parkway, Southport, Kirkby, Wallasey Grove Road, Hoylake and Hooton.

The videos are then uploaded to the Merseyrail Sound Station Facebook page and the 10 best entries are invited to perform at a 1 day festival at Moorfield's Train Station.

A panel of music industry experts select the final winner, who will record with former Joy Division and New Order Engineer Michael Johnson. They also receive a full year of professional music industry mentoring, recording time and free train travel on Merseyrail.

The eventual winner also gains the opportunity to appear on the project's free monthly podcast which features exclusive live sessions with some of the region's most exciting new bands, the latest new sounds from across the Merseyrail network, and breaking new music news from Liverpool. The Sound Station project also curate a pop up stage which gives emerging artists an opportunity to play at the regions top festivals including:- Sound City, Africa Oyé and LIMF.

David O'Leary, Merseyrail's Commercial Director, said:- "It seems an unlikely allegiance between a train operating company and a music magazine, but each year the competition is going from strength to strength. In the past 4 years, we've had more than 300 local musicians enter the competition and it is gaining critical acclaim in the city's music scene. It's been a great way to connect with, and entertain, our passengers, as well as celebrate Liverpool's well known association with music."

Craig Pennington, editor of Bido Lito! and director of the creative consultancy, Syndikat, which organises the event, said:- "It's a hugely satisfying project for Syndikat to be involved with. It's great to connect Merseyrail with the local music community and give the region's wealth of talent various opportunities to make itself heard."

Former winners include Katy Alex and rapper Blue Saint who both have gone on to perform at some of the area's biggest festivals and gigs and develop their sound as a result of the mentoring process.

Entries for the competition close, on Saturday, 22 October 2016 and the Merseyrail Sound Station final takes place, on 19 November 2016, between 1pm to 5pm, at Moorfields, with a presentation evening taking place at new music venue Hus.

For more information on how to get involved with the competition, visit:- MerseyRailSoundStation.Com.
Police called to property following firearm reports
MERSEYSIDE Police responded to reports a male, with a firearm, having been seen entering a property in Bedford Road, Bootle, on Sunday, 25 September 2016, at 5.45pm. A number of people were asked to leave the property while a search was carried out and Bedford Road was also cordoned off while it took place. Nobody else was discovered in the property and no weapon was recovered. Later Merseyside Police arrested a 16 year old male, from Anfield, on suspicion of possession of a firearm or imitation firearm, in a public place, in connection to the incident.