British Musical Fireworks Championship 2016
Photograph by Patrick Trollope.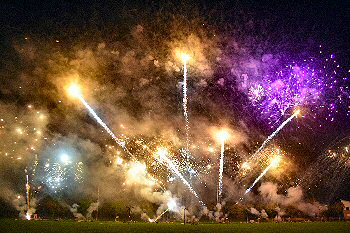 OVER 30 September to 2 October 2016, the sky above Victoria Park was lit up by 7 spectacular pyrotechnic displays at the 2016 British Musical Fireworks Championship. The competitors at this event were as follows:-
Friday
1st Display
Skyburst - The Firework Company
3rd
2nd Display
Impact Pyrotechnics

Saturday

1st Display
Phenomenal Fireworks
2nd
2nd Display
PDC Fireworks
3rd Display
Bright Sparks Fireworks
1st
Sunday
1st Display
Essex Pyrotechnics
2nd Display
Lightech Fireworks
All of them delivered amazing displays, but for the teams on Saturday, the Mother Nature proved to make life a tad harder for the teams. But the rain did not spoil the atmosphere nor the spirit of the night. Sadly, the rain and conditions did affect some of the displays that night, but they all still delivered a dazzling show!

Not only that, but on both Friday and on Sunday nights, bands played to entertain the awaiting crowds. This year on Friday, a band who had just been shown on X-Factor, took to the stage to deliver a 45 minute performance. 'Girl Next Door' from Liverpool, definitely put the event on the right note... The closing night had an equally interesting band from Manchester.

Sunday night provided a strange sight on Victoria Park for a firework display. Did you spot the tank shooting fireworks?

If you have never been, each team puts on a 15 to 20 minute display, which must be set to music. They are then judged by industry experts on the synchronisation to music, choice of music, use of the sky and ground, the mood and flow of the display. Plus to add to the team's challenges, the judges also take into account the variety of the pyrotechnics used and effects they give to the overall design and choreography of the display. On top of all that, they are also judged on safety! This is no ordinary firework display and competition is very high in this industry, so the title is extremely converted by the winners! If you get to see what the teams have to do to win, it's no surprise that it's the only competition of its kind in the UK and 1 of the most prestigious titles a display company can have in the UK!

This year must have been 1 of the hardest to judge and we would not have liked to be the judges, but naturally there could only be 1 winner. This year the winner was Bright Sparks Fireworks, 2nd place was awarded to Phenomenal Fireworks and 3rd place went to Skyburst.

Click on here to see Part 1 of our photographic coverage of this event.

If you had a favourite, please let us know, but you still have until Sunday, 9 October 2016, at midnight to cast your vote on who gets the title "2016 People's Choice award." To vote, please go to:- VisitSouthport.Com to cast your vote!

It's worth noting that on the 5 November 2016, fireworks will again be exploding above Victoria Park, with the Southport and Hesketh Round Table (SHRT) host their annual charity bonfire and fireworks night. Please visit the group's website for more information.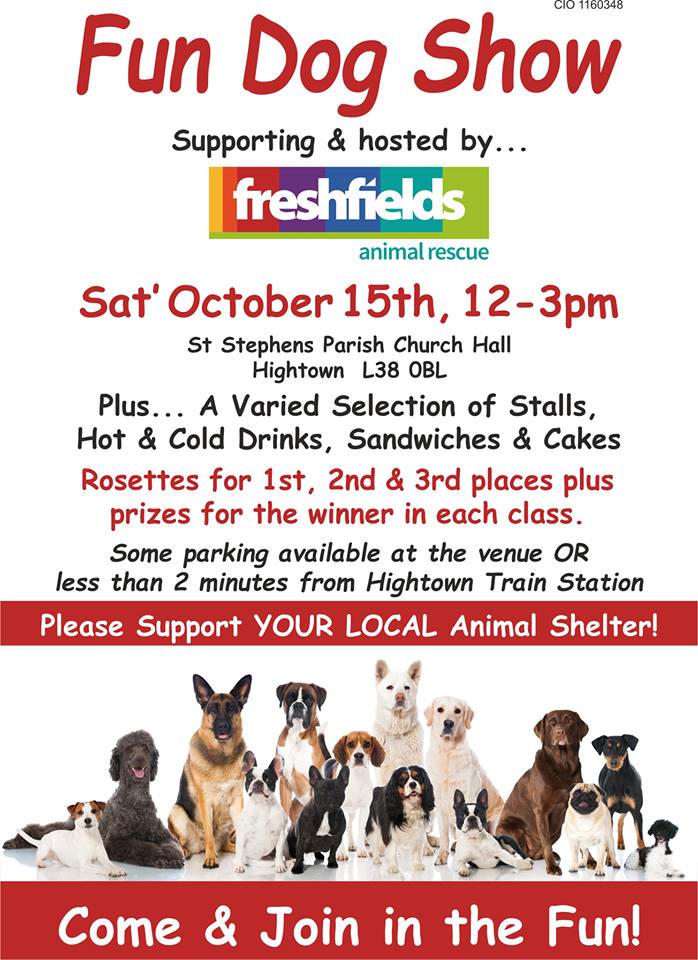 Fun Dog Show in aid of local animal shelter
THE 'Fun Dog Show' is supporting and hosted by Freshfield's Animal Rescue, a local animal shelter, on Saturday, 15 October 2016. This event will be held at St. Stephens Parish Church Hall, Hightown (L38 0BL) and has free parking, plus its just 2 minutes walk from Merseyrail's Hightown Station. The event will also offer a variety of stalls selling hot and cold drinks, sandwiches and cakes.