New £13m Technology Hub to house the UK's 1st super immersive 3D virtual environment
EDGE Hill University is set to unveil the CAVE, the UK's 1st super immersive 3D virtual environment as part of its new £13m Technology Hub.

The 4 screen CAVE (cave automatic virtual environment) will offer students and businesses the chance to fully immerse themselves in a virtual room.

Using real data to replicate reality, users will be able to experience real life scenarios in 4k resolution, anything from emergency situations to complex surgery and lab reactions.

The CAVE is just one part of the low carbon building which has been built thanks to £3m of support from the Lancashire Local Enterprise Partnership (LEP).

Housing state of the art biotechnology laboratories, big data servers for research and a Harvard style lecture theatre, the building will also house a programmable child sized robot and giant 3D interactive teaching screens.

The Technology Hub aims to be a key resource not just for 600+ students but also employers across Lancashire and beyond, including those in the food manufacturing and digital creative industries.

A 'Tech Sandpit' will bring together students and business to discuss challenges and ideas which can then be developed using expertise from across computer science and biotechnology.

Budding entrepreneurs will also be able to tap into the skills and knowledge of the University and local industry in 'The Hatchery', a working space for new business ideas.

Mark Allanson, Pro Vice Chancellor at Edge Hill University, said:- "Having this dedicated facility for technology shows the University's commitment to technological innovation, computing and bioscience and reflects our success in producing employable, highly skilled graduates who contribute to the regional economy and beyond. These cutting edge facilities and systems are an asset for the whole community and will help strengthen our partnerships within business and increase our research capabilities. Our collaboration with Lancashire Enterprise Partnership will help us to focus on regional skills needs."

As well as catering for growing numbers of undergraduates the Technology Hub will open its doors to schools in areas where pupils are unlikely to enter higher education and/or study science, technology, engineering or math subjects.

Chair of the LEPs Growth Deal Management Board, Graham Cowley, said:- "The LEP is investing around £30m in a network of new, modern training facilities which will enable thousands of local people to improve their employability and provide the skilled workforce needed to achieve our ambitious strategic plan for growth. We've prioritised investing in key areas of the economy such as the creative and digital sector, which already employs tens of thousands of people, is growing rapidly and is beginning to experience skills shortages. Supporting world class facilities such as Edge Hill's Technology Hub will ensure we have a pipeline of graduates with the cutting edge creative and digital skills needed to help transform Lancashire's economy and drive growth for years to come."

The Tech Hub will be officially opened on 19 October 2016, by entrepreneur and former Chairman, President and CEO of world-leading technology company ARM Holdings, Sir Robin Saxby. Facilities located on the third floor, the bioscience research laboratories, equipped for state of the art investigations into animal and human samples will open later in 2017.

Baby Jake in sound hands with hearing team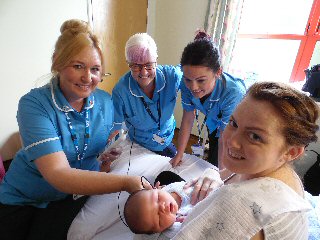 SOUTHPORT and Ormskirk NHS Hospital Trust's Newborn hearing screening team has been based at Ormskirk Hospital since 2005. Around 80% of newborns are screened prior to leaving Hospital, and the remaining within 4 to 5 weeks of birth. 2 day old Jake Owen became the 24,000th baby to be screened. Mark Billing, manager of the team of 7, said:- "We offer this service every day of the year, even on Christmas Day and Boxing Day. We screen more than 2500 babies each year to identify those at risk of hearing loss. Jake is our 24,000th baby and we are happy to report that he has passed his hearing screen."

A hand held device is used for screening and a small soft tip is placed in the baby's ear canal. The device detects echoes in the ear. The essential procedure only takes a few minutes. The NHS newborn hearing screening programme (NHSP) aims to identify moderate, severe and profound deafness and hearing impairment in newborn babies. It offers all parents in England the opportunity to have their baby's hearing tested shortly after birth. Early identification of hearing impairment gives children a better chance of developing speech and language skills, and of making the most of social and emotional interaction from an early age. Approximately, 1 or 2 babies out of 1000 may be found to have a permanent, childhood hearing impairment. Mark added:- "We are here to detect if there is a problem with hearing and identify it as soon as possible. That means the baby and family can be directed to support services. A baby as young as 1 month old could have hearing aids fitted which will greatly improve the hearing. Problems would arise if the baby's hearing wasn't assessed and left for a period of months."

Louise Near, Lynda Shields, Sam Baker and Sarah Carr work as hearing screeners.

Louise said:- "We enjoy this job and families of newborns are very happy to see us visit. They like to know if something as important as hearing is getting screened in those early 1st hours of life."

Lynda Shields said:- "It is a lovely job. We get all the smiles from families as they have just welcomed a new baby into the world."

Sam Baker added:- "Although problems are very rare, it is good to detect when a baby's hearing isn't quite right. Because there is the time to assess the problem and we can direct the family to the most appropriate support services."

Adult audiology tests take place at Southport Hospital. In total audiology has 23 members of staff with more than 200 years of experience between them.

Last year they performed 6000 hearing tests, 3500 hearing screens, fitted 5500 hearing aids and attended to 35,000 patients via an open access drop in clinic at Southport Hospital.