Illegal cigarettes were hidden in shop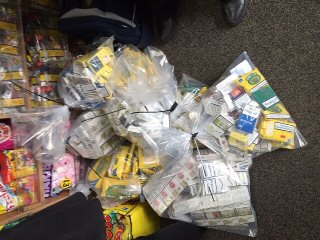 A raid on a Liverpool shop found illicit cigarettes and tobacco concealed in a junction box and hidden compartment. Liverpool Magistrates Court heard that officers from the City Council's Alcohol and Tobacco Unit visited the Perfect Food Stores, in West Derby Road, Tuebrook, in April 2016, accompanied by a tobacco sniffer dog. Thy found a total of 476 packets of cigarettes and 119 pouches of tobacco in a disused BT junction box at the back of the shop and in a hidden compartment under the counter. All the cigarettes and tobacco had been imported in the UK without any duty being paid. None had the correct English health warnings on them, with the cigarette packets having warnings in Polish or Russian and the tobacco having Spanish, Dutch and French health warnings. The shop's owner, Wasim Ali, aged 38, of West Derby Road, admitted 1 offence under the Consumer Protection Act. He was fined £300, ordered to pay a £30 victim surcharge and £300 in costs. He said that, in mitigation, that has was unaware that the cigarettes were in his shop and being offered for sale and that he was not often in the shop, due to health issues. Councillor Steve Munby, cabinet member for neighbourhoods, said:- "We will take the strongest action against shops which sell illicit tobacco. The sale of cheap cigarettes because Tax has been avoided, encourages smoking with serious consequences on health."
R Charity Ball raises £35,000 towards the £10million appeal
THE Royal Liverpool and Broadgreen University Hospital NHS Trust's R Charity hosted the most prestigious event in their history this month, the R Charity Ball. The R Charity Ball, was the 1st function to be held in the brand new event suite in Liverpool Football Club's (LFC) stadium, the venue provided the perfect setting for the lively evening of fundraising and celebrations. Thanks to the contributors and supporters of the event the R Charity Ball managed to raise over £35,000 towards the £10million appeal. R Charity's £10million appeal aims to ensure that the new Royal goes beyond even the NHS promise of care. The appeal will enable our Hospital to deliver the latest high technology equipment for diagnoses and treatments, and create environments that provide fantastic comforts and conveniences for patients and families. The ball was hosted by local radio DJ Simon Ross and local comedienne Pauline Daniels, who is also a keen supporter of R Charity. Entertainment throughout the night included:- a luxury auction which saw guests bidding on prizes with tea on the terrace at the House of Commons for 2, theatre tickets with hotel stays and signed sporting memorabilia from football and boxing athletes. A raffle also took place with gifts donated from a variety of local organisations including an overnight stay at the Marriot Hotel; a meal for 4 at Gusto restaurant and a cocktail masterclass at 'Red Door' were some of the fantastic prizes. The Lord Mayor of Liverpool Cllr Roz Gladden and LFC football legend David Johnson were amongst some of the guests who enjoyed performances from MD Productions. Kate Mylchreest Head of Fundraising said:- "I am really proud to be a part of R Charity and the £10 million appeal. Together we will make a difference to healthcare in Liverpool. The ball was a fantastic event and was very well attended; the money raised from R Charity Ball will make a vital difference to much needed equipment which will enable our new Royal Hospital to provide an enhanced service to the people of our community for now and for years to come." For more information on how you can get involved, just visit the fundraising website or you can call the team on:- 0151 706 3153. Alternatively you can also send them an email. To see for yourself, the impact that R Charity has already made video on YouTube.

New Jobs for Young People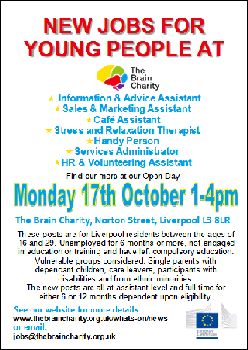 THE Brain Charity, on Norton Street, Liverpool (L3 8LR) are holding an open day event, on Monday, 17 October 2016, from 1pm to 4pm. These posts are for Liverpool residents between the ages of 16 and 29. Unemployed for 6 months or more, not engaged in education or training and have left compulsory education. Vulnerable groups considered. Single parents with dependant children, care leavers, participants with disabilities and from ethnic minorities. The new posts are all at assistant level and full time for either 6 or 12 months dependent upon eligibility. See the groups website for more details or send them an email. The event is backed by the European Commission.
Festive Pop Up Cop Shop in Southport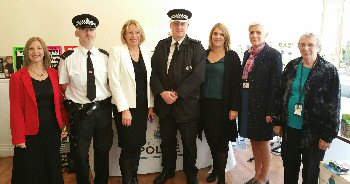 ON Wednesday, 12 October 2016, Merseyside Police, working in conjunction with Wayfarers Shopping Arcade, Southport BID team and Sefton Council, have set up a Pop Up Cop Shop, to give help and advice to local shoppers leading up to the festive period. The shop will be located at a unit in the Wayfarers Shopping Arcade, Lord Street, Southport, from 10.30am to 12pm, Monday and Tuesday as well as on Thursdays and on Fridays 12pm to 4pm. Services on offer include the following:-

► Free anti theft devices and personal security advice.
► Tracker devices to be fitted to certain cycles for Southport and Birkdale residents.
► Halford's will be offering free cycle checks on cycles brought to the shop.
► Personal safety equipment.

Southport Town Centre officer Con Andy Holland said:- "We would encourage residents to take advantage of the free services and crime prevention advice being offered at the Cop Shop. Working closely with local partners, we can increase people's awareness on issues including cycle and home security, and reduce the cost of this crime to both individuals and businesses."

A spokesman for Sefton Council said:- "We are very supportive of these kind of events and hope as many people as possible take advantage of the Pop Up Cop Shop. Funding for some of the anti theft devices was kindly donated through the Southport Area Committee."