More journeys made by bike
MORE people are joining in Liverpool's cycling revolution. The latest figures show that there was a 10.2% increase in the number of journeys made by bike within the City in 2015. And the annual progress report:- 'Liverpool Cycling Revolution – Cycling Strategy 2014 to 2026' to the Regeneration Housing and Sustainability Select Committee on 27 October also notes that a number of improvements have been made to Liverpool's roads to benefit cyclists. These include new toucan crossing and pre-green cycle signals in the Project Jennifer scheme, an improved right turn on Hope Street, as part of the National Cycle Network, plus a new toucan crossing, at Netherfield Road South. Further improvements for cyclists are planned in the business district, at Earle Road/Upper Parliament Street, along Regent Road and through the City Centre connectivity scheme, currently being consulted online. Councillor Malcolm Kennedy, cabinet member for regeneration and transport, said:- "We have set ambitious targets in our strategy to get more people cycling and the latest figures are very encouraging. A rise of more than 10% of journeys made by bike is a significant increase in the number of people travelling by bike. This is good, not only for their health, but for their pockets. And with more cycle friendly schemes being introduced in the highways network we can look forward to further increase in cycling in Liverpool."
Local doctor has been appointed autism champion for England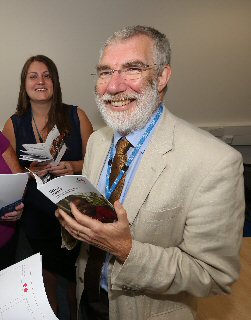 DR Ian Davidson has been appointed to the role of Autism Champion by The Royal College of Psychiatrists to support the national:- 'Think Autism' programme. 'Think Autism' a cross government strategy led by the Department of Health and supported by NHS England, is set to dramatically improve the lives of people living with autistic spectrum disorder (ASD) and their families, who face many barriers to accessing healthcare services.

Dr Davidson, Consultant Psychiatrist for Cheshire and Wirral Partnership NHS Trust (CWP), is an experienced adult psychiatrist, specialising in the assessment and treatment of people of all ages with complex presentations and ASD. He has delivered assessments and care to people across a wide range of settings including:- Primary Care, Learning Disability Services, Courts, Prisons and Police Custody.

Dr Ian Davidson says:- "I am delighted and privileged to have been appointed Autism Champion. The decision by Royal College of Psychiatrists and the Department of Health to support this role and work demonstrates the commitment of both to improving the experience, health and well being of people with autism. I am looking forward to my role and helping to achieve the programme objectives."

Andy Styring, Director of Operations at CWP, says:- "There is an urgent need to build community understanding of the everyday challenges people with autism and their families face. Ian's appointment will help ensure that we are driving the need for mainstream services and communities to be more autism friendly and deliver improved health outcomes."

CWP was rated 'outstanding' for Hospital services for people with learning disabilities and/or autism and 'good' for community services by national regulators, the Care Quality Commission, on 2015.

Blood bikers become health angels for The Clatterbridge Cancer Centre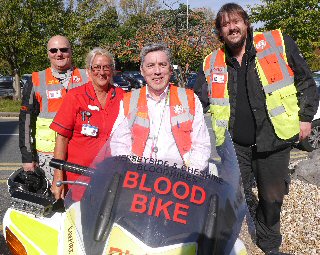 A group of motorbike enthusiasts have started volunteering for The Clatterbridge Cancer Centre NHS Foundation Trust. The Merseyside and Cheshire Blood Bikes have become a familiar sight at the Merseyside Hospital since they started a 12 week trial in October 2016. They are on call round the clock to deliver bloods for testing off site. Despite their name, it isn't just blood they move between the Hospital in Wirral and peripheral clinics. The riders can deliver urgently required case notes, chemotherapy and vital small packages. Anything that will improve the experience of patients and help The Clatterbridge Cancer Centre provide the best possible care. The service is available 24 hours a day, 7 days a week.
Tony Marsland, Medical Devices and Commodities Manager at The Clatterbridge Cancer Centre, said:- "The support the Trust has received has been fantastic, our collaboration with Blood Bikes is supporting our vision of providing the best cancer care to the people we serve. Nothing is too much trouble for the Blood Bikes Team. They're professional, courteous and keen to help, a true reflection of the excellent service goals The Clatterbridge Cancer Centre holds within its values."

Stuart Thompson, Operator and Rider for Merseyside and Cheshire Blood Bikes, said it had been a pleasure to add The Clatterbridge Cancer Centre to their ever growing list of Hospitals and Hospices. He added:- "Knowing that the next ride you do could save a life is the reason why we do this. You don't know who you are going to help but it is a good feeling. Our riders are a mix of people - young, old, professional, retired. We all know it is a really good cause. Everyone gets into this for their own reasons. It is such a good cause, you don't question why you are in it. One of our retired riders sees it likes this - he could potter round his garden or do something he enjoys and something that will help people. We are all motorbike enthusiasts but it gives us a sense of purpose. We aren't just burning petrol, we could potentially be saving a life. We are also saving the NHS money as we are providing a service for free that they might otherwise have to use a taxi or expensive transport for. We are available 24 hours a day, 7 days a week and all our Hospitals can call us whenever they need us."

Janine Wharton, Quality and Safety Matron of Chemotherapy Services at The Clatterbridge Cancer Centre said:- "The Blood Bikes have made a positive impact on all patients at The Clatterbridge Cancer Centre and the network clinics. The team of riders have been instrumental in patients receiving results and treatment in a timely manner."

The Merseyside and Cheshire Blood Bikes are a voluntary service with more than 60 riders from all over Merseyside and Cheshire. They have five operators who take calls 24 hours of the day.
All riders are subject to stringent checks and must be over 25. They have been helping the NHS in Merseyside and Cheshire since 2012. All carry ID cards and are easily identifiable.
Public welcome to attend Trust Board Meeting
SOUTHPORT and Ormskirk Hospital NHS Trust will hold its next board meeting, on Wednesday, 2 November 2016, at 9am. The meeting will be held in the Clinical Education Centre at Southport and Formby District General Hospital. Members of the public are welcome to observe the meeting. Anyone with a special requirement should contact the Trust in advance on:- 01704 704783. The agenda will be available on the Trust website in advance of the meeting. Supporting papers will be made available on the day.