Liverpool to host world premiere of commemorative war time musical
Photos by David Munn Photography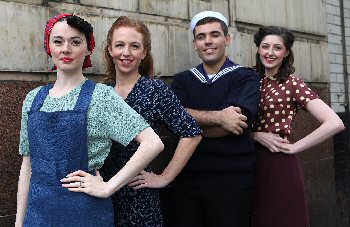 THE final countdown is now on until a new commemorative war time musical is given its world premiere in Liverpool. 'Liver Birdsong - The Liverpool Blitz Musical' commemorates the 75th Anniversary of The Blitz, and is brought to the stage by Birdsong Live Productions CIC. The show opens at Liverpool's historic Epstein Theatre, on Tuesday, 29 November 2016, and runs until Saturday, 3 December 2016, with 8 performances across the 5 days.

The show is produced by Birdsong Live Productions CIC, who are father and daughter team Tony Bradley and Rebecca Myers.'Liver Birdsong' is their 1st joint venture into professional musical theatre, although each has a background in theatre, music or television.

The story of 'Liver Birdsong' remembers The Blitz, when Liverpool was bombarded by the German Luftwaffe, during World War II.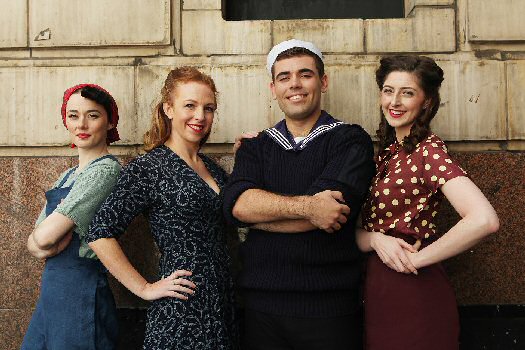 An emotionally charged and heart warming musical, the production is packed with 18 brand new songs, delivered by a professional musical theatre company and a live band.

A talented cast and creative team have been brought together by Tony and Rebecca following months of auditions and searching for the right crew.

'Liver Birdsong' is written and produced by Tony Bradley, co-written by Rebecca Myers, directed by Jodie Marshall (A Mind Apart, Sheffield), with Epstein Theatre regular Alan Moore as musical director, and choreographed by Natalie Dignam.

The musical is set on the night of 28 November and 29 November 1940, in the early phase of the Liverpool Blitz. The events of that night were, later described by Winston Churchill as:- "the worst single (civilian) incident of the war". It involved a direct hit by a parachute bomb on Durning Road Air Raid Shelter near Edge Lane, which killed 180 people.

Although the production is entirely a work of fiction, it is based on the facts of that night and the 1st hand experiences of women; much like the 4 'Liver birds' in the show, from 1 of Britain's largest wartime munitions factories.

Join the 'Liver Birdsong' – Maggs Williams, Carla Evans, Daisy Mae Beech and 'Cockney' Lil Ford from Kirkby Munitions Factory; as they battle not only the Nazis, but also their own threats, fears and jealousies. Will they overcome their troubles and find hope?

The cast features:- Kate McHenry (Maggs), Sophie Gaudie (Carla), Katie Burke (Daisy Mae) and Rachel Jones (Cockney' Lil), with Corey Rumble (Hal Brandon), Tom Sentia (Chad Tyler), Michael Bailey ('Red Ted' Forsythe), Miles Walker (Lawrence Gale), Chloe Fay (Ira Jones), and Mia Molloy (Mrs Williams). They are joined by Natalie Dignam as the contemporary dancer, and Ben Keith as the narrator.

Tony Bradley, Writer and Producer of 'Liver Birdsong', commented:- "After years in the planning and months of hard work, the countdown is now on until we premiere in Liverpool. The calibre of the cast and creative team is 2nd to none, they are an incredibly talented group of individuals who are an absolute joy to work in bringing the musical to life. 'Liver Birdsong' combines broad comedy, poignant tragedy and the musical styles of 1940, all staged in a compelling mix that will have the audience roaring with laughter one minute and searching for their hankies the next. This is a very poignant story and we feel very privileged to take audiences on a special journey."

To book tickets call:- 0844 888 4411, visit the Booking Office or go the Epstein Theatre's website.

4th Spookport is a howling success
Photographs by Patrick Trollope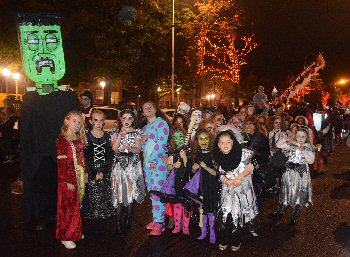 THIS year the 4th Spookport, Halloween Festival, took place in Southport. This event had a number of venues holding activities. We joined up with Leo's Bar to put on an animated window display on Nevill Street, in Southport. But the main highlights had to be Pleasureland's Halloween event and the Spookport Parade.
Part of Pleasureland's Halloween event was the Zombie Zoo that was guaranteed to give you a shock. From what we got told by all those came back out and let us interview them, told us that it was better than any of its rivals, in the area, by miles!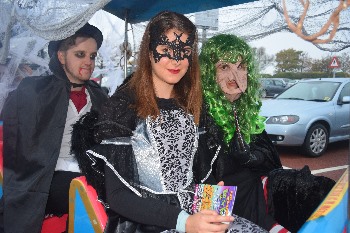 1 of the most interesting things that some of you might not have spotted was that as the Parade moved along Lord Street, the Christmas Lights changed colour to Pumpkin Orange! Did you spot them change?

These are a mixture of photos taken at the Fox and Goose's All Hallows' Evening Wedding Night, Staff from M&S Southport, The Fox Cosplay and Leos' Bar... Plus Pleasureland and the Parade... More photos of the Parade will be added to next week's issue as well!

If you attended any of the events, please do let us now what you thought of them via emailing us to:- News24@SouthportReporter.Com.
We will also be adding some video soon to our Facebook and YouTube Channels, so keep an eye on them! Plus more photos in next weeks issue!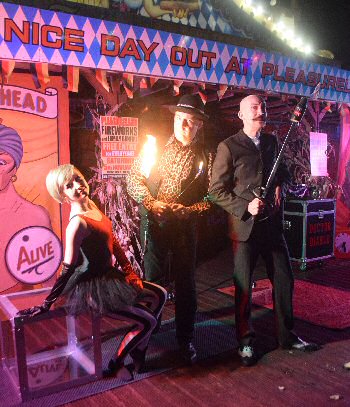 Page 1 of 11
Remember you can order photographic prints from us. Help us keep this site online. Please don't brake our copyright by copying any of the text or images in this website, even if its only for 'personal use.'