Bounts to reward adults in Liverpool for being physically active
LIVERPOOL City Council, in partnership with the Liverpool Clinical Commissioning Group (CCG), has agreed a ground breaking new contract with bounts, the revolutionary healthy lifestyle and rewards company, who will provide a series of challenges, prize draws and rewards to encourage people in Liverpool to be more physically active.

According to Sport England data, some 63% of adults (16+) are not participating in 30 minutes of sport and active recreation on at least one day per week and the negative effect on health and well being is significant.

The bounts scheme launches in Liverpool, on Tuesday, 1 November 2016, and people can download the app with a special referral code 'FitforMeLpool.' By tracking activity through the app, people can earn points which can be exchanged for high street vouchers alongside other offers and competitions. As a result of partnership work with bounts, the Liverpool scheme features special rewards.

On Monday, 7 November 2016, a special Challenge will launch, enabling people living and working in Liverpool to enter a Prize Draw to win some great prizes such as high street shopping vouchers, family days out and weekend breaks. People can use this link to get downloads.

The bounts appoffers an evidence based incentive to encourage mass participation amongst adults aged 16+ in physical activity across Liverpool. Through technology, the scheme is able to track frequency of activity and provide real incentive and rewards, with participants earning entries into the 'bounts Liverpool Prize Draw' points which can be exchanged for high street vouchers alongside other offers and competitions.

The target is to attract Liverpool residents aged 16+ within the 1st few months of launch and to continually attract new participants throughout the duration of the scheme.

The scheme is being supported by the City's 'Fit for Me' campaign, which aims to inspire people to be more physically active.

Bounts aims to:-

Encourage participants to be more physically active by finding simple things to do like walking more, taking the stairs instead of the lift or finding active ways to spend the weekend with the kids. To encourage people to make physical activity part of their everyday life and utilise local spaces e.g. parks, streets, community facilities etc.

Promoting key Fit for Me campaign messages such as:-

► Anyone can join in.

► Being active is good for you and can improve your everyday life.

► Being active can be whatever you want it to be.

Promote the benefits of being physically active such as:-

► Being active is good for you and can improve your everyday life.

► Even small changes can give you more energy, make you feel less tired and stressed, lift your mood, help you to sleep better and boost your confidence; as well as helping to protect you from serious illnesses such as heart disease and dementia.

► Connect participants to a wide range of physical activity and sports opportunities available locally.

► Measure participation at specific locations such as parks, open spaces and community facilities.

► Enable people with varying needs and wants, particularly those who are inactive and / or moderately active, and those with additional needs to access and benefit from the scheme.

► Assess the impact of the scheme in terms of increased participation, wellbeing and economic benefits.

The bounts team will be responsible for:-

► Creating and managing a series of challenges and events to inspire people to be more physically active.

► Running a series of mass participation challenges to promote walking at least 1,000 steps/tracking 10 minutes of activity offering rewards to participate.

► Targeting messages to the inactive and moderately active; to encourage them to be more active

► Reward people who are already active.

► Working with existing physical activity and sport providers to promote the scheme to members and service users.

► Running a series of online competitions where entry is gained through earning points from activity.

Councillor Tim Beaumont, Mayoral Lead for Healthy Living, said:- "We are committed to helping the adult population of Liverpool become healthier and fitter and so we are excited to announce the scheme with bounts. It allows us to reward people to become a bit more active, which will have a positive and long term benefit to their health, but it also allows us to measure the success of the scheme in ways we have not been able to do in the past; this is what is revolutionary."

Carly Wills has been using bounts since the summer. She said:- "I found the sign up process really easy. I was recommended bounts from a friend who knew I was very active. Linking my Fitbit to bounts was very easy to do. I've had several vouchers and love the app."

Dr Maurice Smith, GP at Mather Avenue surgery in Allerton and Healthy Liverpool's 'Living Well' clinical lead said:- "We are delighted to have partnered with bounts to further promote and encourage the people of Liverpool to be more active. Along with other incentives as part of Fit For Me, we hope that the City will continue to embrace our campaign and increase the amount of physical activity they take part in. It's not just about running marathons or going to the gym, just 10 minutes more activity really can make the difference to your health and wellbeing."
Merseyrail goes bananas with a fruity surprise for its passengers
MERSEYRAIL has announced plans to give away free fruit to passengers. The train operators will give away free fruit to commuters every Monday over the next 12 months. The scheme is being piloted at Liverpool Central Station, before being rolled out to Southport Station. Nicky Chang, Station Manager Liverpool Central, from Merseyrail, said:- "I'm a commuter myself and sometimes getting my 5 a day is the last thing on my mind on a busy Monday morning. Now our passengers can pick up some free fruit when they buy their ticket or their essentials, so there really is no excuse. Free Fruit Mondays is part of our commitment to supporting the health and wellbeing of our passengers." The free fruit will be available to pick up from special stands at M2Go outlets at the participating stations every Monday. Passengers must buy a ticket, or show their travel passes, or make another purchase at M2Go in order to qualify for the free fruit giveaway. Merseyrail is the latest organisation to join the growing trend for providing free fruit. In July, Tesco hit the headlines after announcing it would give free fruit to children while parents did their shopping. And #FreeFruitFriday is a global phenomenon which encourages businesses and organisations to give away free fruit every week.

Local Wallasey artist to sculpt Mermaid Trail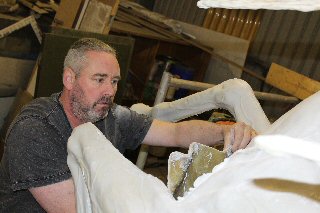 A local sculptor has been chosen to create New Brighton's new Mermaid Trail. Barry Canning Eaton, who lives in Wallasey, will design and create the 6 statues, 5 of which will be decorated by local artists, schools and community groups. Barry sculpted the:- 'Spirit of Liverpool' statue that currently stands in Central Station, Liverpool, following his commission by artist and designer of the statue Rick Myers. The Mermaid Trail, which takes its inspiration from the:- 'Black Rock Mermaid', who was said to have appeared to a local sailor in New Brighton, in the 18th Century, will feature a series of 6 mermaid statues right across the resort. A competition will be launched soon for local groups to decorate the statues. Barry Canning-Eaton said:- "I am really pleased to have been commissioned, particularly as this art trail will be on my doorstep. I am really looking forward to creating the Mermaids and working with New Brighton Coastal Community Team.'"

Cllr Tony Jones, Wirral Council's Pledge Champion for 'building a vibrant tourism economy' and Chair of the New Brighton Coastal Community Team (NBCCT), said:- 'We are thrilled to have commissioned such a talented artist to bring to life a unique piece of New Brighton's history.'

The project is moving forward thanks to a successful bid for funding by New Brighton Coastal Community Team, to the Burbo Bank Extension Community Fund, a grant scheme set up by DONG Energy, to benefit voluntary groups and organisations located near to the coastline where it is carrying out the extension to the offshore wind farm. It is anticipated that the sculptures will be installed ready for visitors in the late spring of 2017.
Voting launches for round 2 of Tesco's Bags of Help initiative
TESCO customers are being invited to help community groups and good causes in Southport bag a share of a £12.5million carrier bag charge fund. The supermarket has teamed up with Groundwork on its 'Bags of Help' initiative, which sees grants of £12,000, £10,000 and £8,000; all raised from the 5p bag levy; being awarded to environmental and greenspace projects across the country. And this month shoppers are being invited to head along to Tesco stores to vote for who they believe should take away the top grant. The groups to benefit from the Tesco grant in Southport are:- Redgate Community Primary School, West Lancashire Borough Council and West Lancs Borough Council. Voting is open in store from, 31 October to 13 November 2016. Customers will be able to cast their vote using a token given to them at the check out in store each time they shop. The bag charge has already raised millions for good causes across England and Wales.

Lindsey Crompton, Head of Community at Tesco, said:- "The first round of the Bags of Help initiative was a fantastic success. In total 1,170 community groups were awarded £8,000, £10,000 or £12,000; that's a massive £11.7 million being invested into local projects. We are already seeing some great results from groups transforming their own environmental and greenspace areas. We are absolutely delighted to be opening voting for round two and we hope that even more customers will choose to support groups that mean a lot to them and to their communities this time around. There are some fantastic projects on the shortlists and we can't wait to see them come to life with Bags of Help grants."

Groundwork's national Chief Executive, Graham Duxbury, said:- "Bags of Help is giving our communities both the funding and the support to create better, healthier and greener places for everyone to enjoy. We've been thrilled to see the diversity of projects that have applied for funding, ranging from outdoor classrooms, sports facilities, community gardens, play areas and everything in between. They're all fantastic projects that make a real different in our neighbourhoods. We're looking forward to learning the results of the customer vote in early October and then supporting each group to bring their project to life."
Junior Lord Mayors to be sworn in
SOME of Liverpool's young people have been getting a taste of civic life when they where officially sworn in as Junior and Young Lord Mayors. The latest group are made up of 22 young people from primary, secondary and special schools in the City.
Each young person will spend a month shadowing Lord Mayor, Councillor Roz Gladden, at suitable events such as Remembrance Sunday, Civic Service, Freedom of the City celebrations through pensioners' parties and school assemblies.

It is the 7th time the scheme has been run, and all of the candidates had to give a speech explaining how they would promote the positive profile of the City of Liverpool and that of children and young people within the City

Lord Mayor, Councillor Roz Gladden, said:- "This is a great opportunity for our young people to become involved in civic events, find out what is happening in their City and see how democracy works. I'm delighted that so many of our young people have shown an interest in civic life and will be more than happy to have them assisting me at events during my next few months as Lord Mayor. I am sure they will do a great job representing the young people of Liverpool over the coming year."

All 22 where sworn in at a special ceremony at the Town Hall, on Wednesday, 2 November 2016, in a special ceremony. The pupils and the schools who attend are:-

YOUNG LORD MAYORS 2016/2017

► Ruby Bains - St Hilda's High School.
► Anton Bibby – Calderstones Science College.
► Ellen Boyland - St Hilda's High School.
► Eva Carroll - Notre Dame College.
► Alex Dunn - Broughton Hall High School.
► Harry Georiou - Sandfield Park School.
► Asal Hajimohamedi - Holly Lodge Girls' College.
► Janani Murugesh - Alder Hey Hospital Youth Forum .
► Leah Russell - Clarence High School.
► Morgan Soul - Bank View School.
► Abhijith Subramanian – Calderstones Science College.
► Patrick Clarke – SFX College.

JUNIOR LORD MAYORS 2016/2017...

► Ashli Ashcroft - Kirkdale St Lawrence Primary School.
► Olivia Cranney - Arnot St Mary Primary School.
► Mia Ferguson - Smithdown Primary School.
► Isabelle Fitzgerald - Middlefield Primary School.
► Freddie Hall - Longmoor Primary School.
► Azrah Ismail - Windsor Primary School.
► Finlay Kelleher - St Anne's Stanley Primary School.
► Scott Leath - Broadgreen Primary School.
► Holly Mallon - St Michael in the Hamlet Primary School.
► Barry Sheen – Holy Name Primary School.
► Eva-Elizabeth Wood – Alder Hey Hospital Youth Forum.
► Zac Wilde - Liverpool College.