Public views sought on proposals for a modern Sefton bus network
PEOPLE in Sefton have the opportunity to comment on proposals to make the Town's bus network simpler and clearer from, Thursday, 3 November 2016. Proposals are available for view and comment online at MerseyTravel.Gov.UK/BusReview, from 5pm, on Thursday, 3 November 2016 until 9am on, Friday, 11 November 2016.

There will be 2 drop in events where members of the public can speak to Merseytravel staff about the proposals and give their feedback. These will take place on the following days:-
► Monday, 7 November, 9am to 5pm, Bootle Strand Shopping Centre.

► Thursday, 10 November, 10am to 3pm, Southport Railway Station.
This follows events across Sefton in September and October which saw over 1200 people attend and more than 800 offer their feedback on their frequency and pattern of bus use, including those services publically funded by Merseytravel, and what might make them use buses more.
A Merseytravel spokesperson said:- "Following feedback from the public at the initial consultation stage and further discussions with councillors and bus operators, a decision has been taken to delay the implementation of the Sefton Bus Network Review. This will allow for further time to assess the consultation findings. The proposals will now be published at a later date for people to be able to give their views. As a result the original start date for the changes to be implemented has been moved from January 2017 to April 2017. The 2 planned drop in events are still taking place and members of the public will be able to speak to Merseytravel staff about how they use the bus network and what might encourage them to use the buses more."

Sefton is the third area to be reviewed as part of a wider review of the whole Liverpool City Region bus network which began in May this year.

Historically bus routes have been considered on a piecemeal basis and the idea is to consider the commercial network and the supported network; that which relies on public subsidy via Merseytravel; as a whole for the first time to ensure it best reflects current working and living patterns, new developments and how they are served.

This is 1 of the 1st undertakings of the Bus Alliance, a formal partnership with operators Arriva and Stagecoach, with the aim of transforming bus services to encourage more people to take the bus. However, bus reviews involve all bus operators.

Part of the review has been looking at the current supported bus network and considering how increasingly limited public resources can be focussed where there is most need.

Impacts of changes have been mitigated by re-routing or extending existing commercial services where possible to negate the need for a service supported by public funding.

To make the network easier to understand there are also plans to make the evening network to reflect the daytime services both in route and number. The proposals endeavour to ensure that everyone is within reasonable distance of a bus service.

The proposed changes would come into effect in January 2017.

Cllr Liam Robinson, Chair of Merseytravel said:- "The input we had from Sefton residents on their patterns of bus use and what would get them to use it more has been extremely helpful and insightful. We now want comments on these detailed proposals before we finalise the plans. Through these bus network reviews, we've worked hard with bus operators in re-scoping the network and believe the proposals will offer a network that is clearer, simpler and with some real benefits for the people of Sefton. We recognise that there may be some proposed changes that don't suit everybody with some people having to walk further to catch a bus, but we've been looking at how we can best meet people's needs within budget constraints due to government spending cuts. This is us continuing to work innovatively through the Bus Alliance when other areas outside the Liverpool City Region, due to budget pressures, are seeing some communities left without any Bus Services."

The Bus Alliance is an agreement between Merseytravel, Arriva and Stagecoach to improve bus travel for people across the Liverpool City Region. In time, it is hoped that other bus operators will join the Alliance.

The Alliance's ambition is for a thriving, affordable and sustainable bus network that offers the customer a value for money and hassle free journey experience; leading to an increase in fare paying passengers. It will look at creating simpler networks and fare structures to more investment in the buses themselves. Encouraging more people to travel by bus drives investment and means less reliance on the public purse.

Key work areas include:-

► A review of the City Region bus network.
► Investment in new and greener vehicles.
► On board Wi-Fi and at seat USB charging points on all new vehicles.
► Improved bus links to and from John Lennon Airport.
► Streamlined service changes to make bus services more stable.
► Simpler ticketing and a review of zonal structures and pricing.
► Review of all customer information including more accurate Real Time Information.
► Better integration of bus and rail services.
► Improved Customer Service training for all bus drivers.
So what are your views on this? Please also let us know via emailing our newsroom via:- News24@SouthportReporter.Com.

High flying display added to fireworks event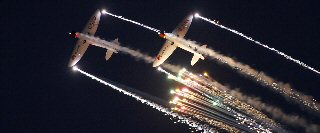 A special high flying fireworks formation has been added to the free, brand new bonfire night event on the Mersey waterfront.

'River of Light' takes place on Saturday, 5 November 2016, and sees Liverpool and Wirral join forces to stage a firework spectacular on the River Mersey.

Joining the already packed line up, are the Twister Aerobatic Team who are renowned for their 'heart in the mouth' aerial performances which will see pyrotechnic effects stream from the wings of each of the 2 Silence Twister aircrafts.

They will wow the thousands expected to line both sides of the Mersey from around 4.40pm.

Star Fireworks, one of the most successful and experienced firework display companies in Europe and the current British Fireworks Champion of Champions, are delivering the show. Andy Hubble the company's MD said:- "We're delighted to be able to announce that the Twister Aerobatic Team are part of 'River of Light.' I've worked with them on many occasions and wherever they perform, the reaction from the crowds when they see the skill and talent of the team on display is amazing. We've enjoyed working with Liverpool and Wirral councils to stage this brand new event and I hope as many people as possible head to the waterfront to enjoy this firework spectacular."

Providing the bespoke soundtrack to the evening will be official media partner Radio City 96.7 which will broadcast River of Light live on air and online via their media player. The webcam from the top of the Radio City tower will also be streaming the display live on the Radio City website for those who can't make it on the night. It will also be available via their free Radio City app.

Chris Rick, Radio City's Content Director, said:- "Seeing the skyline above the Mersey illuminated in a rainbow of colours will be a sight to behold. There's nothing more magical than watching a firework display, that is unless you do it to music! Seeing the fireworks go off in rhythm to the music on Radio City with make it a Fifth of November to remember."

The running order of the evening is as follows:-

► 4pm – Build up begins with Bring The Fire street entertainment at Albert Dock Salthouse Quay, Mann Island, Princes Parade and Hamilton Square/Woodside Ferry Terminal in Wirral.

► 4.40pm – Twister Aerobatic Team takes to the skies for approximately 10 minutes

► 5.30pm to approx. 6.15pm – Les Commandos Percu and Deabru Beltzak, a group of world renowned drummers will parade from Liverpool Town Hall in a spectacular fusion of percussion and pyrotechnics.

► 6.30pm – Mid-River fireworks display begins.

► 6.50pm – Show ends.

Liverpool's Assistant Mayor and cabinet member for culture, tourism and events, Councillor Wendy Simon, said:- "There is a real buzz around this weekend and it's great to see people embrace this new, family friendly event. When it comes to our events, we always like to push the boundaries and go above and beyond what audiences expect; and I think, a group of drummers with sparks and pyrotechnics flying from them, planes which will light up the sky over the Mersey and of course a mid river fireworks display does just that! It is set to be an unforgettable evening and I encourage as many people as possible to head to both Liverpool and Wirral waterfronts and enjoy the sizzling sights on offer!"

Please note, there will be no official fireworks displays taking place in Sefton or Newsham Park.

Merseyrail is the easiest way to get to the event on both sides of the Mersey, with stations at New Brighton and Hamilton Square for the Wirral waterfront and Liverpool Central or James Street for the Liverpool waterfront. Trains run frequently across Merseyside and tickets start from just £1.80. Plan your journey at:- MerseyRail.Org.

► For the latest information about the event visit:- RiverOfLightFireworks.Co.UK. To access a Google Map of the site click on here.

► Those attending the event are asked not to bring their own fireworks, sparklers or Chinese lanterns.

► People attending are also asked not to bring dogs to the display.

The City Council is working closely with Merseyside Fire and Rescue Service and Merseyside Police to ensure people enjoy 5 November safely and reduce the problems which can be associated with this time of year.

The Twister Aerobatic Team's display is subject to weather conditions and their involvement in 'River of Light' could change.
The performance of the drummers is part of the Global Streets Strategic Touring Programme which is supported by Arts Council England.