Nearly 1,700 children in the North West to wake up homeless this Christmas
SHELTER is launching an urgent appeal after a new investigation conducted by the charity uncovered the harrowing impact of homelessness on families and children in Britain. Almost 1,700 children in the North West face spending this Christmas homeless and in temporary accommodation, the highest level recorded since 2008, new analysis of government figures shows.

Alarmingly, the figures also reveal that the number of families living in emergency B&B and hostel rooms across the country has risen by a worrying 18% in just a year, as local councils battle to find homeless families anywhere else that is stable or affordable to go.

50 years since the housing and homelessness charity was first founded, the country is once again in the grip of a housing crisis. With a new family in Britain becoming homeless every 10 minutes, Shelter is calling on the public to help support its frontline advisers as they grapple with the increasing demand for help from families fighting to stay in their homes.

To shed light on the harsh realities of modern day hidden homelessness, the charity carried out in depth interviews with 25 families currently or recently living in emergency B&B's, hostels or sofa surfing. Some of the investigation's most shocking findings included:

More than 75% of families said they felt their accommodation was unsafe, with the worst accounts involving exposure to drug abuse, fighting, and strangers sleeping in the corridors.

Every family lived in a single room without any space for the children to play, and over ½ of parents also had to share a bed with their children.

Three-fifths of families had to share toilet and bathroom facilities, often in a poor and unsanitary condition, with other residents.

More than ⅔ of families said their room was in a state of disrepair, including reports of mould, broken beds and stained mattresses, as well as more serious hazards like sparking electrical sockets and windows that wouldn't close.

The investigation also revealed the emotional and mental turmoil of living in these circumstances. 18 of the 25 families interviewed said their children's mental and emotional health had been badly affected, with accounts of children becoming anxious, isolated from their friends and struggling to sleep. Over ½ of parents said their children's development was negatively impacted.

John Ryan, Shelter Manchester hub manager, said:- "News of the devastating rise in homeless children in the North West will bring heartache to thousands of people in the region. But the sad fact is, fifty years since Shelter was founded, too many families still need our help. For the advisers at our Manchester hub it's always tragic to see parents desperate to escape the single cramped room of a B&B or hostel that they find themselves struggling to raise their children in. Imagine having to eat all of your meals on the floor, share a bed with the rest of your family, or being too frightened to leave your room at night; these are things no parent wants their child to endure. That's why we urgently need the public's support to help us to continue to be there for the thousands of families in the North West who'll need us this Christmas. Join us and together we will not rest until every homeless child has a place to call home."

To support Shelter's urgent Christmas appeal please visit:- Shelter.Org.UK or text:- 'SHELTER to 70555' to donate £3.

North west cerebral palsy charity receives lifesaving donation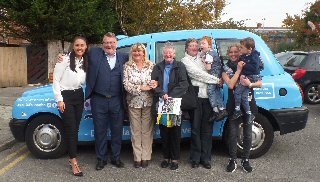 NORTH West charity Stick 'n' Step has recently received a lifesaving defibrillator from the Oliver King Foundation, a Liverpool-based charity which aims to install defibrillators in locations throughout the UK. Mark and Joanne King founded the charity following the unexpected death of their 12 year old son Oliver. They work in his memory to create a legacy that will save lives from cardiac arrest across the country.

The team at Stick 'n' Step received full training in the use of the defibrillator and have received a certificate confirming they have undergone the course. Following the Stick 'n' Step's team training, the defibrillator itself arrived at the charity's Wallasey Centre, presented by Mark himself. On the morning of his visit, the charity invited the parents of the children who were attending that particular session to listen to Mark's informative chat about why the foundation was set up and the huge benefits having a defibrillator on site can make. As part of his ongoing campaign, Mark is currently lobbying members of parliament to ensure there is a defibrillator machine in every school, play centre and other community buildings. So far the foundation has given out just over 1,000 defibrillators. A cardiac arrest emergency could happen to anyone and the ready availability of defibrillators in public spaces and buildings is seen as a vital part of making sure that other people don't go through what they have had to endure. Mark travels all across the UK, delivering defibrillators to schools and organisations. He also speaks to students and staff about the importance of this equipment.
Mark King was very pleased to be able to deliver the defibrillator to the charity:- "Stick 'n' Step is doing a tremendous job with the children and I wanted to be able to contribute to the centre's ongoing success. I'd like to see a defibrillator in every public place and I'll continue to campaign for this measure. We're getting there slowly and the more defibrillators we can get out there, the more lives we can save."

Sarah Smithson, operations manager at Stick 'n' Step, is delighted the centre has received the defibrillator:- "A defibrillator is seen as such a vital piece of equipment these days. We've all heard stories of how they can be the difference between someone surviving or succumbing to cardiac arrest. Here at the centre, it's as much peace of mind as anything else, knowing that in the rare event of something happening to someone while at the centre, we have the facility to treat them on site instantly."

Stick 'n' Step provides support services to children with cerebral palsy and their families. The charity works with over 70 children, allowing the children to gain the skills they need to live independent lives through conductive education sessions. The specialist sessions are provided free of charge to the families by Stick 'n' Step. For more information about Stick 'n' Step and how you can help, visit:- StickNStep.Org or call:- 0151 638 0888. If you would like more information on the Oliver King Foundation or how a defibrillator can make a difference you can contact the Foundation via email, or call:- 0151 728 3470.