The Clothes Show is changing
AFTER 27 successful years in the NEC Birmingham, The Clothes Show, owned by UK based global company Haymarket Media Group, is relocating to Liverpool, for July 2017. The new location will be home to the newly branded:- 'British Style Collective' presented by 'The Clothes Show', an immersive, interactive and 3 day City wide festival, taking in iconic venues across Liverpool, that will celebrate fashion, arts and culture on a scale not seen anywhere else in Europe. With the full backing of Liverpool City Council, British Style Collective will form an integral part of the UK's summer festival calendar, celebrating fashion, beauty, music, wellbeing, fitness, health, and education in the creative arts. The show will take over the whole of the ACC Liverpool site as well as utilising iconic City Centre buildings including:- Liverpool Cathedral, St George's Hall, and Camp and Furnace in the buzzing Baltic Triangle, over 7 July to 9 July 2017.

The new format will allow visitors access to a multitude of glamorous catwalk shows, shopping from over 250 fashion and beauty brands, a dedicated seat in the Echo Arena for a fashion meets music theatre performance, food and drink pop ups, plus access to a timetable packed with educational seminars, designer trend presentations, beauty demonstrations, celebrity and influencer meet and greets, and exclusive interviews. In what's been designed to attract new visitors and exhibitors to the City over 1 weekend, visitors can also expect a jam packed programme of vibrant nightlife, entertainment and music into the early hours across the City. Joe Anderson, Mayor of Liverpool said;- "The Clothes Show has long been the leading fashion exhibition in the country. It is testament to the reputation of this City and its credibility when it comes to staging major events that Haymarket has chosen to make Liverpool the home to one of their flagship brands. We have world class venues, a track record of entertainment and a City full of people who live and breathe fashion. It really is a perfect fit."

30 years ago, The Clothes Show made a memorable debut on the BBC with a TV show that would fast become one of the nation's favourite fashion forecasts. Borne out of this success, The Clothes Show event emerged from behind our screens in 1989. With a heritage spanning across three decades, the show is renowned for discovering and launching the careers of household names within the creative industries. The Clothes Show consistently welcomed over the years 100,000 visitors to the NEC each December, making it the largest footfall event of its kind and the leading fashion and beauty event in Europe.

Maryam Hamizadeh, Director of Exhibitions at Haymarket, commented:- 'We are excited to announce our plans for 2017 and the launch of the British Style Collective presented by The Clothes Show. We are thrilled to be working with Liverpool City Council to enable us to curate the new, vibrant content and format that will be current, fresh and dynamic. As a City that celebrates and embraces culture and arts, Liverpool not only supports fashion and diversity but encourages it, making the City the perfect destination to launch the British Style Collective. The festival will be a celebration of fashion, beauty and lifestyle at its finest, giving our visitors the chance to discover bespoke brand experiences and pop ups that they will not find on the high street. We aim to reach new audiences, form new partnerships and provide original content. We will maintain The Clothes Show brand heritage and authority as the market leading consumer fashion and beauty exhibition, but refreshed to represent a new era and visitor experience within such a rich cultural City."
Appeal to find Mary Bray (Sheila Bray) Next of Kin
MERSEYSIDE Police and the Coroner's Office are appealing for the public's help in tracing the next of kin of a woman who was recently found deceased in Walton. Mary Bray was aged 80, when she died, on Tuesday, 1 November 2016, at her home on Utting Avenue, Walton, Merseyside. There are no suspicious circumstances surrounding Mary's death. It is believed she may have two daughters and a son with whom there has been no contact for several years. She also previously lived in Manley Road, Waterloo and was known as Sheila Bray. Any family members or persons with information are asked to contact the Coroners Officer, James Martindale, on:- (+44) 0 151 233 0 134 or via:- email.

Proton Partners International announces new research facility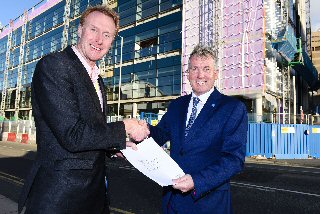 PROTON Partners International announced it is to undertake a major genomics programme following the opening of its cancer treatment Centres in the UK. The company signed a 10 year lease to establish a research Centre at the Life Sciences Accelerator building in Liverpool which is due to open in 2017. The building is the 1st part of a 'health campus' that is set to surround the ?335m new Royal Liverpool Hospital. The lease is with The Royal and Liverpool Broadgreen University Hospitals NHS Trust.

The Proton Partners genomics programme will collate, analyse and distribute data from its treatment Centres which will support its broader research work with the University of Liverpool's Physics Department.

The company's 1st proton beam therapy Centre, and the 1st to be built in the UK; is under construction at Newport, Wales, and will be offering proton beam therapy treatment from 2017. A 2nd Centre in Northumberland is also under construction and planning application has been submitted to build a third at Reading, Berkshire. Other Centres are also under consideration.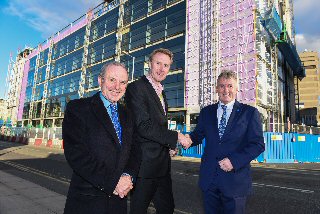 Dr Steven Powell, director of Liverpool Life Sciences Accelerator, said:- "The Liverpool Life Sciences Accelerator brings the latest medical innovators to the City of Liverpool so that our patient population can benefit from their expertise. Proton Partners International is one of our 1st tenants and is set to make a big impact in healthcare."

Mike Moran, chief executive of Proton Partners International, said:- "We are delighted to be making this commitment to establish our Research and Data Centre in what is going to be a flagship healthcare research building in the UK. From the outset, we have said that in addition to providing the most advanced proton beam therapy treatment available to both private and NHS patients we will support that with extensive research programmes that will add to the developing knowledge of proton treatment. This data will not only be useful for our purposes but we hope to share it with our clinical partners and stakeholders."

Professor Karol Sikora, medical director of Proton Partners International, said:- "The future of cancer treatment is about personalisation. Understanding the differences between cancer and normal cells in an individual increasingly requires detailed genomic knowledge. Together with advanced imaging technology this will help to decide the best possible way of delivering radiotherapy as well as chemotherapy. Optimising cancer treatment will require the in depth study of large data sets from a huge number of patients. We are delighted to help Liverpool get to the forefront of the global endeavour in this fascinating area of research."