Competition launched to design Blue Air's Liverpool aircraft livery
FOLLOWING on from October 2016's announcement by 'Blue Air' to make Liverpool John Lennon Airport (LJLA) their newest European base, the airline has launched a competition for someone to design the new livery for their 189 seat Boeing 737 and 800 aircraft that will be based at Liverpool, from the end of March 2017.

Blue Air are keen to become Liverpool's airline and are already working with local organisations to help in their recruitment for up to 35 new, direct, local employees. The 'design a livery' competition is another way in which the airline wants to become part of the Liverpool City Region and having shortlisted what they believe are the top 3 designs, Blue Air will then ask the public to vote for the winning design to make it a truly local desicion.

The Liverpool liveried aircraft will operate on Blue Air's new routes from LJLA to Rome, Milan, Hamburg and Alicante and one lucky individual who comes up with the best design, will have this recreated on the aircraft fuselage to be seen by thousands of passengers at LJLA, at airports in Europe and in the skies above Merseyside too.

As well as seeing their design appear on the aircraft, the winner of the competition will also receive two free return flights from Liverpool to any Blue Air destination.

Liverpool John Lennon Airport is working closely with Blue Air on this competition and has set up a link on the homepage of the Airport's website, from where budding aircraft livery designers can download an aircraft template on which to complete their design and send in their entry.

Entrants must be 18 or over and the closing date for the competition is 30 November 2016.

Robin Tudor, Head of PR for Liverpool John Lennon Airport commented:- "This is a fantastic opportunity for someone to have their idea for an aircraft livery become reality and to be seen by thousands of people at home and abroad. Blue Air really want to be a part of the City Region and for passengers to think of them as their airline. Painting their aircraft with a livery unique to their operations here at Liverpool is a great way to help achieve this."

Make it "No 2nd Night Out" on the Streets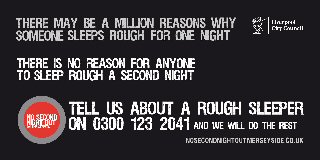 LIVERPOOL people are being asked to use a helpline which will see those sleeping on the street receive help. The 'No 2nd Night Out' initiative says that while there may be many reasons why somebody sleeps rough for one night there is no reason why they need to spend a second night on the streets. By ringing:- 0300 123 2041 or via sending an email to the outreach workers from the Whitechapel Centre will provide a rapid response to try and ensure no new rough sleeper spends more than a single night, on the streets. Since 'No 2nd Night Out' started in 2012, hundreds of people have been helped after people contacted the service, in the first 6 months of this year 160 calls were made to it. Councillor Frank Hont, cabinet member for housing said:- "We know there is a lot of concern about homelessness especially about rough sleeping as winter approaches and people are keen to help. 1 of the best ways they can do so is by phoning:- 'No 2nd Night Out' when they see someone sleeping rough and every effort will be made to support people to come off the streets. We want to prevent the situation where rough sleeping becomes an entrenched way of life and the sooner people can be encouraged to come off the streets the better it is for them. There is a misconception among some people that those who are sleeping rough are doing so because there is nowhere for them to go. In fact we fund 750 temporary accommodation places and the outreach workers have been successful in persuading many to come off the streets up to 27 in 1 calendar month, in 2016. Not everybody will accept the offer of help and support, but we are doing our best to try and see no one ever needs to sleep for a second night on the streets and we are asking the public to play their part by contacting 'No 2nd Night Out' when they see somebody sleeping rough."

David Carter, Chief Executive of the Whitechapel Centre, said:- ?Sleeping on the streets is dangerous and can be life threatening, particularly as the winter approaches and the weather turns colder. We would encourage people to save the number into their phone and give us a call, anytime, when they see someone sleeping rough in Liverpool. Everyone's situation is different and we work with each person to offer the best support and appropriate accommodation available to them. For most people coming indoors into accommodation happens on the day they become homeless, but for some people it can take time, to find the right solution that the person feels able to accept. We don't give up on people until we have helped someone come indoors. Our outreach team is out every day and calls to 'No 2nd Night Out' helps us find people quickly, before they become entrenched on the streets. We can only do this with the help of the public and we really appreciate their calls."