'Clean sweep' for Wirral bathing water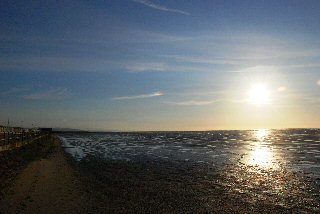 THE Environment Agency has given Wirral's bathing water top marks in annual ratings. Councils are required to provide information at their sites for bathers and other beach users. Standards for bathing waters are overseen by the Environment Agency and are measured at 413 beaches and lakes across the England, with star ratings being applied to bathing water site, using a simple 3 star system.

| | | |
| --- | --- | --- |
| Bathing Area | | Meaning |
| Meols | ★★★ | 'Excellent.' |
| Moreton | | 'Excellent.' |
| Wallasey | | 'Excellent.' |
| West Kirby | | 'Excellent.' |
| | | | | |
| --- | --- | --- | --- | --- |
| Key:- | 0 star = 'Poor' | 1 star = 'Satisfactory' | 2 stars = 'Good' | 3 stars = 'Excellent' |
The Wirral's borough's 4 designated bathing waters, at:- Meols, , and , we can confirm, have been awarded a clean sweep of top marks for their cleanliness. All 4 entrants have been awarded the maximum 3 stars for 2016/2017. The 'Excellent' classification means the waters are of the "highest microbial quality required." Also these results have been achieved under new, more stringent regulations which came into force in 2015.

In 2015, Wallasey was classed as Good, just 1 rating lower than Wirral's other 3 bathing spots. Cllr Bernie Mooney, Wirral Council member for Environment, said:- "I'm personally delighted that the standard of Wirral's bathing water has improved even further to reach the highest of standards. The quality and cleanliness of Wirral's coastline is a key part of our tourism offer and supports hundreds of jobs in the borough. Last year I said I hoped that we would be able to uphold our standards, and I'm pleased to say we've done that."
Flares and smoke canisters stop Southport FC v Fleetwood FC Match
MERSEYSIDE Police are appealing for information after spectators at the Southport v Fleetwood Football Match, on Monday, 7 November 2016, disrupted the match, by throwing flares and smoke canisters onto the pitch. Officers will be speaking with representative from both Clubs, and an investigation into the circumstances is ongoing. This will include Officers viewing televised footage, to identify those involved. Chief Superintendent Paul White said:- "The Police and Courts take these offences very seriously and prosecution can result in a prison sentence. Flares burn at extremely high temperatures and can easily ignite combustible materials such as clothing. They can also cause severe burns if they come into contact with a person's skin and could cause life changing injuries. The smoke canisters that were thrown disrupted the match, causing play to be stopped whilst the pitch was cleared and smoke dissipated. This could have resulted in the evacuation of the ground, and the end of the match, but fortunately play was able to go on. I?d ask anyone who was at the game, who has any information on those involved in the throwing of flares or anyone who has mobile phone footage of the incident to contact Merseyside Police. Anyone who has any information is asked to call on:- 101 or Crimestoppers, anonymously, on:- 0800 555 111."
Southport Tourist attraction targeted by vandals
MERSEYSIDE Police are appealing for the public's help in identifying offenders who have damaged railway shed windows, in Southport. The incident is thought to have taken place between 3.00pm, on Sunday, 6 November 2016 and 9:45am, on Tuesday, 8 November 2016, by unknown offenders, who have damaged 13 windows of the railway sheds, at Southport Pleasure Lands Miniature Railway.

Neighbourhood Inspector Graham Fisher said:- "This behaviour is unnecessary and will have caused distress to those who visit the Pleasure Land, and those that work on the railway. I would urge anyone who saw or heard anything to contact us immediately. We would particularly be interested in hearing from anyone who has seen people acting suspiciously near to the Pleasure Land in recent days. I would like to reassure our community that with your help we will make every effort to trace those responsible."

Anyone with information is asked to call the Merseyside Police on:- 101 or the confidential Crimestoppers line, anonymously, on:- 0800 555 111.

Not so neighbourly nation - Are we ignoring the older generation?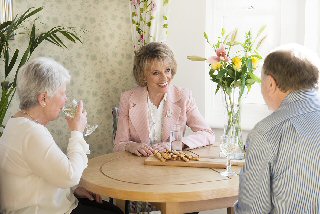 33% of people in the North West have deliberately avoided their neighbours on at least one occasion, while 25% might not even recognise their neighbours if they bumped into them out of context, according to new research by Churchill Retirement Living.

In a sign that the nation is not as neighbourly as we used to be, 25% of adults in the region say they have argued with their neighbours, with the most common disagreements caused by:- loud music, unruly kids, noisy pets, boundary issues and car parking.

The survey also found that older people want to be far more neighbourly than their younger counterparts, with 90% of over 55's who don't know their neighbours saying they would like to get to know them better, compared with just 71% of 18 to 24 year olds. And less than half of 18 to 24 year olds said they exchange Christmas cards with those living next door to them, compared with 8 in 10 of the over 55's.

Despite the worrying trend, 8 in 10 of all those surveyed think people should do more to get to know their neighbours, with three quarters thinking it is important to get on well with them. However, less than a third of people said they would ever consider inviting their neighbours around for a meal or social gathering.

The research of 2,000 UK adults was commissioned by retirement house builder Churchill Retirement Living to find out more about people's attitudes towards those living around them, in particular the older generation.

Of those surveyed, 45% have elderly neighbours, with 25% of those anxious they might get lonely. 20% of those polled say they have been concerned for their neighbours at some point, with health problems, age and loneliness the most common worries.
Dame Esther Rantzen DBE, Churchill Ambassador and founder of The Silver Line, said:- ?We have a huge loneliness epidemic in this country, and looking out for those next door to us can be a big step towards curing it especially if they are older people who might be feeling isolated or not as active as they used to be. Although it's a sad fact of life that not everyone gets on with their neighbours all the time, it's also encouraging to see that most of us can still see the value of getting to know our neighbours better. I have personally witnessed the benefits a strong sense of community can bring, and we can all do something to make that difference to the people who live around us.?

The research also found:-

► Only ? of respondents think there is a sense of community in their neighbourhood.

► 6 in 10 respondents would rather their neighbours kept themselves to themselves.

► 72% have never had their neighbour over for dinner or any other type of gathering.

► The average Brit knows 6 of their neighbours by name, but this increases to 7 among those aged 55 and over, and it falls to 4, among those aged 34 and under.

► 14% don't even know what their neighbour's name is.

► Over a 5th of people have forgotten a neighbour's name, but found it too awkward to ask them what it is.

► Around ? of Brits described their relationship with their neighbours as... "neutral," neither friendly nor unfriendly.

► Less than a 5th of Brits are friends with their neighbours on social media.

Spencer McCarthy, Churchill Retirement Living's Chairman & CEO, said:- "It's perhaps no surprise that the older generation are more inclined to be friendly towards their neighbours and value a strong sense of community. I've witnessed this at our retirement living developments, where we bring good neighbours together to share a more sociable and fulfilling lifestyle in their retirement. But there is hope yet for the younger generation too. We all have busy lives, but we can all take small actions that make a difference to the people living around us. The evidence from our research suggests that there are plenty of people of all ages willing to embrace that and be better neighbours."