Cycling survey shows kids no longer play out on their bikes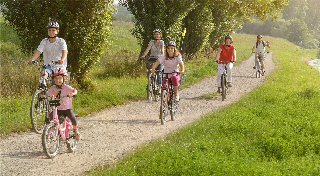 A survey commissioned by Freewheel Holidays, specialists in easy, family friendly cycling holidays, has revealed some surprising results. Despite 68% of children over 5 owning a bike and 46% of parents believing their kids get insufficient exercise, almost 20% never play out on their bike. And of those that do, 38% now do so less than once a fortnight. The survey found that on holiday, it's a similar story. Almost 90% of parents believe it's important that their children are active on holiday yet half admit that as a family they do the same amount of exercise, or even less, whilst on their annual break. Modern technology is clearly a factor with 61% saying they find it difficult to distract their children from phones and tablets whilst on holiday. With Public Health England's latest figures (2014/15) showing that a ⅓ of 10 to 11 year olds are obese or over weight, family cycling holidays offer a fun, healthy alternative to the traditional beach break.
Simon Teasdale, Product Manager at Freewheel Holidays said:- "This survey has been a real eye opener. We found that over 10% of children over 5 didn't own a bike. What's great to hear is that over 83% of parents would like their children to explore the outdoors more and we can offer a safe and stimulating way to do that. Our cycling holidays across Europe are great for families and provide the perfect way to get kids active and enjoying the countryside. The routes are well planned and often completely traffic free. We also make sure each stage isn't too strenuous with plenty to see and do along the way."

To check availability and find out more about Freewheel Holidays' leisure cycling tours call:- 0161 703 5823 or visit:- FreeWheelHolidays.Co.UK.
Make sure you are giving to a charity
LIVERPOOL people are being asked to make sure money they give in street collections is going to genuine charities. The warning comes after there have recently been a number of collectors in the city centre and outside football grounds who appear to be raising funds for charity but who are actually selling magazines which have a free "gift" item. While people think they may be paying for these items to help legitimate charities they are actually paying for a periodical with very little, if any, money going to a charity. When challenged the collectors say they are merely raising awareness of a cause or condition and they claim the person giving a donation is buying a magazine. Sales of newspapers and periodicals in the streets does not require a permit and providing any person buying it is doing so in the full knowledge of the fact and not under the misunderstanding that their purchase or donation is going towards any particular charitable cause there is no issue. If unsure people are being encouraged to ask the details of the charity that their donation is going towards. Genuine charities will have a permit, which their collectors will show on request, and their collections boxes or tins will display the name of the charity and its registration number.
Councillor Frank Hont, cabinet member, said:- "If the name of the charity is not clearly displayed you should always ask for it to be named and to see the permit. If the person collecting does not have a permit or anything showing that the charity has been properly registered then we strongly advise you not to give anything to them however worthy the cause may appear to be. The reality is that any money given is almost certainly going into somebody's back pocket rather than charity. Not only is this exploiting people's generosity but it may make people far less inclined to give to real charities so we would urge everybody to make sure they do not give any money to bogus organisations."

Anybody who has concerns over a particular collector can report the matter to Liverpool City Council on:- 0151 233 3015.

Devolution deal brings multi million pound boost to Liverpool
COMMUNITIES Secretary Sajid Javid have announced £30 million of Government funding to the Liverpool City Region, thanks to the area's ground breaking devolution deal. Over the next 30 years, the region will receive £900million. Mr Javid made the announcement during a visit to Liverpool, a year to the day since their ground breaking devolution deal was signed. The devolution deal allows local people to take back control of decisions that matter to them and provides extra investment in the Liverpool City Region, including:-

► Powers over transport, including influence over local bus operators and multi year budgets.
► Powers over strategic planning.
► Greater responsibility for skills provision.
► Improving local transport connections.
► Business growth and helping to develop key industries in the area.
► Regeneration, development and the city region's thriving culture.
► Delivering new homes.

Voters will also get the chance to vote for a directly elected mayor for the area in May, giving the Liverpool City Region a powerful new voice.

Speaking in Liverpool, Communities Secretary Sajid Javid said:- "Today's £30million cash boost is just the first instalment of nearly £1billion that will be given to the Liverpool City Region over the next three decades. This devolution deal allows the people of Liverpool to take control of the decisions that matter to them. With new powers over transport, business growth, housing and regeneration, voters will also get a chance to choose their region's first mayor in May to put these powers into practise."

Mayor Joe Anderson, Chair of the Liverpool City Region Combined Authority, said:- "Today's meeting demonstrates our on-going discussions with Government to devolve resources and power to the City Region. Through our Devolution Agreement, we are able to make decisions and manage funding for a range of issues that best serve our residents and businesses across the Liverpool City Region. We understand the issues and challenges better than Ministers in Whitehall. This funding will be used to support businesses to grow, secure new investments, improve our road transport infrastructure and rail stock, secure the future for our cultural assets including galleries, provide better training and apprenticeships which meet the needs of the City Region's employers, as well as attracting more businesses in the City Region."

As part of efforts to deliver an economy that works for everyone, the government is devolving wide ranging powers directly from Whitehall to local people who know their areas best.

Handing power back to local people is a key part of the government's plans to build a Northern Powerhouse.

In return the government requires that strong governance arrangements are put in place to ensure local leaders are directly accountable to the people that they serve.

Now the Liverpool City Region is reaping the benefits through today's first £30 million payment to the new Combined Authority.

The Liverpool City Region devolution deal is 1 of 9 across the country; 8 of which have directly elected mayors. It means decisions that have previously been made in Westminster will now be made in the areas they affect most.

The other areas with devolution deals are:-
► Greater Manchester.
► West Midlands.
► Cornwall.
► Sheffield City region.
► Tees Valley.
► Greater Lincolnshire.
► West of England.
► East Anglia.
Earlier in November 2016, Council leaders in the North East walked away from a similar deal which would have brought significant benefits to local people according to many.