Liverpool's star turn as Fantastic Beasts hits cinemas
THERE are just hours to go until Liverpool doubles as New York in what is one of the most hotly anticipated films of 2016.

On Friday, 18 November 2016, the wizarding world of Fantastic Beasts and Where to Find Them hits the big screen, with Liverpool taking a starring role in J.K. Rowling's screenwriting debut, made by Warner Bros Studios.

The movie is a new adventure set in 1926, just as Newt Scamander, played by Oscar winning Eddie Redmayne, completes a global excursion to find and document an extraordinary array of magical creatures.

Liverpool Film Office was instrumental in securing the City's role as the only none studio location. In the first of the five film franchise 2 of the City's iconic buildings, Cunard Building and St George's Hall, play a leading role.

Director of the film, David Yates, said:- David Yates, Director said:- "Liverpool is a wonderful place to film; the locations, the people, the welcome we felt and support we had when making Fantastic Beasts in the City was 2nd to none."

Producer David Heyman said:- "We were thrilled to film Fantastic Beasts And Where To Find Them in Liverpool, a City which has such fond memories for me. St George's Hall and the Cunard Building gave us exactly what we wanted, and the people there, the City itself was so supportive, and the Film Office was incredible. It was a great experience."

When quoted for an Oh My God Britain campaign, lead actor Eddie Redmayne, said:- "My OMGB moment was probably shooting in Liverpool. That's a City that I just love and I find endlessly inspiring for its history and for its architecture and we had the most wonderful time there."

Also collaborating with Yates behind the scenes are:- Oscar winning director of photography Philippe Rousselot (A River Runs Through It, the Sherlock Holmes movies), 3 time Oscar winning production designer Stuart Craig (The English Patient, Dangerous Liaisons, Gandhi, the Harry Potter films), 3 time Oscar winning costume designer Colleen Atwood (Chicago, Memoirs of a Geisha, Alice in Wonderland), Oscar winning visual effects supervisor Tim Burke (Gladiator, the Harry Potter films), Oscar nominated visual effects supervisor Christian Manz (Harry Potter and the Deathly Hallows, Part 1), and Yates' long time editor Mark Day (the last four Harry Potter films).

Film Office manager, Lynn Saunders, said:- "A huge amount of planning went into the 9 day shoot in the City. There were more than 1,100 cast, crew and extras, and with 18 months preparation we ensured all aspects of the filming ran as smoothly as it possibly could. Achieving such a smooth operation did not just magically happen like Newt Scamander's Fantastic Beasts; it was the result of working in partnership with the wider City Council, local businesses and anyone who lives or works in the immediate vicinity of the two filming locations. Luckily, accommodating filming in the City is something we're all used to and we'll always do everything we can to meet the needs of any production that comes here."

Cabinet Member responsible for the Film Office, Councillor Wendy Simon, said:- "We were 1 of many locations the production team looked at, so for us to come out on top is a testament to the expertise, experience and enthusiasm of our Film Office team, packaged with the stunning venues we have to offer. We are no stranger to big movies being filmed on the City streets, but without a doubt, this new adventure will create a real buzz and re-emphasise Liverpool's reputation as 1 of the most filmed Cities outside London."

For more information about Liverpool Film Office, or to see a special film showcasing some of their work, visit:- LiverpoolFilmOffice.TV.

The River of Light 2016 - Part 2
Photos on this page by Madeleine Saghir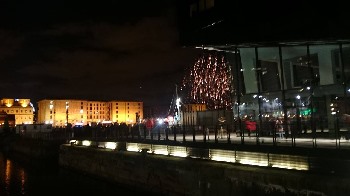 ON Saturday, 5 November 2016, both Liverpool City Council and Wirral Council joined up to put on a brand new event on the river Mersey, called:- 'River of Light.' You can read our full report on our previous issue, by clicking on here. This is Part 2 of our photographic coverage of this event.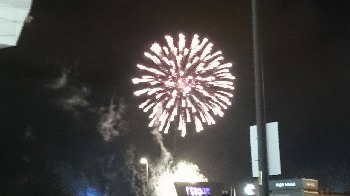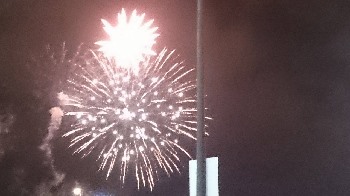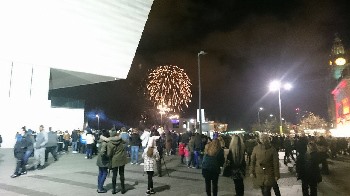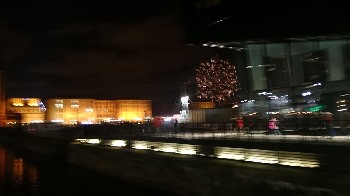 Page 1 of 2
Remember you can order photographic prints from us. Help us keep this site online. Please don't brake our copyright by copying any of the text or images in this website, even if its only for 'personal use.'