3 local men get National Police and Public Bravery Awards
Photograph we thanks to FLP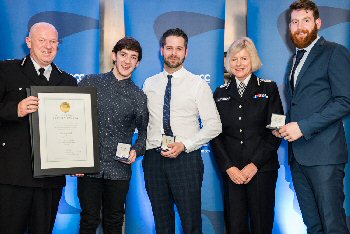 THE Police Service have honoured the bravery of 3 local men last night at the National Police and Public Bravery Awards. 3 members of the public from Merseyside were honoured at the 51st Annual NPCC Police Public Bravery Awards held at the Radisson Blu Hotel in Bloomsbury, in London. Stephen Smith, Christopher Horton and Sean Leek won a Gold medal at the awards, which are sponsored by The Goldsmith's Company. The awards recognise members of the public for actions, which support the Police in preserving law and order. The 2016 awards ceremony recognised the acts of 94 people for their courage and bravery. Here's Stephen Smith, Christopher Horton and Sean Leek's story...

On a Sunday evening, an armed robbery occurred at a store in Merseyside. A largely built male entered the store, brandishing a long barrelled black handgun at the female cashier. The male was dressed in black clothing with his face partially covered from view. Money was demanded from the till and the lone female cashier stood back so that the male offender could reach over and take it. The offender then left the store and the alarm was raised with colleagues in the stock area at the back of the store. Despite knowing that a firearm had been used during the offence, Stephen Smith, Christopher Horton and Sean Leek immediately ran out to the roadway at the front of the store and spotted the suspect walking calmly along a road opposite. They shouted at the male who then began to run. With no fear for their own safety, all 3 gave chase. The offender realised he was being pursued and turned into a side road, before stopping and again raising the handgun towards the three men, telling them to get back. The offender continued to run and, in an effort to evade capture, ran into the rear of a nearby garden. Without fear for themselves, the three men continued to chase the suspect into the gardens, which were dark and unlit. They lost sight of the offender for a short period of time and, in an effort to locate him, split up so that a larger area could be contained. A local resident indicated that a male was in an adjacent garden and the three men approached the offender who then became violent. The three then restrained the offender, whilst securing a bag which contained the firearm and cash stolen from the store, until the arrival of the Police. The offender was charged and remanded in custody.

Merseyside Police Chief Constable Andy Cooke said:- "The actions of all of our winners show true community spirit. It's always humbling when we see members of the public take such positive action, to keep other members of their community safe. Their actions were completely selfless and deserve to commended. We are committed to putting our communities 1st and the awards given at last night show that members of our communities have that same ethos. I am honoured to have been able to attend the awards evening."

Honorary Awards Secretary, Chief Constable Stephen Watson, said:- "Each of those honoured put themselves in harm's way to ensure the safety of others. They acted with bravery and public spiritedness in a desperate moment and it's an absolute honour to be able to recognise them in this way."
Complaints against Merseyside Police have fallen by 26%
COMPLAINTS against Merseyside Police have fallen by 26% according to figures released by The Independent Police Complaints Commission (IPCC), that was published on Tuesday, 15 November2016. The number of complaint cases fell from 617 to 458 between 2014/15 and 2015/16. In total complaints against all Forces in England and Wales fell by 8%. In Merseyside 50% of cases were investigated and 37% were dealt with through the local resolution process. Merseyside upheld 31% of investigation appeals. The IPCC upheld 38% of appeals made about Merseyside complaint investigations.

Deputy Chief Constable Carl Foulkes said:- "We record all complaints in accordance with national legislation and take each one seriously. We have a dedicated Professional Standards Department containing specialist detectives who will speak directly to complainants and work to resolve the issue to their satisfaction. I am pleased to see that Merseyside has recorded a significant fall in the number of complaints made, but we are not complacent and will continue to work towards reducing this figure further. Our Officers and staff are expected to behave appropriately at all times and anyone who feels that a member of the Force has not can make a complaint in many ways, including writing to or calling into a Police Station, dialling the non-emergency 101 number or through our online reporting system on our website. The Force prides itself in the conduct and professionalism of all its Officers and staff, who are encouraged to engage with the public whenever they can. We will continue to strive to maintain the high standards we set ourselves while serving the people of Merseyside."

Merseyside's Police Commissioner Jane Kennedy said:- "People expect Officers, PCSOs and staff to behave with honesty, integrity, fairness and impartiality at all times. The vast majority do, sometimes in the most challenging of circumstances. However, like the rest of us, the Police are human and mistakes can be made. It is only right that when a member of the public feels that they have not been treated fairly or correctly that they know how to complain and feel that their concerns are resolved quickly and effectively. This is an essential part of the process of maintaining public confidence and trust in the police. These figures released by the IPCC demonstrate Merseyside Police received fewer allegations and significantly less complaints last year than in the 12 months previously. This is really pleasing to see, but there is always more that can be done and I know the Force will continue to do what they can to improve standards and deliver the best possible service to the communities of Merseyside."
3 men sentenced for the murder of 16 year old, Lewis Dunne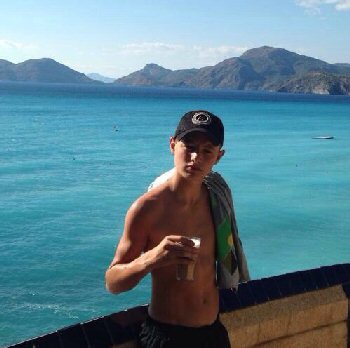 Photo above is Lewis Dunne, supplied by Merseyside Police.
ON Wednesday, 16 November 2016, Jake Culshaw, Paul Martin and John Martin have been sentenced for the murder of 16 year old, Lewis Dunne. Lewis died on 15 November 2015, after being shot as he walked along the towpath of the Leeds/Liverpool Canal in Vauxhall.
Following the sentencing Lewis' parents, Gemma and Steven, released this statement:- "Our beautiful son Lewis was senselessly murdered on November of last year. Lewis was the baby of the family, the centre of our world; he spread love to everyone he met and those who loved him back got the fortune of knowing just how amazing he was. This has been an exceptionally difficult time for our family and we are relieved that justice has been done. We have had a great deal of support from the community and Merseyside Police, especially Detective Superintendent Tom Keaton and the investigation team. We are very grateful for their hard work which has got us to where we are today."

Detective Superintendent Keaton, said:- "Firstly, we'd like to express our deepest sympathy to Lewis' mum and dad (Gemma and Steven) and sisters (Yasmin and Ashley) who are still struggling to come to terms with the tragic loss of their son and brother. Since that tragic night on 15 November 2015, they have suffered immeasurable grief and distress for the senseless murder of Lewis, who was just 16 years old. Now Jake Culshaw, Paul Martin and John Martin have been convicted of his murder after they shot him in the back as he was walking along the tow path of the Leeds Liverpool Canal in Vauxhall. At about 10.30pm Lewis had popped out to meet a friend, who was going to let him use his bike to ride into town and get some cigarettes, but he never returned home. After shooting him in cold blood the three people convicted of his murder, calmly left the scene and further down the canal threw the murder weapon, which had been broken up, into the canal in a bid to get rid of the evidence; the parts of that shotgun were recovered by the Police underwater search team in January 2016 following an extensive search of the canal between Sandhill Lane road bridge and the railway bridge. As the offenders disposed of the weapon a member of the public, who had been walking nearby, and some local residents rushed to Lewis' aid and tried to help him prior to the arrival of the ambulance service. But unfortunately the attempts of the members of the public and the medics were to no avail and Lewis was pronounced dead at the Royal Liverpool University Hospital at 11.37pm. We believe that Lewis was a victim of mistaken identity and that those convicted today believed that he was the member of an opposing group of males. Prior to the murder there had been a series of incidents involving both groups, culminating in violent attacks from both sides, using a multitude of weapons. The cowardly murder of Lewis was their retribution. We know 4 offenders lay in wait under the Vauxhall / Eldonian Bridge on the tow path and when they saw Lewis they believed he was 1 of the group and shot him in the back as he walked by. Ultimately nothing can bring Lewis back, but we hope the family can take some small comfort in the fact that justice has been served. The investigation team and the Crown Prosecution Service have worked tirelessly over the past 11 months to bring this case to court and I would like to thank the prosecuting barristers Ian Unsworth QC and Anya Horwood for their dedication and exceptional presentation of the evidence during the trial. These convictions are the result of a collective determination to bring the killers to justice. But our work doesn't end here. We believe that there were four people who were involved in Lewis' murder and we are determined to find that fourth male. I would appeal to anyone who knows who the 4th male was to contact us so that we can do the right thing by Lewis' family and ensure that all those responsible for the murder are brought to justice. Gun crime has very clear, serious and often tragic consequences. We cannot allow children to fear walking the streets because others don't have the intelligence or common sense to steer clear of guns. We will therefore do everything in our power to continue to take guns off the streets and out of the hands of criminals. The rest of the criminal justice system is equally committed to gripping gang and gun crime; which is a concern for the UK as a whole not just Merseyside."

► Jake Culshaw was sentenced to life with a 30 year tariff.
► Paul Martin was sentenced to life with a 30 year tariff.
► John Martin was sentenced to life with a 28 year tariff.
Appeal to trace wanted person
MERSEYSIDE Police are appealing for the public's help to trace a 32 year old man, from the Southport area. Officers wish to trace Patryk Mikowski after an assault which took place in Southport, on 17 October 2016. Efforts have been made by the Police to find him, but he remains outstanding, and Officers are requesting the public's help to trace him. Mikowski is described as white, 6ft 1in tall, with green eyes, and shaved black hair with an Eastern European accent. Anyone who has seen Mikowski, or who knows of his whereabouts, is asked to call Merseyside Police on:- 101 number. People with information can also contact Crimestoppers, anonymously, on:- 0800 555 111.

CCTV Appeal by Merseyside Police to find scrambler bike riders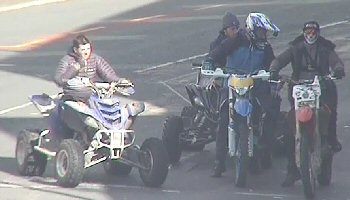 MERSEYSIDE Police are circulating images of men we wish to speak to following illegal and anti social large scale gatherings of off road bikes across Merseyside. Between 1pm and 9pm, on Sunday, 2 October 2016, groups of up to 50 bikes brought some roads on Merseyside to a standstill. Riders were seen doing wheelies and ignoring red traffic lights and were also involved in a number of incidents of anti social behaviour during the day. Since these incidents, extensive investigations have taken place in an effort to find those responsible, resulting in 86 motorbikes being recovered, many of which have been stolen, and more than 30 people being arrested.

Detective Inspector Ian Warlow said:- "The scrambler riders that day had a complete disregard for public safety. Their actions were reckless and criminal and it is only through sheer luck that a member of the public, a Police Officer or one of those bikers was not seriously injured. Indeed, we have had incidents since which have resulted in serious injuries to both illegal riders and members of the public. We have had considerable success since that Sunday, recovering dozens of bikes, many of which have been found to be stolen. Each one taken off the road makes Merseyside a safer place. But this action will continue, so we would urge anyone who has any information which could help us to identify those who took part in this reckless convoy to contact Merseyside Police."

Anyone with information to help identify these males is urged to call 101 or Crimestoppers anonymously on:- 0800 555 111.